My family recently sat still for several hours for a "game day". We do this every once in a while, and it is a lot of fun. This time we sat down purposely to try out a game that was given to us called the Wits & Wagers Family game.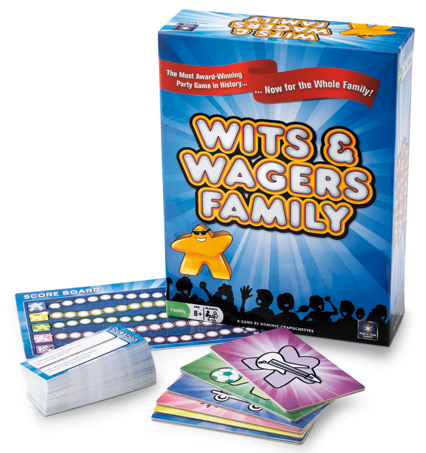 Wits & Wagers Family is a trivia game that is super fun, and best of all, it is easy to play. The kids caught on to how the game is played really quickly. I started off playing the game with my oldest two boys ages 9 and 11.




Basically, you read a trivia question, right down your best guess and put it in the middle of the table face down, when everyone has answered, line up the answers face up and place a wager (meeple wooden figure) on the guess you think is the closest to the correct answer. You can place your meeples on your own card or on someone elses. You can win upto four points if the guess you place your meeples on wins.




Read the answer from the trivia card and mark down the points on the score board. The player who reaches 15 points wins the game.




You can play this game with three to five players or teams. All of the answers are in numerical format, so any child can play and make a guess. It is recommended for ages eight and up, because of reading the trivia cards. However, an adult or older child can read the card for the younger child and the younger child can still write down their numerical guess and place their own meeples based on their skill level.

So that is what we did next. We let the younger kids ages 6, 4, and 2, join us ( the six year old was his own player as long as you read the questions and answers, the 4 year old on a team with an older brother, and 2 year old on a team with me) and they had just as much fun playing as we did. It required some assistance and a little more patience on our part, but it was do-able.

Just two days later, we had the game out on the table again. This time just the three older boys played while I worked on another project. Terrific! They could play and enjoy it together. I really felt this game supports good behavior in the kids. First they had to cooperate with each other. They had to share jobs such as reading the trivia cards. They had to trust the one making the marks on the score board. They laughed at each other's answers sometimes, or at the fact they were way off, or that they were right on target. It challenged their reading and thinking skills, and kept them listening to questions and answers, and actively writing and erasing answers (good to keep boys active). This game is definitely staying on the school shelf for the kids to pull out during free time.

The Wits and Wagers Family game includes 150 trivia cards, 5 dry erase pens, 5 dry erase answer boards, 10 meeples, and a score board. It is available online, and through various retailers. It retails for $ 24.95, but prices may vary according to retailer. It is available online and at participating retailers.

There are over 300 trivia questions in this game and all the answers are numbers. For example, a question might read "How many miles per hour can a Cheetah run?" or "How many feet are in a mile?" Some of the questions are not so hard, but most questions are challenging, and some are more difficult.

This game is loads of fun to play for people of all ages. I highly recommend setting aside some time to play games with your family. I would love to arrange my schedule to include a regular family game time each week. I know it would be beneficial. But even if we don't get it done each week, just getting it done sometimes is a great way to spend some special time with your family.

I was provided with a free copy of the Wits & Wagers game in exchange for an honest review.





If you would like to see what other homeschool TOS Crew members had to say about this product, please see the Wits & Wagers link up posted here .