Have you ever wondered if you are headed in the right direction with your kids education? I have. Especially when it comes to math curriculum. I have a wide span of children in various grades 6th, 4th, 2nd, k, and pre-k, and a toddler. They span across 12 years. It is eye opening to look at my 8 year old, and then look at my 10 and 12 year olds and realize that I could have steered the older kids toward a better comprehension of math concepts if I had known back then what I know now! Now I know about Touch Math.




I wish I had known about it when all of my children were beginning to learn math. Oh my, it is amazing! I am going to tell you about using it in the 2nd grade today, but don't just take my word for it. There are some amazing reviews (link is posted at the bottom) by my peers who have used Touch Math Homeschool. Touch Math Homeschool is designed for students in pre-k, K, 1st grade, and 2nd grade. Be sure to check out the inspiring reviews. I am convinced that any homeschool parent can teach math, and do it well using Touch Math.





We had the privilege of reviewing Touch Math Second Grade Homeschool. There are 4 units, and each retails for $59.00 or you can buy them in a bundle for $199.00
The second grade curriculum is designed for elementary kids in grade two and meets the common core standards. But it can be used by older kids for review, and kids with special needs.

I received the download bundle of all four units in the Touch Math Second Grade Homeschool curriculum to review, and I am so impressed with this product. Titles and chapters in these units include:

Unit A
Adding and Subtracting within 50:
adding and subtracting within 13, 20, 50, adding with regrouping, and adding
and subtracting with regrouping.

Unit B
Adding and Subtracting within 100:
understanding place values (100s, 10s, and 1s), counting and reading to 1,000 ,
reading and writing to 1,000 , understanding multiplication, adding within 100 ,
and subtracting within 100.

Unit C
Adding and Subtracting within 1000:
adding and subtracting multiples of 10 and 100, adding and subtracting within
100, adding three digit numbers, adding and subtracting three digit numbers,
reviewing multiplication.

Unit D
Time, Money, Measurement, Data, and Geometry
telling time, learning about money, representing and interpreting data,
measuring, comparing, and estimating length, relating addition and
subtracting to length, analyzing shapes.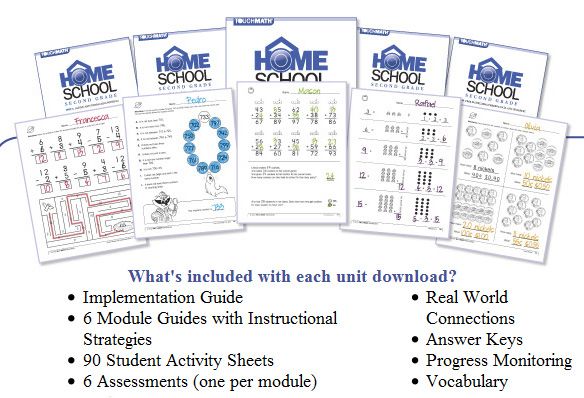 Each unit includes over 200+ pages and at least 90 worksheets and over a hundred or more pages of lessons and instructions guides. Each unit is divided into six modules and contains assessment quizzes and so much more. It is a hands on curriculum and encourages the use of manipulatives. You can provide your own, or purchase high quality manipulatives from the Touch Math web site.




Touch Math is an interactive learning program and the use of manipulatives is very important. As the kids complete their worksheets, and use the manipulatives to practice the concepts, they interact with math and use all their senses, especially their sense of touch. Using the sense of touch is key in how Touch Math is taught and comprehended by children. A list of suggested manipulative is included in the curriculum and can be simple things like cotton balls, paper clips, toys, etc.

I printed off the worksheets for my son to use. I could have printed off the teaching manual, but I chose to save on costs of ink and paper and just read through it from my computer screen. But definitely you will want to print off the worksheets. These can be placed in a three ring binder, or in a workbox, or you could print them all off together and have them bound into a workbook if desired. I set aside 20 minutes each morning to work with Touch Math, including worksheets, flip cards, a DVD tutor, and manipulatives. This was a highlight for our homeschool day. My son loves learning math skills and working with this method.

I received several additional products and numerical manipulatives to enhance the Touch Math experience with my children and facilitate our review of the Touch Math Homeschool curriculum. Though these items are extra, and not required for the curriculum to work, they are definitely a plus in our homeschool experience. I would encourage you to check out these wonderful supplements to the program.



The Touch Math Tutor DVD 2nd grade set is an amazing product to help your kids learn their math concepts in a fun interactive way. Here are a couple of video examples to show you how this works and how nice this DVD program is.



My son loved the DVD. He loves working on the computer instead of a textbook, and this was a perfect reinforcement of the concepts he learned from the printable lessons and worksheets in the curriculum units.




We also received the Touch Math Flip Cards for all four units (A, B, C, D) mentioned above. Using flash cards is a concept I grew up with, but I have never seen such a great grouping of flash cards that corresponded to the curriculum we are using. These flash cards are large, sturdy and can be used in various ways. They have room to write answers on the card using a dry erase marker if you want to use them that way too. They are very well made and will last for many years for several children. Thats a good thing, because I have got several children! Each set comes in a nice box to keep them organized. Below is a picture of all twelve boxes of Flip Cards flash cards that correspond to the second grade.




We also received the Student Number Cards. These can be used in so many different ways including matching, counting, skipping, equating toys to the numbers, sorting, etc. Each number card is perforated. We pulled the cards apart and used them for various learning games. Below is a picture of the cards before we pulled them apart. There is eight sheets with numbers 1-9 and they show the touch points on each number.




Our favorite hands on product we used with the Touch Math 2nd Grade Homeschool curriculum was the numerical manipulatives called Touch Numerals with Base 10, while learning the Touch Math method.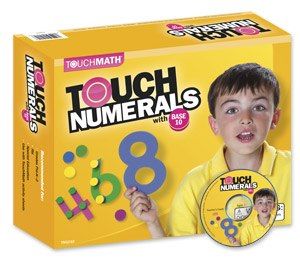 They come in a rainbow of bright fun colors. They are large, sturdy foam numbers, dots, and symbols that are easy to use. The student places small dots on the number at the touch points. Using these manipulatives incorporates the interactive method of the Touch Math system of learning.




Again, you can use any manipulatives you want, and I am sure there are lots of things around the house we can use, but these Touch Numerals are really unique. They teach counting, adding, subtracting, multiplication, and division with the actual numbers. We love using these!




Thank you Touch Math for a great product! This is one of the most amazing products, and most comprehensive math curriculum products I have reviewed, and I only reviewed one grade level. If you start your child out when they are 3 or 4 with Touch Math pre K and progress with it each year as they grow, your kids will have a solid foundation in their math education. Be sure to check out free items and samples of the curriculum at the Touch Math web site.

It is such an amazing interactive curriculum. These other levels are just as amazing, and I hope you will read some of the reviews from each grade to get a bigger picture of what Touch Math can do in your homeschool for your children. Be sure to check out what my CREW MATES had to say about using Touch Math products.




Disclaimer: I received a free copy of this product through the Schoolhouse Review Crew in exchange for my honest review. I was not required to write a positive review nor was I compensated in any other way. All opinions I have expressed are my own or those of my family. I am disclosing this in accordance with the FTC Regulations.