Do you and your kids like adventures?  My kids love adventures and we recently used Under Drakes Flag by Heirloom Audio Productions to take a listening adventure in our van, and in our imagination on the high seas.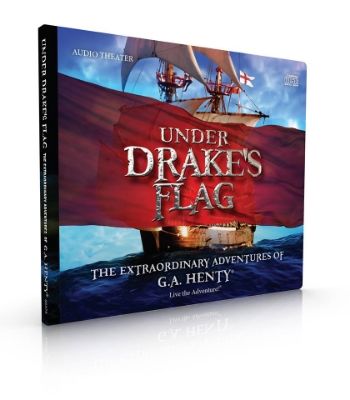 UNDER DRAKE'S FLAG
Audio CD Theater Presentation of Under Drake's Flag by G.A. Henty
Retails for $29.95 plus shipping
For ages 6 to Adult
Under Drakes Flag is about a famous ship captain named Sir Francis Drake and a boy named Ned who travels on his ship. They have one adventure after the next, and the learning adventures are so fascinating you can't step away.  The suspense and excitement of these stories keeps you biting your nails, laughing, and learning all the way through.
About the audio production from the website:  "This movie-quality audio theater—recorded in London—features a cast of stellar actors, including acclaimed British actor Brian Blessed, state-of-the art sound design from award-winner Mark Drury (The Chronicles of Narnia audio series), and a stunning music score composed by John Campbell (Lamplighter Theatre®, Focus on the Family Radio Theatre®, Adventures in Odyssey®). Adapted from the book, Under Drake's Flag, by G.A. Henty"
What we received and how we used it:
We received a two-volume CD set and a small Abridged Study Guide.   The CD's cover 2 hours of listening divided up between 19 short chapter stories. The chapter stories include: The Opening; The Otter; The Invitation; The Plymouth Harbor; On Board the Poncha; In the Carpenter's boat; The Voyage in Earnest; The Attack; Treasure and Retreat; Donna Anna; A Lull Before the Storm; The Storm; In Spanish Territory; With The Africans; War with the Spaniards; To The Coast; The Inquisition; Familiar Waters; and Disturb Us Lord.
The abridged study guide includes study helps for each story on the CD's. For each story you will find: comprehension questions (Listening Well); open-ended questions (Thinking Further); and vocabulary words (Defining Words). There is also a Bible Study section that helps your child understand Godly Character. There is a larger complete study guide available too at www.hentyalive.com/studyguide.
We used the Under Drake's Flag CD's and Abridged Study Guide for our Sunday learning with our kids. We held faith-based adventures for our Sunday School learning in the van over the course of several Sunday's and put the CD's in to listen to while we drove around. The kids pretended our van was a big ship and they too were sailing the seven seas right along with Ned and Sir Francis Drake.
We are in-between churches right now, and looking for where we FIT IN to serve and fellowship. That concept just sounds strange to me, because everywhere believers in Jesus are, should be a good fit to serve and fellowship, because we are all serving the same Lord. But sadly that is not the case in today's church.  Sadly we hinder the work of the Lord by wrong attitudes, denominational rules, and looking for differences in people.  We are facing this challenge to learn what God wants from us as a positive opportunity to explore different churches, as well as a great opportunity to lead our own kids in hands on service ministry while teaching them the gospel.  If it is a Sunday that we travel anywhere within an hour of where we live, we put in various bible learning CD's and faith-based adventure stories for the children to listen to and discuss together.
I believe Under Drake's Flag CD's were a perfect fit for our bible study learning with the kids, because they are mobile (use at home, on the road, or anywhere at any time), they teach Godly character, and show how God is always with us and will help us when we turn to him. We decided to spend every other Sunday visiting a local church (also visiting churches on Wednesday nights), and the other Sunday's listening to faith-based programs and "doing something" (Mathew West has a great Christian song called Do Something that our kids love), to put our faith in action in a hands on way to meet the needs of others. Basically we want to be the hands and feet of Jesus in a lost and dying world. Some people may judge us for this decision, to serve outside of the church building on a Sunday, but we believe it is the right decision for our family at this time. Isn't that what missionaries and traveling Evangelists do? Isn't this what Jesus did? Did he only sit in the temple and hear bible stories, or did he go out and do something and be the answer to people's needs? Didn't Jesus say to go out 2 by 2 and tell everyone about him? Didn't he say to meet the needs of others by feeding them, visiting them, encouraging them, and more? As we seek the Lord in raising our children, this decision seems like a powerful way to show our children faith in action and what we as the body of Christ need to be doing. Our faith must be courageous and go beyond the church building and into the towns and cities and places people are living if we are truly to be the salt and light in this world.
This opportunity to be mobile, and use Godly character building audio CD's like Under Drake's Flag, has allowed us to encourage our kids to reach outside of our comfort zone, and the four walls of the church building, to trust God and touch the lives of complete strangers. The kids are learning to trust God for the needs of others to pray with them, feed them, and meet some of their physical needs in a tangible way. Some folks we have met are homeless and some are not homeless. Some have given us their address and we have been able to maintain continued correspondence with them and sent them things they needed through the mail too to further their faith. Traveling from place to place in a moving vehical, listening to faith building stories and adventures, really enhances the kids excitement.
The kids were so excited to listen to every word of these stories. They were on the edge of their seat the whole time as Ned experienced one faith building adventure after the next. That is how real life is, one faith building adventure after the next, trusting God all the way to meet your needs and take care of you. With these Heirloom Audio Productions CD's your kids will follow along on exciting adventures, learn exciting historical facts, learn exciting new vocabulary of historical sailors and pirates, and build an exciting faith.  With Under Drake's Flag your children will learn right along with Ned to trust God in all things.
Exciting Adventures
Some of the fun, dangerous, yet faith building adventures Ned has with Sir Francis Drake include a shark attack, a shipwreck, he experiences fierce battles on both land and in the sea, and he comes face to face with the Spanish Inquisition.  How scary right?  But Ned allows God to  use each of these experiences to grow his faith.
Exciting History
Sir Francis Drake lived from 1540 to 1596.  He was considered by others as a hero in England but a hated pirate in Spain. He captured 93 Spanish ships as he traveled the globe.  He had a strong faith in God and allowed God to guide him on his journeys and in his conduct.  He helped England defeat the Spanish navy's invasion of English waters.  He was the first ship captain from England to travel across the world.  Also Queen Elizabeth had Sir Francis Drake knighted which was a huge honor.
Exciting Vocabulary
There are all kinds of words used on this adventure that make it even more of a unique experience your kids will love. Some of the new words my kids learned about include: flag ship, Spanish Inquisition, penance, mainmast, yardman, constellations, soul, leverage, recant and so many more.
Exciting Faith
What excited me the most is how Ned grows from an inexperienced young boy into a young man through all of these challenges he faces on his journey, and how he puts his faith in God instead of being afraid.  It truly is a tale of faith, strength, and courage as much as it is a fun listening adventure.
About G.A. Henty
G.A. Henty authored the book Under Drake's Flag. He lived from 1832 to 1902 and authored over 122 books. G. A. Henty was very athletic and adventurous, and he loved to travel the world and experience it first hand. He wrote historical fiction stories and his writings bring history to life with great details interwoven from his own experiences visiting those places.
Be sure to check out the website for more options on ordering and also follow them on Facebook for all the latest news and updates.

Be sure to check out what other homeschool families on the Schoolhouse Review Crew had to say about this wonderful product.