Thankful is all I can say about receiving The 7 Minute Life Daily Planner to review. It is produced by The 7 Minute Life company which helps women around the world manage their daily goals in 7 minutes of prep time a day.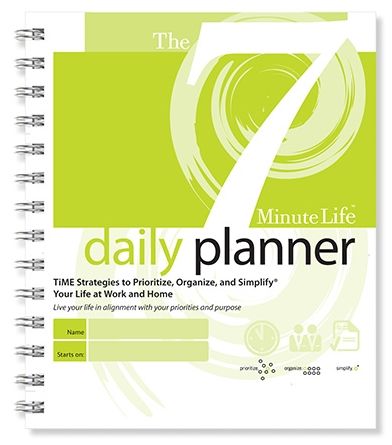 The 7 Minute Life Daily Planner
Spiral Bound and contains 269 pages.
Cover daily planning for 90 days, as well as other planning forms.
Retails $24.95
MORE THAN A DAILY PLANNER
I am so excited to share this resource with you because it is way more than just a monthly calendar and more than just another daily planner. This is a resource for your tool chest for managing life goals as well as daily tasks to reach those goals.  Plus if you use the free videos and extras that are available, learning this material is like taking a college class with lectures, text, and workbook in time management I would call "Life Management Course 101"!  How cool is that? Seriously, they should offer college credits, or CEU's for this.
So why would I care about a another daily planner, or focusing on tasks to achieve life goals, or even care to take a course in time management? Because I am always struggling to prioritize and organize what does matter in my life.
STRATEGY TO OVERCOME THE GIANT TIME SUCKING MONSTER!
There are so many little and big things that happen through out the day.  I need to identify and let go of the things/thoughts/clutter that takes away my time and really doesn't matter in the big picture of life. If all my time, energy, skills, and potential are used on the things that don't matter, then I am left feeling empty and unsatisfied when the day is through.  If this goes on and on, then in a few weeks, months, years you can definitely feel defeated about my life.
But what if for the next 90 days, I spend 7 minutes of prep time a day to tackle the "Giant Time Sucking Monster" with a strategy taught in The 7 Minute Life Daily Planner, and manage tasks that do help me reach my goals? That is what this planner is about.
The goal of the planner is to equip you with a strategy to make positive change by pre-planning your priorities and tasks in 7 minutes a day. Mental clutter, chaos, disorganization, and a lack of productivity can get anyone off track of their purpose and joy in life. This planner provides women with the process and tools to "Prioritize, Organize, and Simplify" to overcome.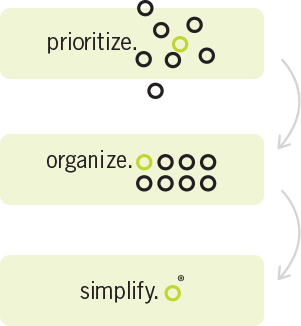 The process of getting life under control in 7 minutes a day for 90 days involves:
Set your priorities and stick to them.
Learn to avoid interruptions and distractions.
Master the chaos of endless unfinished tasks.
Declutter your mind and your life.
Beat procrastination.
Get rid of stress and anxiety.
Stop feeling overwhelmed.
Have time for the people and things you love.
Live according to your true purpose!
This planner is filled with helpful pages to keep you on track. Some of the planning pages / planning sections in the 7 Minute Life Daily Planner include:
Yearly Calendar
Monthly Calendar
Daily Progress Report
Financial Goals
Life Goals
Priorities
Meeting Planner
Notes Pages
Annual Exercise Progress Report
Home Repairs
Annual Projects and Tasks
DAILY PROGRESS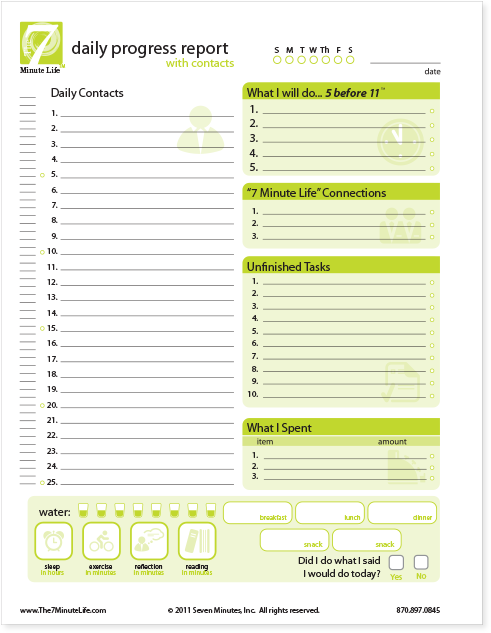 My favorite page in this planner is the two page Daily Progress Report page. I love it because it is so much like ME! It has places to record my daily contacts, appointments, 5 things I will do before 11 am, a place for unfinished tasks, what I ate, what I did for exercise, water / hydration, sleep, reading, reflection (prayer time), money spent and on what, appointments, thank you notes (birthday, get well, ??) to send, and a place to write down voice mails (or other contacts you need to respond to, like texts, emails, facebook, etc), and an empty place for journaling. All of this is on a two page spread, that lays flat thanks to the spiral binding, for each day. You can easily see the whole day and keep track of what is going on in your life from day to day for a whole 90 days. At the end of each day there is a place to mark if you got done what you said you would (that 7 minutes of prep time where you listed out your plans ahead and 5 things you planned to achieve before 11 am.
As a wife and homeschool mom of six kids, life is really busy everyday. We get up, eat, do chores, get school work going, take care of multiple ages in different subjects with different needs, keep a toddler and preschooler occupied, and make lunch all before 12 each day. Except for homeschool coop and class days days wich we are gone all morning until 12 or so. In addition to the usual things in our daily life, we have also moved across the country several times so part of our life is still packed away in boxes, we have ran several businesses (Construction, Healthy Foods Store, Healthy Foods Coop, etc) as well as have worked for others, volunteer teaching classes in the community, volunteer visiting nursing homes, and attend homeschool clubs, 4-H clubs and attending church. All of this adds up to a really busy week, busy month, and busy life with multiple responsibilities competing for our time. If I didn't say it enough, let me say it again, life is busy!
I am definitely not a "type A" personality, so being organized does not come easy to me. Oh…no…I hate to admit it, but I am not organized to the point I want to be in my life. It could be better. I get a lot done just because I am motivated and "jump in and do", but it is not always because it flows with the bigger picture of our life goals. I am not as organized as I want to be in life. Lately, with school starting and new demands on the schedule, stacks of books and supplies for 6 kids, looking for a new church home, and still having several unpacked boxes, I feel like the clutter and disorganization is about to drown me. It can get overwhelming real fast to keep everything running smoothly and keep the clutter at bay. I try to keep up with activities we are involved in by using a calendar on the bulletin board and it is synced with a digital calendar on my computer, but that is about as far as I have come in keeping plans organized since we moved to a new location last year. I just feel like I can't get on top of life right now and I am letting go of so many personal goals (personal physical fitness, my desire to write songs, my desire to write children's ministry curriculum, my desire to complete graduate school, to teach 4H, to teach youth ministry, to teach healthy focus workshops, etc.), because there is no time right now for me to work on them. Life is so busy and everyone needs me constantly that it just doesn't seem that I have any time to get organized, let alone have an extra 7 minutes a day to devote to planning.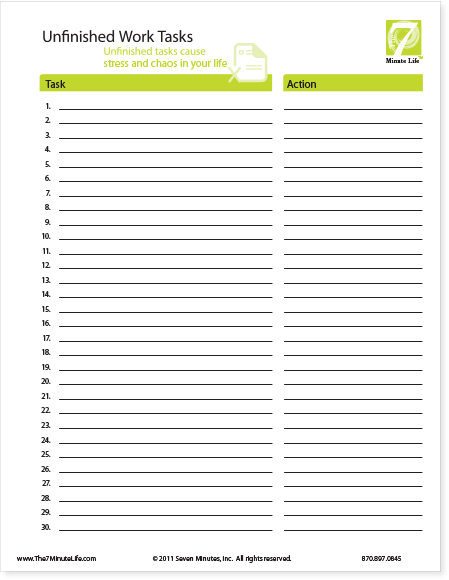 But with this planner, I am getting a whole new education.  I have been on The 7 Minute Life YouTube channel (see link below) constantly listening and learning about how to better use this planner, and the skills they share to organize my day and my life. This information is invaluable. It has all the "gear" I need to climb my mountain of life and keep my priorities in check. At the beginning of the planner, you are encouraged to write down your "big picture" priorities. There is a list of 75 different things most folks feel are important. You are to check off ALL of those that appeal to you. Then you select ten of those priorities and write them down as your most important focus for your life. This helps you come up with your purpose, and what makes you feel satisfied so that you will know what to focuss your time on.
Again, I can't stress this enough, this 90 day planner and the additional free resources that are available, is much more like a life strategy course rather than just a daily planner. 3 months is all it takes to learn and master this new strategy. Learning this strategy is life changing. It is like the way I felt when I learned the method of "how to study" when I took a college level study skills course.  I learned a secret, a key, to successfully take any course in any subject. Suddenly, I had a whole new lease on my determination to master my classes in college, because I knew the key to successfully completing them.  Reading through the 7 Minute Life Daily Planner, completing the steps to establish life goals, priorities, and pre-planning 5 daily tasks to keep me on track, taking one step after the next to accomplish the tasks, is helping me break down my overwhelming to do list and learn what to keep and what to let go of.
This is why I am so thankful. This planner is an answer to prayer for myself, and for many women, to learn how to get on top of the mountain of life. I am thankful that God has placed this key of wisdom in my lap at this time in my life. Thankful to get the "key" to gain access to a wise strategy to organize and prioritize my life, and prioritize my focus, examine what is important to me, and get rid of the rest.
If you need a better way to organize your life and your day, I would encourage you to give the 7 Minute Life company and their 7 Minute Life Daily Planner a try.
Resources and Media Links
Be sure to follow The 7 Minute Life on their media links for the latest news and product updates.
Facebook
Twitter
Pinterest
Google+
You Tube

Stop over at the Schoolhouse Reveiw Crew blog to read what other homeschool families had to say about The 7 Minute Life.