I am excited to share with you about wonderful product we will be using this fall called  Project Passport  World History Study: The Middle Ages by Home School In The Woods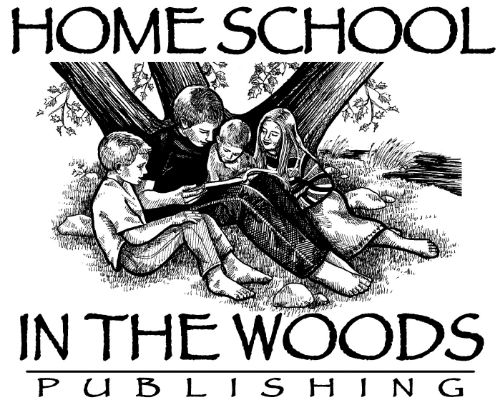 Home School In The Woods is a company created by a real homeschool family in 2002.  The Pak family understands the challenges of learning history in a way that is truthful, as well as easy to understand and remember.   They have created many wonderful uncensored historical homeschool curriculum resources for families, including amazing illustrated history timelines, lapbooks, notebooks, and unit studies.  The printable graphics and illustrations in the activities and the organization really gives this curriculum a special quality and I encourage everyone to check out their products and see which ones will work for your family.
Project Passport World History Study: The Middle Ages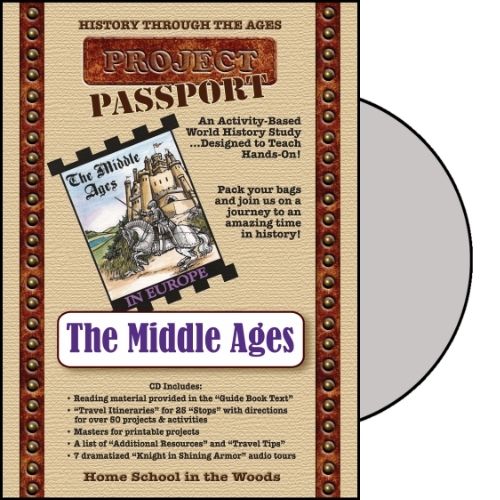 Format: CD or Download (Mac & PC Compatible)
Suggested grades: 3-8
For individual family use.
PDF Download Version $33.95
CD Version $34.95
WHAT IS INCLUDED:
This history product contains 25 lessons (or stops along the journey) that cover people, events in history, and geography from The Middle Ages about 400 AD to 1500 AD.   Some of the main historical events covered include:
Barbarian invasions,
Everyday Medieval life,
The structure of the classes,
Towns & guilds,
Science & invention,
Medieval education,
The arts,
Church history,
The castle,
The Crusades,
Knights,
Vikings,
Battles & wars
When your student is done, they will have made a passport that can be used for this and additional Project Passport Studies in history, a lapbook of all their research activities, a scrapbook of sights visited and project papers completed and a history timeline.  They will have several arts and craft souvenirs, file folder games, and recipes that they have made along the learning journey too.
Project Masters
The CD includes directions and printable masters for over 50 projects and activities.  This is very flexible. You can choose all of the the projects, or choose just a few of them that work best for your family!
Activities:
Creative Writing
File Folder Game
"Scrapbook of Sights" for storing notebook projects
Newspaper "The Medieval Times"
"Snapshot Moments in History" Scrapbook Timeline
"Postcards from Famous Folks"
Souvenir Craft Cards with a dozen 3-D projects to make
"Dining Out Guide" of Recipes
Lap Book Projects (over a dozen)
Dramatized Audio Tours
Travel Tips
Teacher Keys
Itinerary
Dramatized Audio Tours,
There is nearly an hour of listening on dramatized audio tours. Join "Knight in Shining Armor Tours" as Agatha (your tour guide) and Brian (your coach driver) take you on medieval excursions, such as a town on a Festival Day, a monastery where you will hear the sounds of Gregorian Chant, or the Battlefield of Hastings, and the Duke William of Normandy.
Travel Planner
The travel planner helps the teacher see the whole schedule.  They can see upcoming topics and projects at a glance and plan and gather supplies accordingly.  Use a three-ring binder to lay everything out for this history study including: Travel Tips, teacher keys, Additional Resources (should you wish to include more reading or viewing to enhance the study), and a Quick-Stop Itinerary.   Also included is a 3 ring binder notebook cover you can print in either color or black & white.  Putting everything in a binder will help you keep it neat and organized.
Teachers Guide
The teacher's Guide Book houses the reading Guide Book Text, the Travel Itineraries of project directions, as well as Travel Tips, teacher keys, and any of the other teacher helps.
Lapbook, Notebook, and Souvenirs
Throughout this history study,  students will accumulate many lapbook or notebook items they created from printouts and research activities to include in a final lapbook / notebook / scrapbook of the learning adventure.  Some of the specific activities include  "Snapshot Moments in History" timeline, Mapping the Barbarian Invasions, Famous People of the Crusades, Medieval Weaponry & Armor, The Coat of Arms, Illuminations, Pilgrims & Pilgrimages, etc.
We Love It!!!
All of my kids love this curriculum.  It is hands on and my kids love hands on unit studies on any subject, and this one is especially exciting.   We have this as our number one history and geography curriculum for this fall.   The Project Passports are designed to last at least 8 to 12 weeks in length.  That would mean doing two or three lessons per week.  However, this will project will stretch for 25 weeks if you choose to do one lesson a week, choose to do more of the projects suggested, and go deeper in the learning opportunities that are offered.  So I would personally recommend taking your time with this learning adventure and get as much from it as you can. It is quite the adventure and your kids are going to love it!
I am so impressed with this company and I personally would love to have all of the resources they have created for our homeschool.   We were sent their Project Passport World History Study: The Middle Ages for review and it is so huge, it will completely fill our history schedule this fall for our upcoming school year.  Here are just a few details to let you know more of what this about and I hope you will check them out and get started using them in your curriculum too.
Social Media
Be sure to check out Home School In The Woods on their social media links for all the latest news and updates.
Facebook: https://www.facebook.com/homeschoolinthewoods
Twitter: https://twitter.com/HSintheWoods
Pinterest: https://www.pinterest.com/hsinthewoods/
Google +: https://plus.google.com/b/109711152019235885312/+Homeschoolinthewoods/posts

Be sure to check out what all the TOS Review Crew had to say about products from this amazing curriculum company.