I was so excited when The Old Schoolhouse Review Crew was given the opportunity to review Spanish For You!. I am looking forward to teaching my kids Spanish and this product looks like a good fit for our family.




Created by an experienced Spanish teacher, Spanish For You! promotes a method of learning Spanish centered around various cultural themes . Spanish For You! teaches reading, writing, and speaking skills in a fun theme based way.

Themes currently available to choose from include Fiestas, Estaciones, and Viajes, with many more themes coming soon. Free Samples are available for each theme, just click on the picture of the theme you are interested in and download a pdf sample from that curriculum. Free mini lessons and Free Worksheets are also available.


Complete Theme Packages Include:

•Spanish For You! soft cover book of the theme (allow up to 2 weeks for delivery) or E-book (trial pkgs.)

Plus the following downloads:
•Audio download (MP3) of the entire book. You use these as the lesson guide instructs.
•A free bonus audio of the entire book recorded by a native speaker from Mexico. (MP3)
•24-30 Week Lesson Guide (PDF) – The student (and parent if needed) follows this guide step-by-step to know what to do, at whatever pace works for you.
•Self-checking worksheets (PDF) – You just print these as you need them. The lesson guide will tell you what you need to print and when.
•Free set of pictures for making flash cards and other activity materials. (PDF)


PRICE:

Each complete theme for all grades 3-8 retails for $64.95

Each grade can be purchased indiviually too for $39.95.

Or you can buy each of the individual products within the package separately too. Be sure to check the website for all of the different purchace options.

Spanish For You! products are geared for kids in grades 3 through 8. Each theme is meant to last for a whole school year and includes 24 to 30 weeks of lesson plans and more.


Our Experience: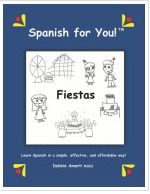 We chose Fiestas as our focus theme for this review. Fiesta means festival or festive celebration in Spanish and comes from the Latin root word that means feast. We chose Fiestas to learn with Spanish For You! because our family loves to feast at festive celebrations. Fiestas seemed like it would be a good fit for us and a fun way to get our feet wet with the Spanish Language. You can view a free sample of Fiestas and see how interesting it is.




I am thrilled to use this resource in our homeschool. We will be studying the Spanish language based around these Spanish fiestas:
Lesson 1: Birthdays
Lesson 2: Mexican Day Of The Dead
Lesson 3: Carnival
Lesson 4: Holy Week
Lesson 5: April Fair

The lessons are set up to use for 10 to 30 minutes four days a week. You can do more or less depending on your homeschool needs. Here is what our week 1 looked like:
Day 1 is a review of vocabulary words, listen to audio, play two games.
Day 2 is a review of vocabulary, listen to audio, complete a worksheet,
print and listen to "Happy Birthday" song from Spain and sing along.
Day 3 is review flash cards, complete worksheet, new vocabulary audio.
Day 4 is a review of flash cards, listen to vocabulary audio,
interact with audio




But just as we were getting started a few weeks ago, I had to postpone learning further with it due to a major life change. We are moving! I'm in the middle of packing, and I have had to totally change our routine for the past several weeks and the next few weeks too. It's quite challenging to pack your entire life, let alone the challenge of packing the lives of 8 family members, and move across the country. This is a huge transition for our large family.

I plan to re-start this program with my all of my kids toward the end of summer after we are settled int
o our new house and new routine. I will give an update later in the year and share with you how we have progressed with this curriculum. I know the kids are going to like it as much as I do. We love themes! We also love making unit studies out of most themes we are learning with. I think it will work out great in our homeschool learning adventures. In addition to the curriculum, I plan to have them watch a few festival videos, dress up, make some fun foods, and practice the new Spanish words they are learning during our homeschool festivals to go along with the Fiestas learning adventure too. This is going to be so much fun!


What I like about the program:

1. I like the ease of use. The study guide is mapped out for me and is easy
to follow.

2. We do everything together as a family, and with this curriculum we can all
learn together at the same time even though we are different ages.

3. I like the flexibility and can teach this as slow or fast as we need to.

4. There are audio files that help with the pronunciations and the product
includes all the materials we needed to successfully use this curriculum.

5. This course is easy to teach.


Spanish For You!'s motto:
"Its easy! Just follow the lesson guide and go!"

Be sure to check out what others on the Schoolhouse Review Crew had to say about products by Spanish For You!.