Sometimes I feel overwhelmed with the clutter and disorganization that goes along with raising a young family of six kids, homeschooling, doing product reviews, the supplies I need to store for teaching workshops and teaching community programs, and laundry and cooking 3 meals plus snacks for a family of eight people everyday.

Sometimes I wish I had a good friend who could come by and help with some organization to my life when I need help. There was a time about 13 years ago, when I first became a mom, that I hired a young teenage Amish "Mother's Helper" to help me keep up with household chores and gardening. We were a great team and accomplished alot. She was my right hand for three years. But that was many years ago and I haven't had that sort of help since. Boy oh boy I sure need it!

Things were challenging back then with one and then two young kids in the house. But it is a whole lot more challenging to stay organized and get things done now that I have six young kids in the house. I realize this even more as I am packing to move and have mountains of stuff to sort through. As I am drowning in the midst of papers, diapers, dishes, books, toys, and moving boxes! That is why I am thankful for the opportunity to review several home organizing ebooks by Simplified Pantry.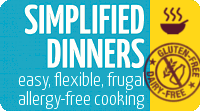 I was sent the pdf download ebooks of Simplified Dinners (retails for $12.99) and Simplified Dinners Gluten / Dairy Free (retails for $12.99) and Paperless Home Organization (retails for $3.99) to review. All three were written by Mystie Winckler from Simplified Pantry. She is a busy mom on a mission to share her successful techniques with other moms. Check out a video of her explaining more about why she created these resources.





My Experience:

I will focus on Simplified Dinners for the purpose of this written review. Simplified Dinners is a 30 page resource jam packed with good advice on simplifying our food storage, shopping, meal prep, meal planning, cooking strategies, and includes lots of recipes for easy to prepare ALL NATURAL meals.

On each page, Mystie focusses on technique and on the process of planning in advance to make life easier. The techniques can be repeated for several different meals. She places several recipes with techniques on each page. One page may include 5 to 10 different recipes that all have similar techniques. I have practiced many of the suggestions in the book for several years now and I found the advice sound and beneficial. It really does help to simplify.

This ebook (actually all three ebooks) would make a great gift for a young wife or young mom to help her get started in the right direction in running her kitchen (and home) like a well tuned machine. This would also make a great homeschool cooking or lifeskills class and teach technique and meal planning skills.

Techniques and Recipes from the book:
Slow-Cooker Roasts
Slow-Cooker, No-Defrost Chicken Pieces
Chicken-in-a-Pot
Skillet Cutlets with Pan Sauces
Marinades for Grilling or Broiling
Foil-Packet Fish
Stovetop Pasta
Bean Pots
Fajitas
Quesadillas
Taco Bar
Burritos or Enchiladas
Taquitos
Frittata
Oven Omelette
Pizza
Simple Stir-fry
Potato Hash
Baked Potato Bar
Bean Soups
Stews
Blended Vegetable Soups
Quick Soups
Main Dish Salads
Vegetable Side Dishes
Side-Dish Salads
Starchy Side Dishes


Key points that I learned from reading this ebook:

&nb
sp; 1. Simplify, Simplify, Simplify!

2. Pair down your pantry (and fridge and freezer) to a basic Master List of
foods that you can combine easily into delicious meals.

3. Shop for the foods on your Master List only! Don't buy extra. It just takes
away time and resources from your family, plus it may sit in your storage
areas and never get used.

During this review time, I have been following a 28 day (four weeks) diet plan in an effort to heal my thyroid and loose weight. I found several recipes in Simplified Dinners that were similar to what is allowed on my diet. I was thrilled these two resources shared several meal planning ideas and I was able to use them together. I was also thrilled that Simplified Dinners focusses on natural foods that are healthy and nutrient dense for the body.

Here are just a few of the meals and side dishes I made while reviewing Simplified Dinners:

Roasted Root Vegetables before roasting:



I peeled and cut up carrots, parsnips, sweet potatoes, and beets and then roasted them on a cookie sheet in the oven. These caramelized vegetables made a delicious and naturally sweet side dish.

Roasted Root Vegetables after roasting:



Fish: Skillet Cutlets (can be made with beef, chicken, pork, or fish)



Chili (I made it with ground buffalo, zucchini, and several beans including black beans)



You can check out her blog for free. She posts new recipes and techniques there and it is fun to see the latest goings on at her house! Be sure to download your free sample to from the product page.

When readers enter TOS2013 at checkout, they can receive 30% off! That discount will work on any or all of her ebooks, from May 20 through June 3rd.

Be sure to check out what others on the Schoolhouse Review Crew had to say about products by Simplified Pantry.