We recently reviewed the Lots & Lots of Fire products from Marshall Publishing and Promotions, Inc.

We reviewed both the DVD, Lots & Lots of Fire Songs & Safety Tips, and the book, Lots & Lots of Fire Trucks & Fire Fighters.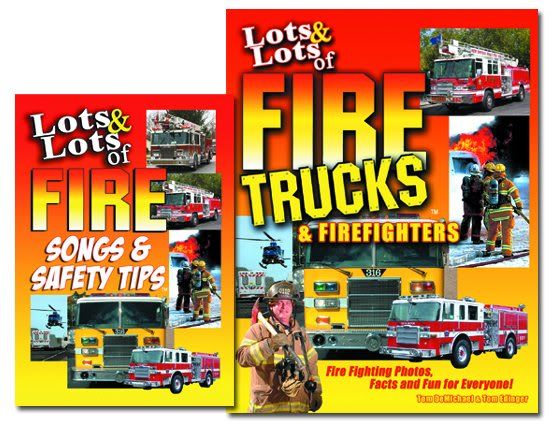 Marshall Publishing and Promotions, Inc is highly recommended and has won many award winning reviews. Here is a snippet from their website:

"Our DVD programs are endorsed and recommended by The Dove Foundation, Kid's First, NAPPA, Coalition for Quality Children's Programs and have received outstanding reviews in such publications as The Library Journal, Video Librarian, Booklist and more! The Lots and Lots of DVD series is also parent recommended for children with autism.

Over the past 30 years our management team has produced and represented over 35 television and home video programs that have been broadcast on both network and PBS television stations in the U.S., appeared in international markets and have been sold successfully in home video distribution.

Many of these programs have achieved and been nominated for awards such as the Telly, ITVA, VSDA and The Daytime Emmys while others have achieved milestones within the media industry."


The DVD is 30 minutes long and has a special 12 minute segment on fire safety that is useful for classrooms and fire safety workshops.




The DVD also has lots of songs that help children remember the fire safety concepts being taught. My children enjoyed the songs, and my older boys also really liked the segment on how a fire truck is made.

The book is 124 pages and has tons of real fire fighter and fire truck photos. I was amazed at how much information is packed into this book. The book chapters cover fire facts, science, safety, traditions, trucks, a time line, museums, and so much more. We plan to make a couple of the recipes in the book and try out some favorite fire fighter food.



We really enjoyed reading this book and seeing all the pictures. This is a perfect accompaniment to any fire safety, rescue squad, or community helper unit study. It thrills me to teach my children about real heros who live among us and serve our community everyday.




We tied this book and DVD in with our recent Fire Safety Workshop we attended. You can read about our Fire Safety Workshop here.




The DVD retails for $ 24.95 and is on sale for $19.95 The Book retails for $24.95 and is on sale for $14.95 Also you can currently buy both items together on sale for $29.95 (regularly $49) and save a bundle. Items are available for purchase on the Marshall Publishing and Promotions, Inc website.

My family definitely liked these resources and we will be reading and watching them again and again to memorize and reinforce many of the concepts being taught. We will tie this in with lots of our learning adventures this school year.

We were given a free copy of the DVD and Book in exchange for an honest review.





If you would like to learn what other TOS Crew members had to say about these products, please read the linkup posted here.