I love to make learning fun! Why not? Why make learning boring? Why not make learning fun and joyous?




I spent to many days as a child with sore fingers from writing so much, and a sore back from sitting in a chair for hours all day trying to do school work that didn't really matter. I loved school as far as talking to friends and my teachers and I loved science class. But I did not like sitting at a desk pressing hard with a pencil to write out "stuff" that just seemed like "busy work". So I just have to spice things up with my own kids. Learning just has to be fun!




I try to include as much play time, games, park time, outdoor activities, and hands on activities for my kids as I can. We do some pencil and paper learning, and we include some computer, books, etc., but the majority of our learning comes from lots of hands on activities. I want them to be "doing" while they are learning. Is it easy for me? No. It requires being involved, planning, playing, and doing lots of stuff together. But the rewards are worth it!

Thankfully, there are great resources for homeschoolers to learn by doing! I am so pleased to share another great product with you called Jeepers Peepers.




This is a fun learning game. It comes with:
6 pairs of silly glasses
6 clue cards
101 picture cards
an electronic spinner
colored bing chips
and a full color guide book




They couldn't wait to play this game.




You just want to be silly when you put on these colorful glasses. Go figure! These little darlings make me so proud!




The game is played by one player placing a picture card they have not looked at into the holding slot on the glasses. The picture card faces the other players, but the person wearing the glasses can not see it. The player asks "yes" and "no" type questions of the other players to try to figure out the picture.




This game is great for building deduction skills and communication skills in your kids. There are 6 clues on the clue card to help your child think up questions about the picture. The cards a very heavy duty. They are easy for younger children to hold and use. But is fun enough for kids and adults of all ages.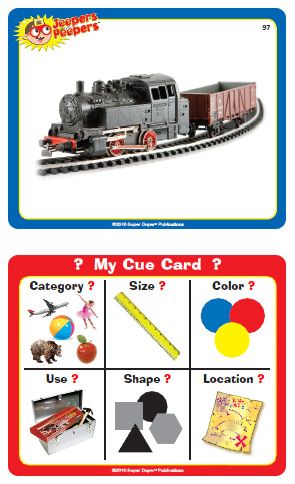 There are 5 main categories the 101 pictures cover. But you can also divide them into more categories like person, place, thing, inside, outside, hot, cold, alive, not alive, and so many more.

For example, the player may ask questions like: "Is it a person?; Is is a place?; Is it a thing?" Then they might ask questions like "Is it outside?; Is it in the house?; Is it in the living room?; Is it in the bathroom?; Is it in the kitchen?; Is it a food?; Is it an animal?; Is is a circle?"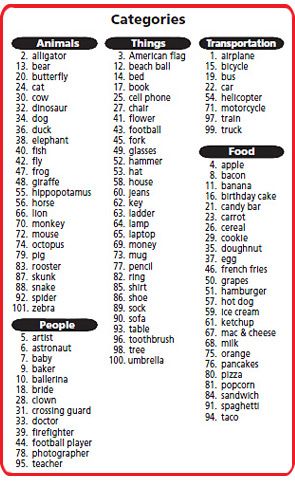 Eventually, by following the clues from the "yes" and "no" answers from their peers, they may figure out it is not a person, or an animal, it is inside the house, in the kitchen, it is a circle, it is a food.




Then the player knows to ask further questions in that specific area, such as: "Is it eaten at breakfast?; Is it eaten at supper?; Is it eaten raw?; Is It cooked?; Is it green?; Is it white?; Is it red?; Is it one ingredient?; Is it lots of ingredients?" and eventually they can figure out it is a pancake.




My kids love playing this game. They already have told all their friends and they neighbor kids too. It is super duper funny to see the players in their silly glasses and pictures they have on their head.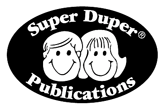 Jeepers Peepers is a product from Super Duper Publications. I am amazed at all of the quality learning products they have to offer.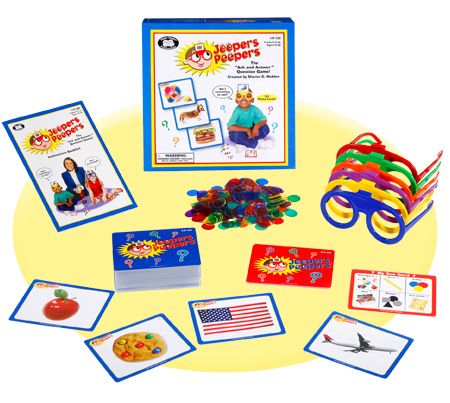 Jeepers Peepers is a really fun, silly, laugh out loud, learning game for ages 5 and over. It retails for $29.95. You can also buy ad
ditional glasses and clue cards. They offer free shipping too. Right now they are offering a 30% off coupon code "BLGJP30" that is good until August 31, 2012.

Be sure to check out what others on the Homeschool Crew had to say about this product.



Disclosure: I was given the above mentioned product as a member of the Schoolhouse Review Crew in exchange for writing an honest review. All opinions expressed are my own honest opinion.