I See Sam
Curriculum Review

Are you wondering where to start in teaching your child to read? Do you need a guided plan to help you help your child to develop reading skills? Are you working with a child who is learning to read, or a child reading in the K-3 reading levels? Are you working with an older child who knows how to read, but is reading below their grade level?

I See Sam, by Academic Success For All Learners, helps children in k-3 learn how to read and to read better than traditional reading programs.




I See Sam uses the Little Books in sequence to accomplish learning goals. The Little Books are broken down into 8 sets with specific learning objectives. Each book has two main objectives: learning elements of code in the book (sounds, words, word skills, and morphology); and using decoding skills to comprehend the story. Little Books focus on phonics, phonemic awareness, fluency, vocabulary, and comprehension. Check out their Scope And Sequence page for specific information in each set.

Set 1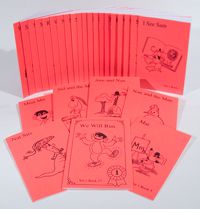 I See Sam Little Books can be used by homeschools, tutors, parents, schools, and after school programs. Each Little Books order includes an instructors guide, progress tracking charts, and success certificates to assist you in a successful reading adventure. Each set cost approximately $30 and is available on the Academic Success For All Learners website.

We were sent set 1 and set 2 to review. My seven year old son is learning to read and he loves these Little Books.




He is ready to learn to read. He knows all his letters and sounds and can write them. But after learning these things, he decide he didn't want to try to sound out words in books we were reading together. He has a short attention span, and I wasn't getting him to focus on reading. So I decided to try an online beginning reading program with him recently, and it too did not go so well. They offer a free trial period and his brothers have used this reading program and love the games on it. I thought he would love it as it was colorful, had games, and lots of interesting things to do, but he hated it. He was so frustrated, even with my help he felt lost and didn't want to do it.

Brace yourself. This is real. This is a picture I took as he struggled to understand the concepts in the online reading program (not mentioning any names). It was a sure tantrum! A total melt down and he refused to work at it. He said he did not want to learn to read. I knew it was over stimulating for him with all the animation, games, and music on the program. He is easily overwhelmed and frustrated if he doesn't "get it". But I didn't know what program to use to help him learn the concepts of reading. He didn't want me to teach him.



Now things are different. With Little Books, he turned his attitude around, and he is excited and wants to read. He "gets it". Each day he looks forward to our time together as we sit down and read these stories.


He loves the cartoon illustrations and can't wait to read the next line and find out what Sam, Mat, Sis, Mit, Ann, Nan, Sid, and the other characters are upto in the story. Though he would like to get ahead quickly, I am taking it slow with him, so he can keep a positive attitude and not get frustrated.


Each book builds on the skills and words learned in the previous book. So each story gets more interesting and your student is more excited to have mastered more skills as he progresses.

I am so glad we were introduced to the I See Sam Little Books. No more pulling my hair out trying to encourage him to sound out the words. Nope! Nada! He learns a few new sounds and a few new words as he progresses through each book. He remembers those sounds and words in the next book. Wow! He definitely gets the illustrations and can't wait to show me the silly antics the characters are doing in the story.




His older brothers were joking the other day and told him when he finishes the Little Books, he will get a reading license (like a driver's license). No kidding, he believes them, and is excited to reach his goal and get the completion certificate that he now believes is a reading license. This is one myth I am not going to rebuttle. If he wants to see the certificate as a license, and a milestone or part of growing older, and wants to acheive it so he can eventually get other important licenses in the future, then by all means go for it. It works for me!

Whew! With all the fit throwing he was doing, I didn't think he was going to read for a while longer. Now he is reading! Thank you Little Books! Thank you big brothers too.

Each set of Little Books are color coded for each learning level and contains from 10 to 27 books.

Set 2 Set 3 Set 4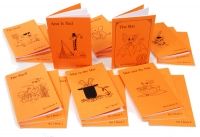 Set 5


Set 6 Set 7 Set 8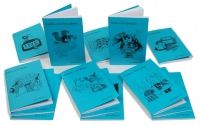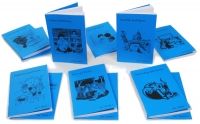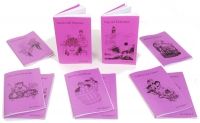 Though we are in a homeschool setting, these books are used in group settings too. Check out these videos below to see how these books are applied in a small group.

Here is a video showing Little Books Set 1 being used in a small group.



Here is a video showing Little Books Set 4 being used in a small group.



Here is a video of three children and a teacher reading Little Books Set 6.




If you would like to download a sample book and see for yourself how much fun these Little Books are to learn with, please click the button below.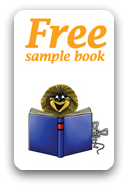 Several towns around the country have embraced the read to succeed literacy model. Their goal is to help children in schools learn to read and help parents learn to be a tutor to their child. Here is a CBS News clip I found on You Tube that shows how one town embraced the Reading For All Learners program.




Academic Success For All Learners program has several other products available on their website. They offer flash cards, puppets, worksheets, advanced reading resources and lots of free resources too. Be sure to check out their site for more information.





I was sent I See Sam Little Books set 1 and set 2 for the purpose of writing an honest review. If you would like to see what others on the Homeschool Crew had to say about this product, please check out the TOS Homeschool Crew Blog.


Question:
Have you tried the I SEE SAM Little Books reading program and if so, what did you think about it?