Our family is very blessed as a member of The Old Schoolhouse Homeschool Crew Review Team to be given wonderful reviewing opportunities of homeschool curriculum. It is exciting to share our experiences and honest opinions about these curriculum products with you.

We recently received Hewitt Homeschooling's My First Report Solar System and My First Report Transportation to review. My First Reports are wonderful packets filled with worksheets to help your child express what they have learned about a given subject.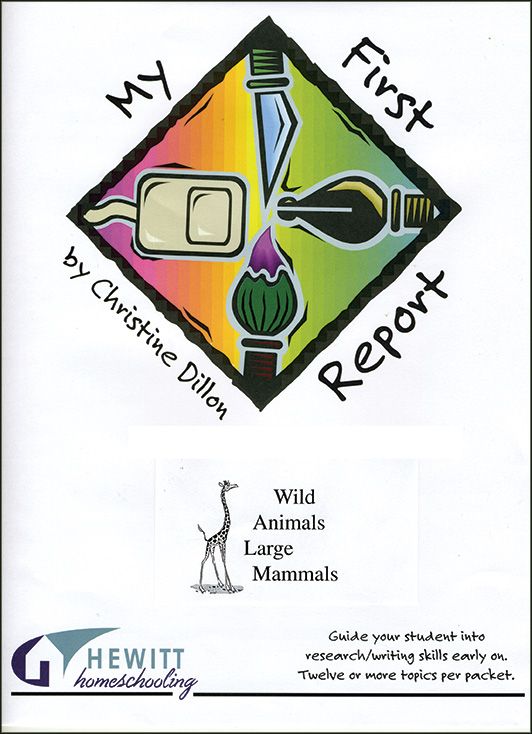 It is a unit study in a packet. It guides your child in researching a given subject or topic and helps them express in writing what they have found out. It contains question/ answer research worksheets, as well as essay worksheets that your child can illustrate with a picture too. There are word puzzles, coloring pages, and other fun worksheets.




Each packet contains at least 12 topics on a specific subject, plus reproducible report forms and additional unit study activities. If you chose to do one topic a week, a packet of My First Reports would last for 12 weeks. If you wanted to complete it faster, you could do it 3 times a week and accomplish it in 4 weeks or however you decide works best for your family.

For example, in the My First Report Solar System, the packet contained 57 pages.
The subject is the solar system, and there are worksheets for the topics of:
Sun,
Mercury,
Venus,
Earth,
Moon,
Mars,
Jupiter,
Saturn,
Uranus,
Neptune,
Pluto,
Asteroids-Comets-Meteors.

In addition to the topic worksheets, there is also an in-depth unit study covering:
Bible Scriptures and in-depth questions
History
Geography
Social Studies
Reading
Language
Math
Science
Health
Physical Education
Music
Art
Field Trips
Resource Lists
Library Books and suggested reading
Places for more information with addresses and websites
Vocabulary words and definitions

Additional items in this packet are:
Word Find Puzzle
Graph Paper
Solar System Map
Star / Sky Map
Star Identification Page
Planet Facts Table
Copy-work Pages
Report Forms
Instructions for teacher

I loved this product. We will definitely be using this more in-depth in our fall homeschool learning. The unit study is very well done and though we only had a few weeks to review it, it is definitely something my kids will continue to enjoy doing. If you ask my opinion, this unit study can definitely last 3 months or if you include all the fun in the unit study you could do a whole school year of learning. There is way more to do than just a few simple worksheets.

I also love that fact that this product encourages my children in their faith. It has scriptures and in-depth bible study with thoughtful insights and questions to develop and encourage their walk with God.

I love science too, so as you can guess, my favorite part of the My First Report Solar System is the science section of the unit study. WOW! It contained 15 science experiments that are fun and engaging. We completed 3 of the experiments, so we have plenty yet to do. There are also 10 art projects, and there is an endless list of field trips and other activities.

A few things we did over the past few weeks to learn about our solar system:
Take a walk after dark and observe the sky.
Sit outside at night and observe the moon and stars.
Take a picture of the moon.




Take several pictures of the moon over the course of an hour or so and
observe how it changed positions in the night sky.
Make a solar oven with a pizza box and record the temperature over the course of a
couple of hours. (our own experiment, and we converted degrees in celsius to fahrenheit.)




We even did a Sun Science program in the local park with lots of kids and helped them
learn to make solar ovens to make smores and nachos, and cook sun tea, did several
science experiments including using a solar panel to power a motor and run a fan. A
story is coming soon to share more about this fun learning adventure.




Use a balloon and observe how a rocket travels in space.


&
nbsp;
Draw a space ship.
Visit a planetarium (we have visited the planetarium at Roper Mountain Science Center and
we are headed back to RMSC this coming week and looking forward to learning more).


But there is so much more to do. I can't wait to build the astrolab, a telescope, a planetarium on our ceiling, and visit the ocean again to observe the tides, make a paper mache earth, make a solar system mobil and more. There is just way to many cool things in this packet to mention here.

All of the pages in the packets come three hole punched to easily insert them into your notebook, binder, or folder. They are also reproducible for home use. In my case, with 6 kids to homeschool, having reproducible is great! Just buy one and all the kids can use it.


My First Reports will encourage your children to share their knowledge about a subject by encouraging them in language, penmanship, and reporting skills. It will guide them to investigate a given topic using the library, encyclopedia, and dictionary. They will also draw a picture and illustrate what they know. It will take them on a learning journey about a fun subject with lots of topics to investigate, explore, experiment, create, and write about.

My First Report retail for $8.95
Click on the above link to read about each one. They are available in various subjects including:

My State
Eastern US
Southern US
Middle US

Western US
Birds
Bugs and Worms
Me
Marine Life
Music
Olympics
Outdoor Activities
Famous People
Plants
Reptiles and Amphibians
Solar System
Transportation
Weather
Wild Animals: Large Mammals
Wild Animals: Small Mammals
Lewis & Clark Expedition
Focus On The World

Want to save? Then check out the deals for buying in bulk and on sale.
My First Report also come in a set of 14 in a binder for $69.95 and a set of 5 in a binder for $24.95 Right now, you can order the My First Report Plants on sale for $4.48.





Hewitt Homeschooling started out as the Cedar Springs Foundation in 1964 and changed its name to Hewitt Research Foundation in 1967 after its founder, Carl Hewitt. Hewitt primarily provided research for education. What it found over the years was a strong need for the family unit to be supported in the formula of education and it became a pro-ponent of home-schooling. Hewitt provides support to homeschools in three main areas: services, testing, and products and is able to support parents with children in Kindergarten to 12th grade.

They have many great products and I hope you will check them out and see if they can meet your homeschooling needs. Please stop over to The Oldschool House Review Blog to read what others had to say about their products.





Disclaimer: I received the above mentioned product as a member of TOS Reveiw Crew in exchange for writing an honest review. All opinions expressed are my honest opinion.