Would you like your children to learn about science and hear biblical principals at the same time? Library and Educational Services has a DVD series called GO SCIENCE that does just that.

Watch this sample lesson from DVD 3


Go Science contains 6 DVDs that teach about various science concepts:

Vol. 1 Motion
Vol. 2 Simple Machines /Sound / Weather
Vol. 3 Magnetism / Engineering
Vol. 4 Chemistry / States of Matter / Life Science
Vol. 5 Air / Flight
Vol. 6 Water / Space Solar / System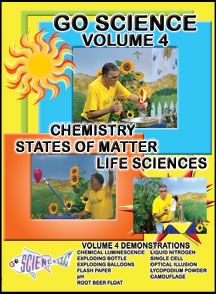 The continuing theme through out each DVD is "Everytime we learn something about science, we learn something about our Creator God."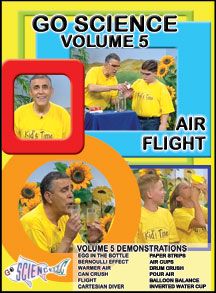 My family was sent two DVD's from the Go Science series for review. We were sent Vol.4 Chemistry / States of Matter / Life Science and Vol. 6 Water /Space / Solar System.




We watched the DVD's on the laptop computer. My kids were fascinated with the experiments! Ben Roy, the science teacher on the DVD's does a great job of keeping the kids attention. He is also an instructor of science methods at the University of Tennessee and is the former director of a science program on TV.




There are several experiments on each DVD and you can stop and start on any lesson or experiment that you choose. We started at the beginning and watched them the whole way through. The kids did replay several experiements over and over several times.

My kids were constantly saying "That is awesome!", "Did you see what he did?" "Can you believe that exploded like that?" etc.

The Go Science DVD's are recommended for ages 6-14. These experiments were fascinating for all of my kids of various ages (3, 4, 6, 9, 11) to observe. Even I was captivated by the explosions and attention getting experiements.

In Vol. 4 the experiments we observed (43:48 minutes) included:
Chemical Luminescence
Exploding Bottle (very exciting to observe a 5 gallon plastic jug explode)
Exploding Balloons
Flash Paper
ph
Root Beer Float (cans of soda, some float and some don't)
Liquid Nitrogen
Single Cell
Optical Illusion
Lycopodium Powder
Camouflage (clear polymers became gel cubes in water)

In Vol. 6 the experiments we observed (37:08 minutes) included:
Water Disappear
Boil Water In A Paper Cup
Properties Of Water
FLoating Balls
As Cold As Outer Space
Make A Rocket
Living In Space
Solar System
Centripetal Force


Each experiment was well done and had a huge WOW! factor.

The only thing I wish we could have done differently would have been to do the science experiments right along with the DVD. We love to do things "hands on" and I would have loved to have had science kits for these DVD's to complete the experiments ourselves. Doing our own "hands on" experiments with these DVD's is something we plan to do soon. All of these experiments will need adult supervision.

I plan to get a list of supplies put together, and repeat the experiments while we watch Ben Roy on the Go Science DVDs. These DVD's will be perfect to instruct us in repeating these experiments ourself. The kids and I will have so much fun with this. But my kids also learned just from watching Ben Roy do these experiments on the DVD's too. These DVD's are good for teaching science and entertaining with science.




Library and Educational Services (LES) sell these DVD's at a huge discount to homeschoolers, churches, teachers, library, (and more) in the wholesale customer category. That's right, Homeschool Teachers can buy from LES at wholesale prices. These DVD's retail for $14.95 and LES sells them for 40% off at $8.97 each or a bundle of all six for $47.95






If you would like to read what others on the Homeschool Review Crew had to say about these products, please see the blog, with review links, posted here.


Disclaimer:
I received a copy of the product mentioned in exchange for writing an honest review. All opinions expressed are my own.