Have you wanted to learn to speak FRENCH? There is a wonderful online learning program by French Essentials you might want to check out, and see if it meets the foreign language needs of your homeschool.




We were sent French Essentials Full Access Online Program (one full year, all modules, of their French lessons) to review recently in our homeschool. This program is jam packed with wonderful tools to help your student (and parent) to learn to speak French and retails for $149.95 other pricing packages are also available.

The Full Access subscription includes:
Downloadable lessons & printable workbook + (all necessary documents for
parents) for Modules 1-5 and Modules 6-10 will be available in the near future.
Online exercises & activities & online lesson tests
Online flash cards w/audio
Listening comprehension & spelling
2 challenging games (Scatter & Space race)
Lesson tests that give parents 4 different evaluation options.
Savais-tu? (topics on French culture)

This course is recommended for grades 2 through 12. The younger grades are not expected to complete as much of the work or work through it as quickly, while the older grades can do it all (all 10 modules) and qualify for 2 years of highschool foreign language credit. If your student has some French already, they offer a FREE PLACEMENT TEST so you can see where your student is at in their understanding of the French Language and know what module to start them in.

Here is a breakdown for pacing French Essentials for the different grade and skill levels as it was shared with me through the TOS Crew.

Suggested Pacing by Grade Level:

2nd: can listen/watch along, probably not doing written work, at the 3rd/4th grade pace, picking up the written work as a third grader.

3rd: moving at a pace of 1 module per year, or about 1 lesson per week in the first couple of modules. Can complete all 10 modules by the end of high school.

4th: moving at a pace of 1.2 modules per year through 8th grade, then a module per year in high school.

5th: moving at a pace of two modules per year through 7th grade, then a module per year 8-12th. Or a bit more spaced out, so 7 modules over 4 years.

6th: moving at a pace of two modules/year through 8th grade, then a module per year for high school.

7th: moving at a pace of two modules/year through 9th grade, then doing the final four modules over 10th-12th grades.

8th: would need to average 2 modules a year all the way through. Probably best to do 3 modules per year for 8th and maybe 9th, then the final four modules over 10th-12th grades.

9th: They would need to go at a pretty fast clip. 3 modules a year in 9th and 10th, 2 modules a year in 11th and 12th. All modules should be available when needed at this pace.

10th-12th: Eventually, the plan is to have a "Quick Start" for older kids that would cover Modules 1-5 during their first year, so they could move on to doing Modules 6-10 during their second year.


How We Used It:

We are learning both introductory French and Spanish languages this year in our homeschool. This French course is just the right program for our whole family to do together. We are using the full program for 30 minutes a day. We are still in Module 1. There are 20 Lessons, plus tests, and lots of activities to do in each module.

It is very handy to use this program online and print off what we need when we need it. When we log in, we get an option screen where we can choose what modules, lessons, tests, etc we want to work on.





If you choose the Download Area, it downloads the lessons to a file on your computer. You can either read from your computer or print. If you choose the Online Exercises and Lessons Tests icon, it takes you to a screen like the one below.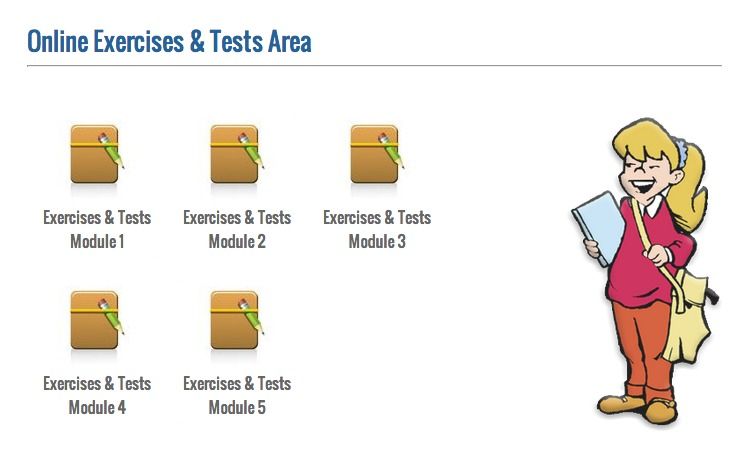 Now you can click on the module you are working in and choose the lesson or test you want to work on. For example, Module 1 has 20 lessons, plus tests. Here is our Lesson 5 from Module 1:




Within the lesson, we can choose to listen to how the words are spoken in the targeted pronunciation section, we can listen to vocabulary flash cards, we can watch videos and repeat words and sentences spoken, then we can do the workbook written exercises, and more.



French Essentials is culturally relevant and spoken by native French speaking people. It is written from an accurate French cultural experience to better help your student learn how to speak it. I plan to do a unit study on France soon with the kids and immerse them in more about the culture and language.



We are going to continue learning French with French Essentials for the rest of this school year. The kids and I recommend this program with two thumbs up! You can try before you buy and register for free and receive some Free product. You can also check out the free samples and videos offered.





Be sure to read what other homeschool families on the Schoolhouse Review Crew had to say about French Essentials.