Need a bible study topic for your teen, or young adult, daughter? You might give Journeys Of Faithfulness by Sarah Clarkson a try. Sarah has written a book designed to challenge and strengthen what you believe about yourself, your experience and place in life, and God's plan.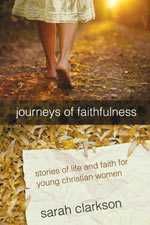 What is a journey?
Journey is to pass from one place to another, or from one stage in one's life into another.
(paraphrased from source)
What is faithfulness?
Faithfulness is to be loyal to one's vows, steadfast in allegiance, and reliable.
(paraphrased from source)

Journeys Of Faithfulness is a collection of stories about faith and life written for young women. It contains biblical truths, the author's personal journey, and historical fiction. It is also written as a devotional or bible study. This book would be useful for small groups, a mother and daughter study, and for individual study.

This book looks at what life challenges might have been like for 5 heroic, yet common, women mentioned in the bible: Mary and Martha (sisters), Mary (the mother of Jesus), Esther, and Ruth. By examining similar feelings, relationships, and circumstances young women face today, we can perhaps see ourselves in the places and times of these biblical women.




Through out the book, each chapter contains a historical fiction passage about a biblical young woman, then a devotional about the author's life and real scenarios she faced and how she compares herself in relation to the biblical character, then a biblical study of scripture passages with questions to answer, and finally a "journey journal" to record your own journey of faith including thoughts, prayers, and scripture. This journey process is repeated for each chapter (a total of 12 times).

The books is 215 pages and it is divided into four main parts and contains twelve chapters.
Part One: Mary & Martha
1. Learning to See
2. A Circle Of Glory
3. The Hush Of Love

Part Two: Mary, Mother Of Jesus
4. Story Formed Soul
5. Swords and Starlight
6. The Great Adventure

Part Three: Esther
7. Heart Alive
8. For Such A Time
9. Courageous Beauty

Part Four: Ruth
10. Claiming The Light
11. To Walk In Darkness
12. Desire Of My Heart






Journeys of Faithfulness is published by Apologia Educational Ministries, Inc, a well known publisher name of Christian curriculum and books. Journeys of Faithfulness retails for $13.00 and is written for girls and women ages 12 and older. You can read a free sample of the first chapter, "Learning To See", of the book before you buy.


What We Thought

This book is great as a fictional read that encourages faith, and also as a bible study. It uses a lot of descriptive words and is almost poetic at times. I could also see this book working for a word study or a study about a writer's style, though that is not the original purpose of the book.

I would encourage mothers to read it with their teen daughters and provide lots of discussion of the various journeys each of the fictional lives portrayed, as well as their own personal journey. You can read this at whatever pace works well for you, such as work on a chapter a day, or a chapter a week. The book could last you a few weeks, or several months depending on how fast you want to complete it.

I would also advise a word of caution for parents of younger teens, as the book discusses romantic feelings and desires, that some parents may or may not be ready to discuss with their younger daughters (some girls ages 12 to 15 might be a little immature for this subject). However, older teens and adult young women would definitely be able to relate to the romantic feelings and subject matter expressed by the writer. You as a parent know your daughter better than anyone, and you are the best judge of the maturity of your daughter and when she might be ready for this.

I would recommend this book for mom's and adult women too. I think we often miss out on relating to women in scriptures, partly because so much is left un-said. Sarah Clarkson has her own opinion about what might have been going on in the hearts and minds of these women. She does a beautiful job of putting her vision for these women into words.

Moms are so busy with motherhood and being a wife that we often don't have time to research deeper into the lives of other women and the women in the scriptures beyond a mention here or there. An unswerving faith, steadfast commitment, loyalty in our relationship with God and the man he has chosen as our husband, is needed in our personal journey. This book helps you get in touch with your relationship with the Lord, reflect on what life might have been like for these women and the men God placed in their lives to fulfill his plans and purpose, and enriches your personal journey.

Be sure to stop in and see what others on the Schoolhouse Review Crew had to say about this product.



Disclaimer: I received a copy of the above mentioned product, as a member of the Schoolhouse Review Crew, in exchange for writing an honest review. All opinions expressed are my honest opinion.