Oh where does the time go? I can't believe my son is already preschool aged! It seems like it was yesterday that he was a toddler. He is growing so fast and he loves learning. He is so proud to be a big boy and have his own school work. He has been having so much fun using Fundanoodle products in our homeschool learning adventures.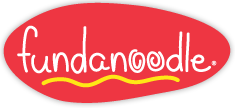 He is using three of the ORANGE Level Fundanoodle products: I can Cut; I Can Do Math Level 1; and Max and Alphies Adventures Level 1 .




I really like these activity books too, partly because my son likes them so much, and partly because they are produced on heavy quality paper, each book is spiral bound, and they all have a hardback.




This makes them very user friendly for a preschooler. They are portable too and we can use them at the table, on the floor, outside on the porch, or take them in the car if we want too. We are using these activity books for 20 minutes every day, and my son loves them! He loves them so much that he begs to do his school work!


I Can Cut



I Can Cut
Tablet and Safety Scissors: Level 1
Ages 3+/Preschool
Retails $7.99

My son is learning proper cutting skills as he snips and cuts his project pages. The scissors work for both left and right handed kids. My son is left handed and had no trouble. This activity book is full of different cutting exercises that help develop eye-hand coordination and fine motor skills. He is also learning to cut along the boundaries and getting better at holding his paper still. He is so proud of his skills and doing a good job. I can see he is becoming more confident in this task, and this book makes it really fun for him.


I Can Do Math



I Can Do Math Level 1
Ages 3+/Preschool
Retails $5.99

He is so excited about math! He is constantly telling me the new numbers he has counted. In this book he is learning while he colors and counts and is having fun with math. He is learning numbers (1-10), number words, shapes and lots of math skills for preschoolers. I am so proud of his accomplishments! And he is too!





Max & Alphie's Adventures!



Max & Alphie's Adventures! Activity Book 1
Ages 3+/Preschool
Retails $5.99

Max (a monkey) and Alphie (a boy) are two friends that love learning adventures. My son can really relate to Alphie. This activity book is full of fun and I am sure your child will enjoy it just as my son has. This activity book is designed to improve hand control and endurance, build confidence and develop fine motor skills. My son has had a lot of fun learning with this activity book. He enjoys connecting the dots, navigating mazes, finding hidden objects and coloring. He is learning to stay within visual boundaries too.




Preschool age children learn best by "doing", and playing, and being active. These products are great for building confidence, problem solving, following directions, and hands on skills with crayons, scissors, and learning skills such as counting, color recognition, number and letter recognition. But just remember, preschoolers do not need to spend a lot of time doing activities at a table. Use your own judgement, but I would limit preschool age coloring / writing / math / painting / etc. practice time (fine motor and writing) to 20 minutes maximum at the table, and then have them take a break. Some ideas are to have them do something that involves movement such as: play games outside, play inside, jump, dance, catch or kick a ball, etc.




We think Fundanoodle is not just a funny word, but also a fun way to learn! Be sure to follow Fundanoodle for great ideas using their products on their Blog, Facebook, and Pinterest and check into their on-going contests. Fundanoodle is so much fun!





Stop by to read what other homeschool families on the Schoolhouse Review Crew had to say about Fundanoodle activity books and learning kits.