Pearson Homeschool has many products to help the homeschool family with their curriculum goals. You probably already familiar with several of their educational products.

Pearson has been publishing educational products for schools for many years. It was began as a construction company in England that contributed to the direction of world economics in transportation, trade, and communication links in 1724. It began publishing a newspaper The Economist in 1843 and many authors in 1848. They began printing in the US under the Scott Foresman imprint in 1880. And the rest, as they say is history.

Pearson is the world leader in educational products. Now, they have a homeschool line of products too.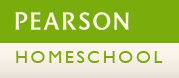 Description about Pearson Homeschool from their website:

"Since each home environment is unique, our homeschooling programs are created to adapt to your needs. We help you create a solid foundation in reading and language arts that is fun and engaging. In science, you can explore with your child, opening their eyes to the wonders around them. You can fine-tune your approach to math, to take the time you need for your child. In social studies, a journey around the world will help your child understand, connect with and experience various cultures and civilizations.

Thousands of parents like you are already using popular homeschool products like "Sing, Spell, Read & Write," "Plaid Phonics," and "MCP Math" to bring lessons to life. Your child will learn core fundamentals in ways that are meaningful to each child. The built-in reviews help students master the concepts, while the assessments guide your way to easily pace the programs to meet your child's needs.





Pearson Homeschool has a new product called enVision Math by Scott Foresman and Addision Wesley.

We received the enVision MATH Homeschool Bundle grade 3 for review. Homeschool Bundle retails for $124.99, or you can buy each piece separately.

The homeschool bundle includes:
Student Hardcover Text
MindPoint Quiz Show CD-Rom
Teacher Edition CD-Rom
Parent Guide




There is also a math manipulatives kit and a student workbook you can order seperately too. We have lots of math manipulatives at home so I did not order those. Some are made by Harcourt a subsidiary of Pearson, so I felt pretty good that we already have what we need in that department. But I would like to purchase the student workbook to go along with the hardcover textbook.




Right at the starting gate I was impressed with the problems in the student text. It was colorful, relatable, and parts of it reminded me of the Living Math approaches I have read. Though it is not a living math book. But much of it is relatable to everyday life and our cultural history.




One thing that really impressed me in addition to the fun and exciting pages, was that it tied math problems: addition, subtraction, multiplication, division, measurement, and geometry in with history and geography right in the beginning.

The Hardcover Student Textbook is divided into 20 units and has daily lessons, a review, and a test. Within each unit, the learning sections are color coded and include:
Number and Operations
Geometry
Data Analysis and Probability
Algebra
Measurement
Problem Solving Activities
Review Tests

The teacher CD-Rom has wonderful helps to walk you through teaching the class. It has planning pages, lessons with overview of objectives, essential understanding, vocabulary, guided practice, teaching tips, ideas for engaging students, and materials lists to aid in teaching. The teacher CD-Rom also contains the answers to the test questions.

There are lots of printable materials and teaching resources on the CD-Rom you can use.
Center Activities
Vocabulary Cards
Interactive Math Stories that introduce the learning ideas to your student
Lesson Masters
Problem of the Day
Quick Check
Extra Help
Practice Problems
Enrichment
Assessments including a variety of tests for each lesson.
Printable Games
Manipulatives
Grid Papers
Number Cards
Material Guides
and more.

The enVision MATH is set up to cover one lesson per day, and there are 20 topics covered in 160 school days. But you can progress as fast or slow as you need to. You can read the
table of contents and see the subjects covered.

I really like the tests. They are bright and colorful and show many descriptive pictures for the student to use when computing the math problem. This is such a welcome change from other boring, black and white tests. These test problems give the student a point of reference when answering the questions.




The MindPoint Quiz Show CD-Rom is a fun multimedia game that makes learning math fun. It helps the student understand and apply what they are learning. One or more students can play at a time. They can race the clock, each other, or play as a team.

How many peelers does it take to peel an apple? Peeling an apple comes to mind as I think about peeling away at the complicated task of teaching math to kids. And it also comes to mind as I ponder the various authors and creators of this product. It is amazing how many people collaborated on the enVision MATH product. You can read about the various authors and writers and consult
ants here on this page from their website.


Our Opinion (based on a 5 star rating):

enVision MATH

Quality: 5 stars.
Very well made with quality material and colorful too.

Price: 4 stars
$124.99 is pricey, but is reasonable in today's market for a quality math curriculum. We generally pay anywhere from $50 to $170 for homeschool math programs.

Ease Of Use: 4 stars
Very easy to implement, and your student can work independently, or with little or a lot of teacher guidance depending on what you want to do with it. It does require reading skills to read through the problems.

Adaptable: 5 stars
Easy to adapt to various skill levels. Easy to skip around and work on various sections or leave out sections if you choose too. Easy to use as a full curriculum or a supplemental resource.

Faith Based: 3 stars
It is neutral and is not for or against biblical teaching.

I used enVisionMATH 3 grade with my 9 year old son. He stuck with the problems and really liked the interaction of the material. He is a child that is hard to keep focussed on books for very long at his age. But this math program did keep his interest. Sometimes he needed help reading the pages. He does not particulary like to read alot, though he is getting better at this skill with age. He did not complain while doing this math book. Trust me, he usually complains some. He enjoyed the CD-Rom game and we plan to continue using this product in our homeschool. He gives it two thumbs up!

I think that enVision MATH is a good product. It comes with helpful teaching resources. It is well made, covers all the learning skills for the specified age, and is a fun math program for kids to learn.


Read the TOS Homeschool Crew blog to see what others had to say about Pearson Homeschool curriculum products and enVision MATH.
Disclaimer: I received the product mentioned above, as a member of the TOS Homeschool Crew, in exchange for writing an honest review. All opinions expressed are my own honest opinion.