This summer my 13 year old son has been playing Mayan Mysteries Online Game by Dig It Games. He was excited when we found out our family was chosen to review Mayan Mysteries for The Old Schoolhouse. He really enjoys reviewing products, and not only him, but all six of my kids are becoming very skilled product reviewers these days.

I used to teach Cultural Anthropology as a student teacher at Kansas State University. I love learning and teaching about other cultures, geography, history, and historical and cultural artifacts (archeology). I wish a product like this had been available for the college students I taught. I am glad my kids will get some exposure to these subjects through this online game.





Mayan Mysteries Online Game
Grades 5-8
$21.99 year subscription
$9.99 iPad app
School license also available to use with classrooms for $299.
Check the website for details.


What Is Mayan Mysteries?

It is a fun online game that teaches cultural anthropology, archeology, history, geography, and problem solving centered around the Great Mayan Empire in South America. Though this empire went extinct, there is much to discover about their culture and way of life by studying the clues left behind.

In this game, kids travel through history, explore, and learn about the Maya civilization, discover artifacts, decode glyphs, visit ancient cities, explore the Maya calendar, and more in this exciting educational journey. Here are just a few of the learning opportunities:
•Visit Maya sites
•Discover and analyze ancient artifacts
•Decode glyphs
•Explore the mysterious Maya calendar
•Learn about the Maya math system
•Solve puzzles
•Gather clues




My 13 year old son enjoyed playing this game. He usually spent 45 minutes to an hour playing it each time. In the game, he is part of a team that follows clues to solve the mystery of Mayan artifacts that are flooding the black market. These artifacts are being looted from ancient Mayan civilization sites.




The game did take a while to load some of the levels due to our slow internet connection, but once that portion of the game loaded, he really had fun learning with it.




This is a journey of exploration, and the learning goes way beyond playing the game. There are hyperlinks built into the game to learn more about this culture, history, and geography. My son is very inquisitive and always clicks on every available link to learn more.




My son and I were able to keep track of his progress and achievements, his quizzes he had passed, and artifacts he uncovered on the Achievements page.




However, if you are a school teacher, there is a great feature built in the classroom version of this product. I wish parents had access to a great feature called the Teachers Management System. But it is only available at this time for Teachers if you buy the school classroom license which works with up to 30 students in a classroom. But look at these great progress reports! I hope one day they will make it available to parents too.




My son would like to have the iPad app of this game so he can play it when we travel. He always plays digital games when we travel. He gets motion sickness and keeping his mind busy with a game helps to lesson the symptoms. I can see where the app would come in handy for on the road learning.

He was a bit uncomfortable with one feature of the game, so I am going to mention this in my review. After he played the game for a while, "out of no where" (his words to me), a spirit guide appears from an online book that is opened. This really bothered him, and I can understand why. We talked about how the Mayan culture believed in such things and many indigenous peoples that still exist in the earth today also still believe in these as part of their religion. But it is not something we believe in, according to the bible. The only spirit we consult or listen to is the Holy Spirit whom Jesus Christ sent to us when he went to be with God. Beyond that we are told to test the spirits and avoid interacting with them.

I don't mind teaching my son about what a "spirit guide" is and that we don't believe in listening to it even though some cultures do. I want him to appreciate different cultures and their beliefs. But I do mind a "spirit guide" being an essential feature of the game and that the game required my son to interact with it. He has never participated in any thing like this. We have intentionally avoided all forms of wizardry, witchcraft, Harry Potter, fantasy and magical stories and games his whole life. It was a shock to him and to me that it was an essential part of this game.

I love Cultural Anthropology, but I
would never require my students, even on a college level, to simulate or participate in aspects of cultures that involved the spirit world. So I am torn as to whether or not to recommend this game for younger students. I think it would be better suited for older students who have a solid foundation in their beliefs and are able to evaluate this aspect at a mature level and understand that it is wrong to seek out information from a spirit guide.

I asked my son to type out his own review about the game and I have included it here:

Mayan Mysteries is a fun game that teaches you about Mayan history by taking you to virtual dig sites where you can discover facts about the Mayan culture artifacts by reading facts, completing quizzes, completing out run the looters mini-game, excavating artifacts.

When you first start the game you are given the option to continue your previous game or start a new one. Once you click "start new game" you are taken to an intro scene with Chief Mateo talking about artifacts being looted and sold on the black market in Guatemala. He wants to stop the looting of the ancient ruins. Then a sack with an artifact in it gets thrown through the window, and it has a note:

From the website: "Policia: You can have this guy, and the crazy collector who's after it. Not enough money in the UNIVERSE to make this loot worth keeping – good luck you'll need it!" Signed, "Saqueador" "Mateo is shocked!" "A looter that is turning in loot the world has clearly gone loco" "Mateo looks on the bottom of the Mayan ballplayer and he see's a glyph so he grabs a magnifying glass and examines the glyph again" "Curious… this glyph doesn't match any of the ancient Maya sites… well, none of the KNOWN sites" "This is a job for team Q!"

So Mateo decides to contact team Q, He talks to Alex Quinn the leader of team Q, alone with Alex is his niece Fiona and his nephew Charlie and their friend Me. After the information scenes it takes you to Mateo's office where he tell's you that if you can solve all the quests for this level he will give you his ancient Mayan book, one of the quests is to name all of the places the Maya lived in Central America you have to label their names shade in all the areas they lived and name the dig sites.

After you complete all the quests he gives you the book then you travel to the first Mayan dig site Ceren where you have to dig up artifacts complete quiz puzzles and out run the looters.

The game is very accurate to Mayan history. I loved the game up until the part of the game where after you complete all the quests for Ceren and Fiona and Charlie have a question and decide to open up the ancient Mayan book. When they got it open it said "Spirt of the the Maya awakening" and a spirit came from the book and said and says he is the chief Mateo. I was very unsatisfied with that. For me the "spirit" totally ruined the fun of the game.

So far my favorite part of the game is excavating the artifacts. Over all the game was good, but it would have been better if the spirit was removed from the game. I think the game would be awesome without it.


And there you have it folks, straight from the lad who played the game!!!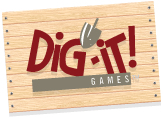 Dig-It Games was created by an archeologist. Two archeologists actually worked on creating Mayan Mysteries. Read more about the creators and their vision for these online learning games here. They also produced Roman Town, available for $19.99 and I am sure will have more of these games to come. My son has already asked me to purchase this game for him too.

Be sure to check out what others on The Old Schoolhouse Review Crew had to say about Mayan Mysteries by Dig It Games.