Are you looking for something fun to read in your homeschool? Then you might want to check out Diary of a Real Payne Book 1: True Story by Barbour Publishing.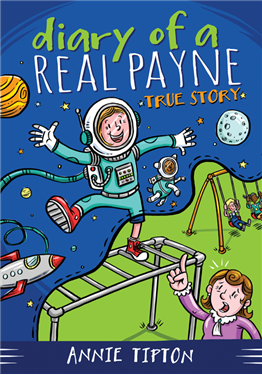 Diary of a Real Payne Book 1: True Story
By Annie Tipton
Paperback
192 pages
Written for ages 8-12
Retails for $5.99 and currently on sale for $4.49

When I was a young girl, I used to daydream about what life might be like outside of my small town. What exciting adventures awaited me? What amazing places would I see? Maybe I could be a doctor, or president, or even a cowboy! I kept a journal and wrote down my thoughts and hopes for my future. Sometimes I wrote about things I did, but most of the time I wrote about things I hoped to do someday.




That is exactly what the main character in this book does, she daydreams. Emma Jean (known as EJ) Payne is 10 years old, and daydreams because she can't wait to explore the world. She thinks life in her small town is boring. She dreams about adventures at the circus, outer space, racing cars, and more. She writes down her hopes and dreams in her diary. But sometimes her daydreaming gets her into a quandary in real life too. Eventually she learns how to enjoy her everyday life. The book goes back and forth between her diary and her real life and is a lot of fun to read.

Here is a short video of the author reading from this book:



This is the first book in a series of youth fiction books written around the Emma Jean character. The next book is due on shelves in March 2014. This book would make a great Christmas gift and is very inexpensive too. The story even ends with a lesson learned about herself after helping others at Christmas. She also draws closer to God through the lessons she learned. So I think it would make a great Christmas gift for kids to read over the holiday break. You can pick up a copy on sale right now for $4.49 through Barbour Publishing. What a great price!





Though it is written for boys or girls in the 8-12 range, this is a fun story for kids and adults of all ages. If your child is not old enough to read it on their own, it can be a fun family read aloud too. We did both. I read the book to my younger kids, and my oldest son read the book on his own. I found him reading it on the couch, in the van, and reading in bed too. He loves to read. He told me he liked the book but wished the character was more of a "real pain", as he looked forward to reading it from that perspective. But even though it sounds like it might be about someone who is irritating, it really isn't about that at all. I don't want to give away too much about the story, but it is a fun read.

This book is fun, silly, and serious all rolled into one. After reading this book, I personally think this book would be a fun book to row! If you are familiar with the method of rowing books from the younger years, this book would make an incredible journey to follow along and do lots of related activities and keep them in a lapbook or notebook as a keep sake. I think it would be fun to have the kids illustrate some of the fun daydream adventures, build a diorama or other stuff they can build, do some crafts, perhaps keep their own journal too as we follow the diary of EJ, and add in all sorts of hands on activities and make it come alive for the kids. Whether you just read it, or row it, you will enjoy this story.





Be sure to check out what other homeschool families on the Schoolhouse Review Crew had to say about using this product in their homeschool.