Beeyoutiful is a company that cares about the well being of their customers. They strive to be a helpful resource to people who want to live a healthy lifestyle.

A quote from their About Us on their website reveals their intentions: "At Beeyoutiful.com, we believe that each individual is responsible for their own health. It is not a doctor's responsibility to keep you in good health. Instead they are a tremendous resource, especially for those times when urgent care is required. But, they are only one of many resources. And the tools they use, while powerful, are not the only tools available. But a tool is worthless unless one knows how to use it. ……As much as is in our power, we want to aid others in obtaining and maintaining good health."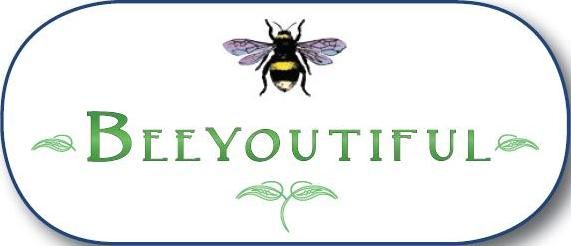 I was impressed with their ideals and the products they carry. Many of these products I have used over the years, and carried in my own store. Since closing my store, I am always on the look out for companies that supply the same or similar products and support their customers well. Beeyoutiful meets those standards I am looking for.

They are outspokenly Christian in their faith. A quote from their Values page reveals this: "We are believers in Jesus Christ. We strive to act according to what this means to us. We believe in treating others the way we would like to be treated."

Their website is set up to shop by product, or by health concern. They offer discounts for some bulk purchases too. They also offer a health forum and health articles to support you in your healthy lifestyle journey.

Beeyoutiful sent me a bar of their Milk & Honey Facial Bar and a tube of their B.A.L.M. to review. I was very impressed with both products.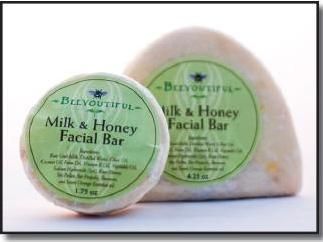 I love goat milk soap. In addition to carrying several varieties made by local crafts people in my store, I also used to make a variety of goat milk soaps myself every spring when I had a surplus of goats milk after they kidded. So when Beeyoutiful sent me a bar of their Milk & Honey soap and the first ingredient listed was RAW GOATS MILK, I knew I would love this product. And it was true, I loved it.

This soap is definitely worthy of giving as gifts to your loved ones. It is full of excellent healthy ingredients: Raw Goats Milk, Distilled Water, Olive Oil, Coconut Oil, Palm Oil, Vitamin E Oil, Vegetable Oil, Sodium Hydroxide, Raw Honey, Bee Pollen, Bee Propolis, Beeswax, and Sweet Orange Oil.

After using this soap, your skin feels soft and invigorated, not dried out or greasy. I love using goats milk soaps for this reason. They are gentle and moisturizing to the skin.

Finally, this product is made in the shape of a bee hive with little bees flying around it. It is adorable and anyone would love to receive this as a gift.

The B.A.L.M. stands for Beeyoutiful All-natural Lip Balm. It is the nicest smelling lip balm I have ever used. There is no taste. It goes on smooth, and the sent really invigorates you.




They carry two different scents, orange and peppermint. I was sent the orange B.A.L.M. It is made from: Organic Grapeseed Oil, Organic Shea Butter, Beeswax, and Orange Essential Oil.

It truly is amazing that these four simple ingredients could come together to make a product so pure and wonderful to lips and to the senses. My lips continued to feel soft and moisturized for hours after using, unless I ate or drank something, and then I would reapply as needed.

I would definitely give these products two thumbs up, both to use myself and to give as gifts. Great quality and value, and wholesome ingredients.



I was given a sample of Beeyoutiful Milk & Honey Facial Bar and B.A.L.M. in exchange for trying it and writing an honest review. See what others on the
TOS Homeschool Crew
had to say too.