My school age children are boys ages 7, 9, and 11. I also have three younger children ages 4, 3, and 6 months. We homeschool. Our favorite subject is science. Our least favorite subject is writing.

Though my boys love math, science, engineering, unit studies, geography, and history, they are not interested in doing writing assignments. They don't mind writing to answer questions. They also love to write comic strips. They enjoy writing birthday or get well cards. Sometimes they write stories they decide to write themselves. But if asked to write as part of "school work", then a battle ensues. They are reluctant and just don't like to sit and write.

I think it is the young age. I honestly think (and hope and pray) by the time we are in high school and adulthood they will love to write. They already love to tell stories. They just don't want to sit down and put the pencil to paper yet. So it takes a lot of encouraging them. I don't mind gently encouraging them and I don't push it often, as I trust that eventually we will "get there".




The 11 year old is starting to show more interest in writing. He is making movies with his camera and Nintendo DS, and I am encouraging him to write a script for his projects that he is making. This is an ongoing goal. I have shared a story in the past, about his reluctance to write stories. A few months ago, he started learning with a middle school age writing program we were asked to review, and it deals with analyzing current events and this is challenging and interesting to him. I am looking forward to the improvement in his writing skills he will have after completing it.




But the younger boys, though they are also making movie projects too, they still haven't developed that desire to write down their ideas, thoughts, or create a story. So perhaps you can understand my enthusiasm when we were asked to review a new writing program geared for kids in K-3rd grade. I think God always provides for us where we need it.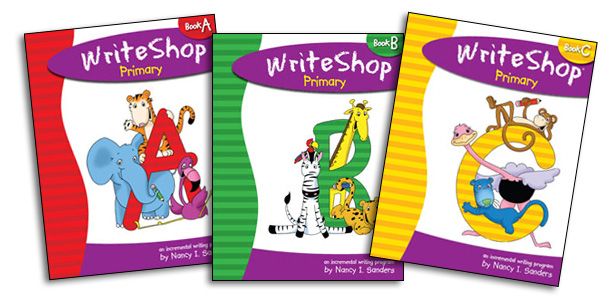 This is a new writing program for younger kids called Write Shop Primary by Nancy Sanders. There are 3 books in the Write Shop Primary series (Book A, Book B, and Book C). It is an introduction to writing and the assignments are meant to be fun and easy.

Write Shop Primary is produced by Write Shop. Write Shop was created by two homeschooling moms. They each had daughters and sons, but their sons learned very differently and by the time they were twelve, and the moms had taught various coop classes together, they realized they needed a writing program to help their sons. Their story really inspires me and you can read about them here. The creator of Write Shop Primary, Nancy Sanders, information can be found here and here.

The for the full Write Shop Primary program, you will need a teachers guide, and an activity set worksheets packet. Prices range from $4.50 – $4.95 for different packs and $25-$32.95 for various teachers guides and are available for purchase on their website. You will also need writing supplies available in your local office supply or teacher supply stores, and a list is provided at the beginning of each lesson so you can prepare in advance. There is also list of picture books needed to fulfill the assignments too. These are likely books you already have around the house, or available in your local library, that meet a certain "theme" your student will write about. You can find a list of the picture book themes here.

You can determine which Write Shop Primary book you need by referring to the placement chart on their website.

You can try before you buy and see FREE sample lesson from each book.

Sample from Book A

Sample from Book B

Sample from Book C




We were sent Write Shop Primary Book B and the related Activity Set Worksheet Pack for our review. I am currently using this writing program with my 9 year old son, but I am planning to order additional Activity Set Worksheet Packs for use with my 7 and 11 year olds too. I am very impressed with this product, and I would like all three boys to progress through the program together.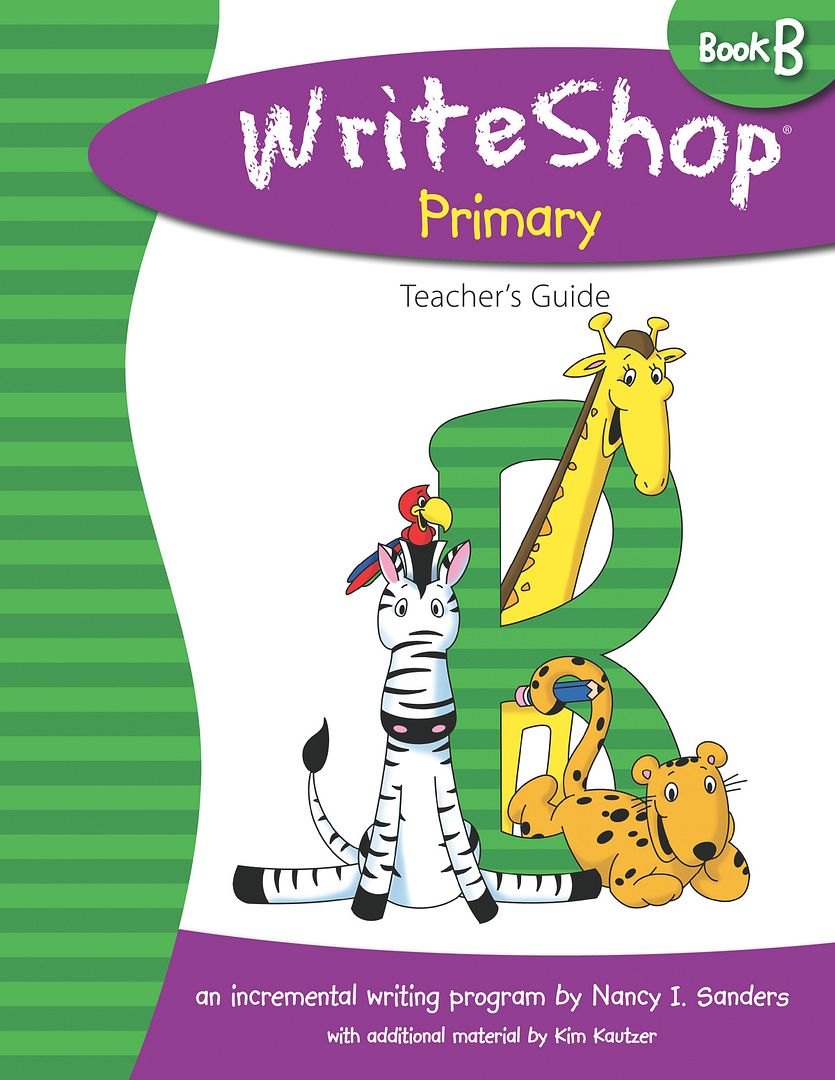 The Teacher's Guide is a complete manual with teaching helps through out the book from cover to cover. I was impressed with the amount of help the guide provides. It is very useful and adaptable for many different situations. It remind me a lot of a unit study or a book of lots of mini unit studies where writing it the main intent. Whether you are an experienced mom who feels very comfortable teaching writing, or if you are not very confident, this manual will work for you because it is so flexible.




The Teacher's Guide goes through each lesson and activity step by step, laying it all out for the teacher. It also gives additional helps such as how to set up a writing center to help encourage a positive writing atmosphere for your child. It explains simple things to include
to help your student complete the assignments. For example, how and why to make a Word Bank Super Speller with a manilla folder, or a Word Wall Super Speller with butcher paper or poster board. pointers, story ideas file box, a rhyming words binder, and a paper wallet of gold paper word coins.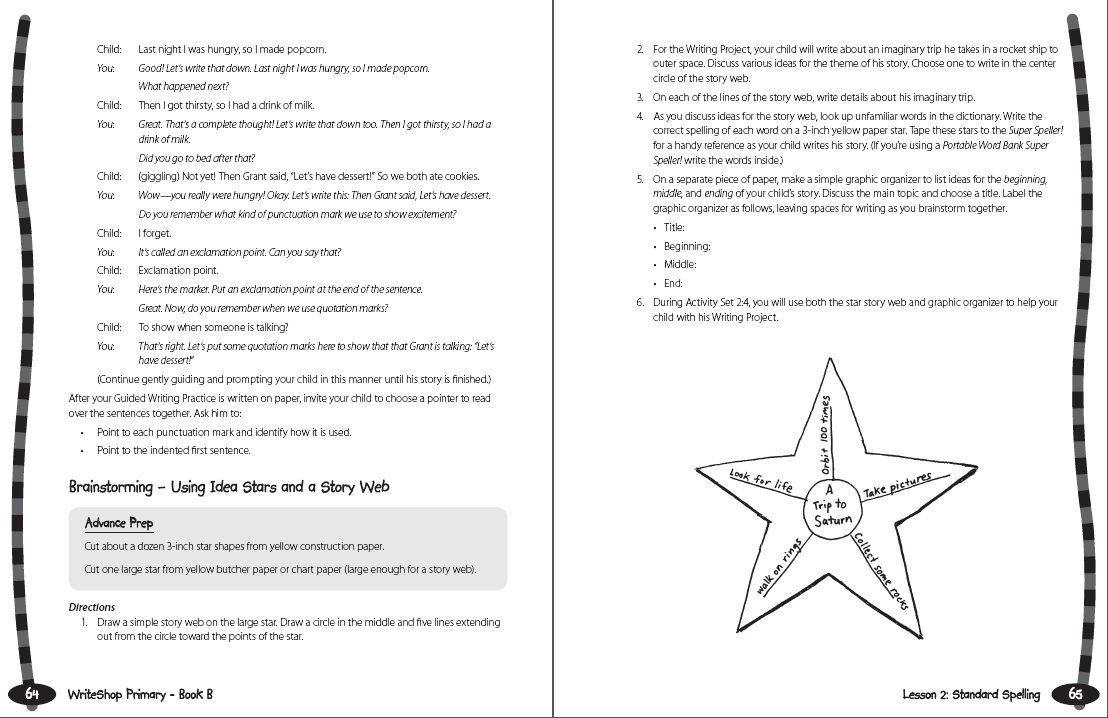 Book B has 10 lessons. Each lesson is divided into 8 activities. That is a total of 80 writing activities. There are also some crafts and fun projects included too. There are suggestions for publishing your students writing and there are also additional writing activity suggestions at the end of each lesson too. See the chart of the various activities in each lesson to learn about the fun activities in each book.

In addition to the lessons in the Teacher's Guide, there are also Activity Set Worksheets to complete for various activities in the lesson. The Activity Set Worksheets Pack for Book B has a total of 20 worksheets, and two Skills Evaluation Charts. The Writing Skills Evaluation Charts are provided to help you understand your child's strengths and weaknesses and identify where they may need additional help.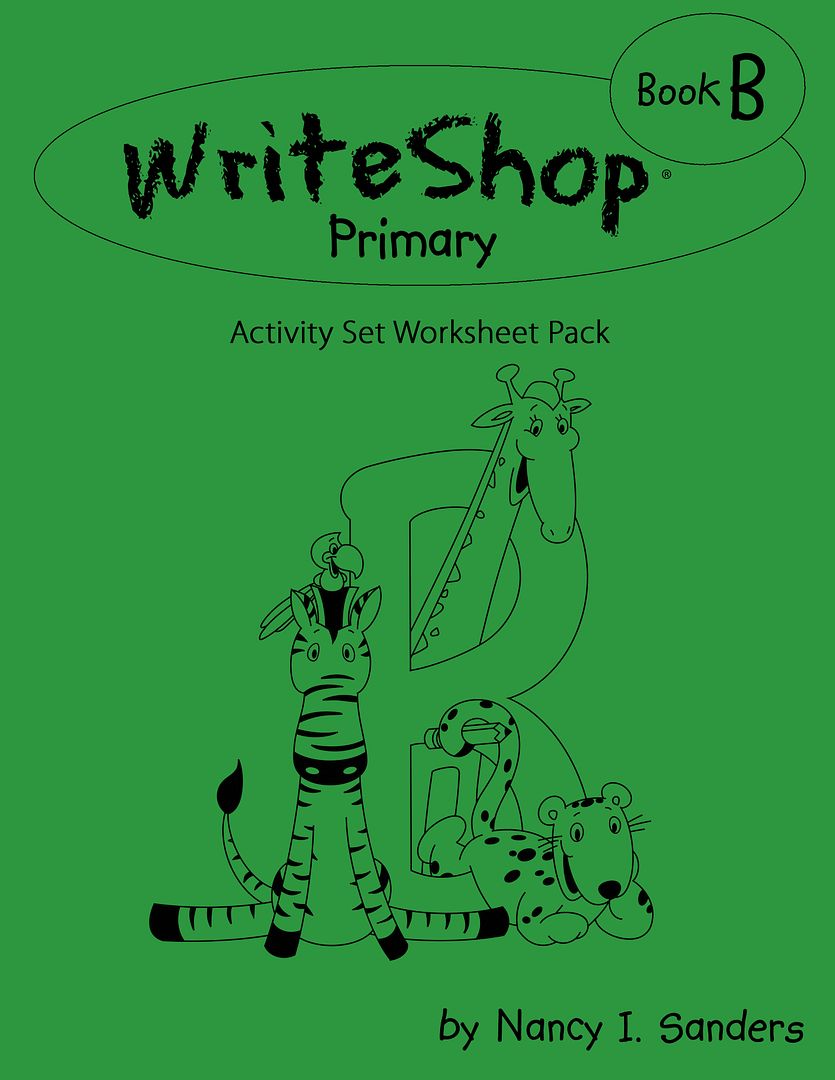 It is recommended to complete only one activity a day, and to choose ahead of time if you want to work on these 3 days, 4 days, or 5 days a week. If you choose the plan to complete three activities a week, it will take you about 30 weeks to complete the book, basically a whole school year. However, you can work on it faster or slower if you desire. The point is that it is flexible for each individual family and student skill level to use it as often as it fits for you. You can progress at your own pace.




I would encourage homeschool families to check out the free sample lessons mentioned above and check out the Scope and Sequence website information too. This program just might be a great fit for you and your students. If you have a beginning writer or a struggling writer, this is great program to help you help them!

If your student's skills are more developed and you need something more advanced than the "primary" level, then you might consider the Write Shop Junior and the other Write Shop's other writing programs. They have something to fit everyone's need. It is a great resource.

Write Shop also has a Kids Corner with lots of free helps to assist your student in becoming a better writer. They also have information on writing contests, learning games, and opportunities for publishing.

I am very glad I have had the opportunity to learn about the Write Shop products and review Book B. I am excited about this writing program helping my boys express themselves better in written form. After reviewing this book, I have decided to invest in the whole program and I am looking forward to working through all of the Write Shop Primary books and the Juinior book too. I believe this will give my children a firm foundation in writing.

You can purchase the Write Shop Primary or Junior program for a 15% discount now through June 15, 2012 by using the coupon code CREW15 at check out. I hope you can take advantage of this coupon and I hope this writing program will benefit a lot of families.

If you would like to read what others had to say about this curriculum, read the links on the TOS Homeschool Crew review blog.





Disclaimer: I received a copy of Write Shop Book B and Activity Set Worksheet Pack in exchange for an honest review. All opinions are my own.