We Choose Virtues is a fun way to teach positive character traits to children.

Heather McMillan is the creator of We Choose Virtues. For years she saw a lack of positive character training in the children she worked with in schools and church. She is the wife of a pastor. She has used her knowledge and experience and taken on the challenge of mentoring young people. She has also empowered families and teachers by providing tools to meet this challenge too. These products are useful for families, schools, and churches in working with children and teens of all ages.
We Choose Virtues
has posters, clue cards, coloring books, assessments, and teachers manuals, classroom kits, homeschool kits, family kits, and more to reinforce this method and program of teaching and learning positive character qualities. Products are written both secular and Christian programs with or without scripture references.
These products are available individually for purchase or available in kits. Prices range as low as $3.99 and up. Kits are the most expensive. Some downloads are available for free too. You can pick what system works best for you, and the setting you are teaching in. You can
purchase products
directly from the We Choose Virtues website.
We Choose Virtues
focusses on twelve main character traits.
Being:
Attentive by watching and listening carefully.
Diligent by working hard and enduring.
Helpful by finding things that need to be done and doing them.
Persevering through to the end.
Gentle by speaking gently and touching softly.
Content with what you have.
Honest by always telling the truth.
Kind and treating others the way you want to be treated.
Self-controlled.
Patient and wait as long as needed with a smile.
Obedient with a smile..
Forgiving.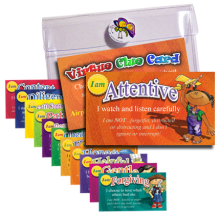 I really liked the clue cards. They are portable and can go with you anywhere. They are great for practice in the car, in a waiting room, using in a class setting, or using at home. They are a handy "business card" size and easily fit into a business card holder, a daily schedule, pocket chart, baseball card page in a note book, workboxes, etc. The Virtue Clue Cards retail for $7.99 and are currently on sale for $5.99.
I also really liked that the character traits they are teaching in
We Choose Virtues
are easy to incorporate into our bible learning. Bible verses are paired up to reinforce each character trait. All of the research has been done for you, and it is a fun and easy to use tool to teach your kids with.
I would love to have the opportunity to review more of the We Choose Virtues program. I would especially like to get my hands on the Homeschool Kit or the Classroom Deluxe Faith Kit. I have seen other homeschool moms review this product over the past year and it seemed like such a valuable part of their homeschool learning. These families seemed very successful in transforming their childrens characters using these products. I would love the opportunity to review the full program with our children and share the results with our reading audience too.
I give this product two thumbs up. It is easily adaptable for different learning and teaching styles. You can spend a short time on it each day or each week, or take a longer time and use more of the available resources to reinforce the learning.
We Choose Virtues is a system of tools for daily practice, that reinforces a lifestyle of right attitudes, and positive behavior choices, for the right reasons.
I was given a set of the Virtue Clue Cards for the purpose of writing this review. Read here to see what other members of the TOS Homeschool Crew had to say about We Choose Virtues.