This fall we were asked to review a current events magazine for middle school age students called Top Story by God's World News in our homeschool. We were given a one year subscription to Top Story, Map-It world map, access to online learning, and also a sample copy of World (the current events magazine for adults).


Top Story: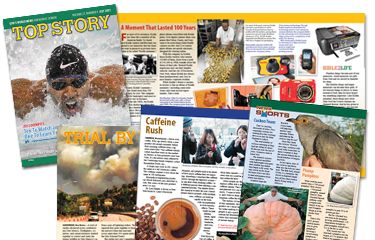 Top Story
One Year Subscription (current events magazine)
Retail $32.00 and discounted GWN price $28.00
For Middle School Grade Range

What is included in the one year subscription?

A full-year subscription includes 10 full-size, full-color, monthly issues (every month except December & May) with 32 pages per issue.

Website access for students at teen.wng.org.

Weekly newsletters by email for parents and teachers, including answer keys to the magazine quizzes and puzzles.

Biographies and topical lessons to download and print, with quizzes and answer keys.

Free regular shipping and handling! (1st class delivery available at additional charge.)


How We Are Using Top Story In Our Homeschool:

Oh my Ya'll! These magazines cover so much material. They are full color quality reading material, and are filled with age-appropriate news and special features. And they are written not just to inform, but to also encourage your student in their walk with the Lord. There are lots of biblical helps along the way to help your student develop seeing the events in the world from a Christian perspective.

The best way for me to explain Top Story is to share this website quote (source) with you below, and be sure to check out the website to read more about the mission statement of God's World News.

Good news for kids!

Top Story is the middle school level of God's World News packages, designed to help teach a biblical worldview. Consistent with all of our publications, Top Story emphasizes News, Knowledge, and Wisdom, focusing on specific skill development for older students. Editorials help teach critical thinking skills.

•Lessons in the magazine and online use news stories as a springboard to
teach concepts from Civics, Geography, Economics, Worldview and more.

•MAP-IT! Locator maps correspond with a full-sized (20″ x 30″) world map
sent in September to each class, homeschool teacher, and homeschool
group coordinator (five maps sent to homeschool groups).

•News graphics simplify otherwise challenging concepts.

•DEFINE LINE teaches word meanings in context.

•Quizzes test reading comprehension.

•Age-appropriate website content expands the student's experience and
exposure to current news stories and thoughtful editorial cartoons at
teen.wng.org.





So far we have received three Top Story magazines (August, September, and October), a large world map, and a copy of the adult edition (World) of current event news. Map-It is a large world map and comes with the September edition. Map-It is a helpful resource for kids to find where the in the world the stories take place.




The remainder of the magazines will come in future months for a total of 10 magazines for the full year. We also have access to further the learning online, with so much more indepth stories, quizzes, biographies, and more. That is so cool!

My 7th grade and 5th grade sons are loving this magazine. It really appeals to their interest level. The stories are brief, (definitely a plus for many kids at this age) many stories are only half page long. Some stories are longer and cover a couple of pages and include great real life photography. Lots of the photography is of people and amazing geographic places, and some photos are of specific items being discussed. There are games, puzzles, silly photos, sometimes comics, Bible 2 Life applications, quizzes, and a variety of subject matter is covered in each magazine such as current events, history, history timelines, geography, science, politics, ethics, biblical perspectives, and more.




In our August TOP STORY edition, current events covered included learning about: Edward Snowden and NSA data collection practices; water quality in the great lakes and specifically Milwaukee WI; science of light; protecting America's borders and detective work to find locations of illegal immigrant crossings; firefighters who died in the wildfire of in Yarnell AZ; History and Science of Flight; plus lots of other smaller glimpses of new stories.

In our September TOP STORY edition, current events covered included learning about: ROBOTS! This was by far our favorite learning adventure so far! We love learning about robots and this was so appealing to my sons. There were 8 full pages of the magazine dedicated to all sorts of current event stories of robots in the news. It also included stories about gluten sensitivity; freedom; historical french traveler who wrote about American life in 1830-1840; Korean War; blueberries; slums; cold caps used to reduce hair loss in cancer patients, gold; dinosaurs; Detroit bankruptcy; charity; and more.
In our October TOP STORY edition, current events covered included learning about: aging and meeting the oldest man (123) on earth; political/ethnic and religious
refugees from different countries; Baseball player Hank Aaron; privilege; Hyperloop travel capsules; car planes; illegal construction; school lunches; and lots more.

My husband has read the copy of WORLD magazine we were sent from cover to cover too. That says a lot right there! We used to subscribe for WORLD for many years. If I had the money in the budget to subscribe right now I would. He loves this magazine. It is a wonderful way to review the news of current events going on in the world from a biblical perspective. I have shared more about WORLD and God's World News in another post I wrote previously. If you are looking for a wonderful gift for your husband (or anyone) this magazine just might be what your a looking for.

At just about $2.80 a magazine, Top Story is a great investment for your homeschool. But don't just take my word for it. You have to see one of these amazing magazines for yourself. You can see a FREE Sample Top Story edition linked here. The current one featured is from February of this year and has some amazing content and photography. You can try out all 32 pages for free. We definately recommend the products from God's World News for homeschool families. We have also used other God's World News products (Write With World) in our homeschool, and we love this company!




Be sure to check out their other magazines for various grades from Pre-K all the way through 12th. They also offer a college level World On Campus, and adult level World magazines. Magazines are available in print and online versions for your convenience. Also check out their other curriculum resources. Be sure to sign up for their FREE email weekly newsletter too.





Be sure to check out what other homeschool families on the Schoolhouse Review Crew had to say about using products from God's World News in their homeschool.