Games? During school time? Oh Yeah! We have a great new game to tell you about that will help your kids learn about American Government and the Electorial process.





Have you ever dreamed of being the President of the USA? Then you might want to check out The Presidential Game. It is is a fun game about the race to become President. In this game your kids get to pick a side (either Democrats or Republicans), and battle by campaigning and winning votes. With each roll of the dice they choose to campaign or fundraise their way to victory. They must win at least 270 out of 538 Electoral votes to win the game.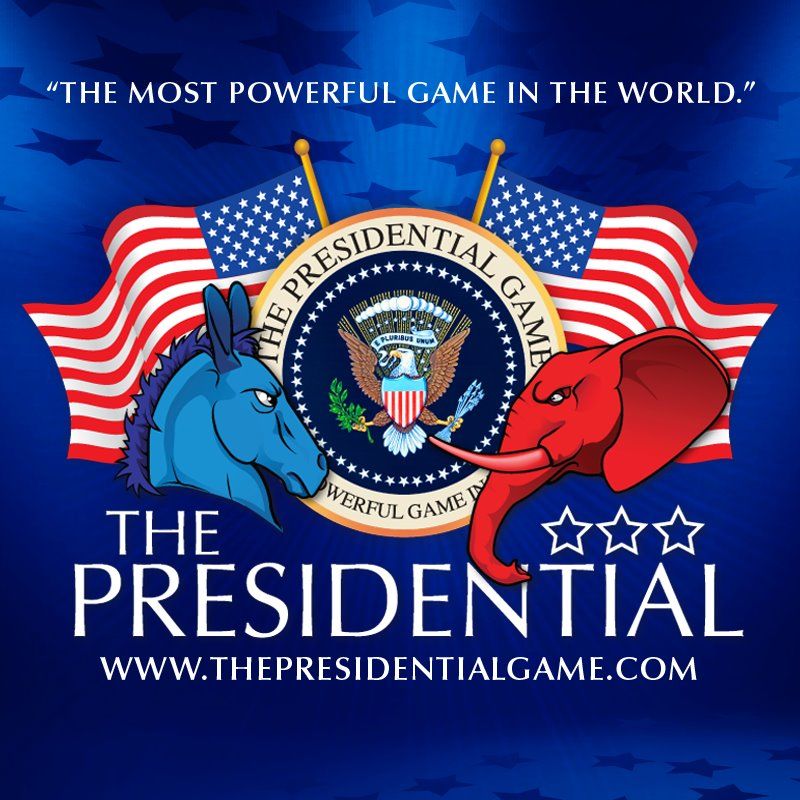 The Presidential Game
For Ages 11 to Adult
Retail $35.00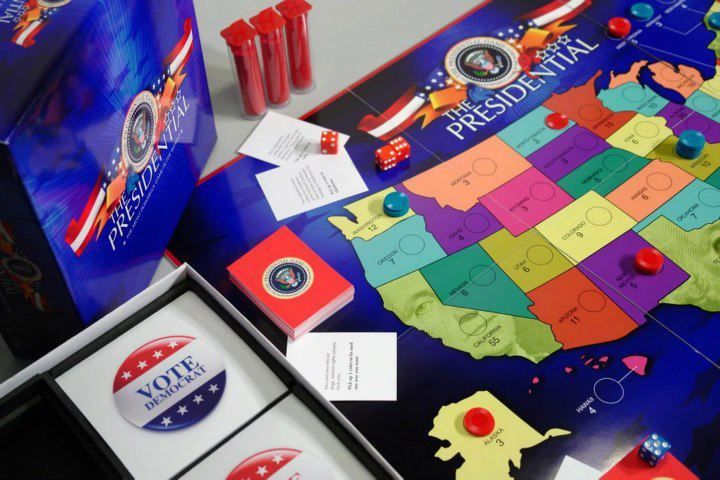 The game comes with:

1 20″ x 30″ GAME Board, 1 Score Pad, 3 Blue Dice, 3 Red Dice, 80 Politics Cards, 40 "Write-Your-Own" Politics Cards, 150 Republican Votes (Red Chips), 150 Democrat Votes (Blue Chips), 1 Electoral WebMap™ Calculator Access Code

Here is a short video clip showing the various contents in the game.


The game is meant to last about 1 hour. Though it consistently takes my family about 2 hours to get through all 30 rounds. A round is also called a week. A round or week is completed when each team has had a turn, so each team gets a total of 30 turns.




Though this game is meant for kids 11 and older, my younger kids really enjoyed watching their older brothers, almost 11 and 13 play the game. Sometimes my 8 year old son played against one or another brother too, but the game was a bit too challenging for him. The 6 and 4 year old joined the "campaign team" of one of their brothers, but mostly sat and watched. They enjoyed handing their brothers game pieces when needed, helping set up and take down the game. But otherwise, the game was way above their level of understanding. The almost 2 year old was not interested in what we were doing and stayed busy playing in another room. He was however fascinated with all the small red and blue token chips and wanted to stack them and watch them fall. I would definitely recommend the youngest of kids not be near the game board during the game, as the pieces can get bumped and moved out of place easily.




This game is very hands on. Each player has a stack of chips they use to show their status of votes they have received. They can gain votes by campaigning and rolling three dice and placing the number of chips that correspond to a die on different states. They can also gain votes by fundraising in four states (New York, California, Texas, Florida), by rolling two dice and placing 1/2 the number of chips in the state they chose to fundraise in. The other 1/2 of the number of chips can be places in other states they choose.




If a team chose to fundraise, they also pull a Politics Card and follow the instructions on it. It might involve overtaking a state, or possibly fundraising more to either gain votes or sometimes loose votes.




Here are a few examples of the comments and instructions on the fundraising Politics Cards:

Silicon Valley tycoons host a successful fundraiser for you. Add 6 votes to California.

You are considered to be stronger than your opponent on fighting terrorism. Add 5 votes to any one state.

The United Auto Workers (UAW) just endorsed you. Add 5 votes to Michigan.

A major aircraft maker announces plans for a massive new factory, creating thousands of jobs. Add 3 votes to Washington State.




Score for each turn is kept on the Score Card or on the computer Webmap. We have used both.




The kids enjoy using the computer to keep score more than the score card, because the score card involves a lot of writing and adding and subtracting. But I think it is a good idea to have them practice using both and sharpen their math and computer skills.




Besides practicing Geography of the US, American Government and the Electoral Process, you can use this game to practice math skills, strategy, logic, team work, competition, reading (the cards, names of states), and more.




My kids give this game two thumbs up! They ask to play it everyday! This is a fun game you can play every week to supplement your learning and never get bored. We like it so much that I have it scheduled for a couple days each week this fall. I think this game is a great addition to learning. Yes, you can definitely play games during school!





Be sure to check out what other homeschool families on the Schoolhouse Review Crew had to say about using this game.