I have another great company to tell you about. Salem Ridge Press is owned by a homeschool family. I love supporting the wide variety of businesses owned by homeschoolers. There are many homeschool families in my local area who have family run business. I feel a sense of satisfaction when I take my kids to their stores, or farm stands, or buy from their list of products on line, or hire a dad or mom who homeschool for a project, and I love teaching my kids the value of supporting other homeschool families too.




Salem Ridge Press was created by a homeschool graduate named Daniel Mills in 2005. His family, including his mom, dad, and wife all assist him in the business. He specializes in publishing historical fiction including: church history, American history, and world history. The stories he publishes were originally written in the 1800s or early 1900s. All of the books published by Salem Ridge Press are intended to build up the character and promote strong moral values. Read more about their standards for publishing.

The Martyr's Victory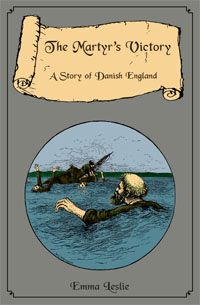 We were given the opportunity to review The Martyr's Victory by Emma Leslie. The book is 266 pages and is designed for children ages 12 and older. It retails for $14.95 for the soft cover, and $24.95 for the hard cover. Read the free sample of the first 11 pages from Chapter 1 and see how this book might fit your homeschool.

I don't want to give away the story, but I will share the synopsis from the publisher. From the web site:
"Story Synopsis Knowing full well they may die in the attempt, a small band of monks sets out to convert the savage Danes who have laid waste to the surrounding countryside year after year. The monks' faith is sorely tested as they face opposition from the angry Priest of Odin as well as doubts, sickness and starvation, but their leader, Osric, is unwavering in his attempts to share the "White Christ" with those who reject Him. Then the monks discover a young Christian woman who has escaped being sacrificed to the Danish gods—can she help reach those who had enslaved her and tried to kill her?" source

Our Experience




My son is 12 years old and chose this book from several titles we were offered to review. This one really sparked his curiosity. The time in history this takes place is Danish England in 840-883 A.D. and notable people and events are: King Edmund, King Guthrum, Monks, and Viking Invasions. With kings and vikings, you can see why a 12 year old boy would be intrigued.




He read it at the table, on the couch, in the rocking chair, and in the van when traveling. He was very excited about the story and the characters. He truly enjoyed reading this book, and I felt good knowing it was building his character at the same time.




I wanted to expand on my son's learning and his creative side, so purchased several small figurines vikings, ships, and peasants, to act out parts of the book. I did not have a monk, so I had to improvise. Though the book is meant for older children, I plan to have my son act out a few parts of the story for his siblings using the mini figurines. He usually doesn't like writing book reviews, and this way I can see what he is learning without requiring him to write it all out. The book does discuss bloodshed, violence, and the martyring of St. Edmund and that is a subject I am pondering how much to share with the younger children.

The book is written in English, but it is an older form of English from the 1800s. Because the language is old fashioned, some kids may or may not like reading it and may find it challenging. Some of the words were unfamiliar to both my son and myself. There are a few definitions at the bottom of some of the pages to assist with this. But we found many more words that were not familiar and needed expanding on. So I had him look up a few words that we came to in the reading that he did not know. In my day, looking up a word meant using a dictionary. But my son prefers to "speak the word" into my cell phone, and the online dictionary pops up with the meaning of the word. Ironic in a way for me to to read a book written in 1886, and look up the words on a cell phone. It is amazing how much has changed in the language and culture since this story was written, and what technology can do to bridge the gap.

It would be wonderful to include this book, &nb
sp;and many of the historical fiction stories available through Salem Ridge Press, in a historical church study, or world history study, or a unit study in your homeschool. There are many applications and you could focus on many different aspects. But according to my son, The Martyr's Victory is also an interesting, adventurous, at times sad, and inspiring story to read. "This is a great book Mom!"

Be sure to stop in and see what others on the Schoolhouse Crew had to say about products from Salem Ridge Press.