We have been having fun finishing out the end of summer and getting started back to school with a review of Happy Kids Songs.
Sometimes my younger kids are impulsive and not so happy. Happy Kids Songs has a lot to say about our attitude and how we treat each other. This is a great tool for parents to teach younger kids about behavior and focussing on the right things. This product is geared for kids 4-8 years old, but I had my 2, 5, 7, 9, and 11 year olds do the activities and had the 14 year old assist as a teacher's helper. He helped me set up a play list on the computer and print off worksheets and organized the craft materials. This way I was able to include all 6 of my kids in using this product. We all can use some lessons in how to be happy, no matter what age.
Happy Kids Songs was created by Dr. Mac who is the song writer of the wonderful TV program for kids called Jay Jay and the Jet Plane from PBS Kids. He is a talented song writer, accomplished musician, child psychologist, school consultant and has won numerous awards for his talents and skills. He has won the iParenting award, Teacher's Choice award, The National Parenting Center's Seal Of Approval award, and many more.
Happy Kids Songs currently has 8 Volumes to choose from. Each Volume contains 5 songs, and retails for $4.95. The lyrics to each songs help your kids develop good character trates, treat others the way they want to be treated, and become happy people. For this review, we received three Volumes as a download, pdf lyrics and worksheet for each song (download), and a physical workbook /songbook was mailed to us for this review.
Vol. 1  Friends And Sharing
Retails $4.95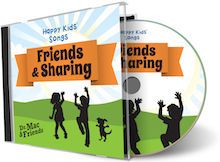 Songs include:
Sailing on the Seven Cs; Everybody Wants to Find a Friend; Sharing Friends; Happy as Happy Can Be; Together
There are a few YouTube Videos of some of the songs being made, some interviews with Dr Mac, and a couple of music videos too. Here is a video of the song Together from Volume 1 Friends and Sharing:
Volume 6 Happiness and Attitude
Retails for $4.95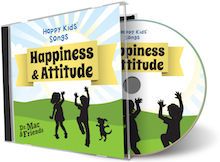 Songs include:
Shake It Out and Dance; Who Knows What's a Kudo?; I Don't Understand; Be Good to Yourself; Better Together
Volume 7 Manners and Character
Retails $4.95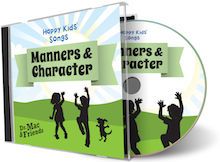 Songs Include:
H-O-N-E-S-T-Y; The Magic Word; Quirks; The Golden Rule; Six Little Kids
Songbook / Workbook Happy Kids Songs Workbook: Hands On Activites To Build Character, Social & Emotional Skills
Retails for $12.56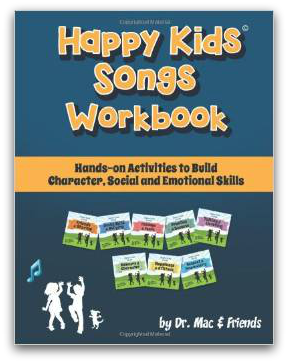 The workbook has over 100 lessons.  It includes all the lyrics and worksheets, coloring pages, and lesson plans and activity ideas for all 40 songs in the Happy Kids Songs 8 Volumes.
Our family has enjoyed sitting together at the table and listening to the songs, learning the lyrics, coloring pages and completing corresponding activities (word puzzles, coloring pages, arts and crafts).
We downloaded the songs to our computer to listen to at home, and also burned them on a CD so we can take them on the road in the van too.
The workbook has all of the song lyrics organized by Volume at the front half of the book with a corresponding worksheet. In the second half of the book, it has lesson plans also organized by Volume.
For me, the workbook was indispensible and very easy to implement. You just find the lessons for the Volume you are listening too, learn the lyrics, do the activity sheets, and optional activities and arts and crafts.
The kids really enjoyed making crafts while listening to the songs. Here they are making a friend puppet.
Happy Kids Songs products are great! Kids enjoy using them. The songs are catchy and easy to remember. They are handy for adults because they have everything organized in the workbook and come with a license to re-produce the lyrics and coloring pages and worksheets, and you can use them in your family or group settings with multiple students. This makes them a great option for Sunday School, clubs, and Homeschool Coops too.
Be sure to follow Happy Kids Songs on their social media links for all the latest news and updates.
Facebook
Twitter
Youtube
Blog
And be sure to sign up for the monthly news letter and receive a free song of the month and other special information. Samples of songs and more are also available on their web site.

Check out what other homeschool families on the Schoolhouse Review Crew had to say about using Happy Kids Songs products in their home.