Psst. . .Want to know a secret about homeschooling? You don't have to know everything, or teach everything. There are lots of resources available to help you and your kids homeschool. I know an amazing science teacher who can come right into your home, on your schedule, and teach your kids science. She is witty, funny, and your kids will have fun learning. Her name is Aurora Lipper from Supercharged Science and her e-Science Online Learning Program fits right into our homeschool science needs.





Aurora has plenty of teaching and professional science experience. She has worked as a NASA rocket scientist, a pilot, a university professor, and a teacher. During her years teaching, she realized that her students did not have a good science foundation, and did not seem to care about science. She decided to change that by inspirting young people in the field of science so she created Supercharged Science. Her programs are a great way to show kids that science is FUN while providing a solid foundation in science skills and learning.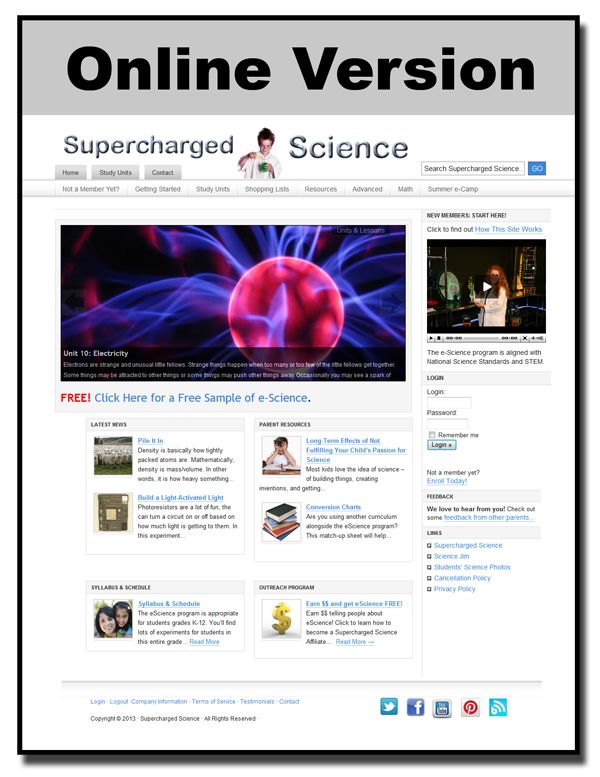 The Supercharged e-Science program is a complete online curriculum and is purchased through a monthly subscription. The online subscription is divided into two sections K-8th grades ($37 a month), and 9th-12th grades ($57 a month).

A few of the features of the e-Science program includes:
Use it anywhere, anytime, 24 hours a day at your convenience
Self-guided lessons that kids can do independantly
Detailed video instruction
Easy "How To" videos of experiments
Parent & Teacher guides
Meets or exceeds most state K-8th Common Core Standards
Printable lessons, worksheets, exercises, and quizzes
Unlimited online support
Entertaining too

I love the motto of Supercharged Science: "Teach Science The Easy Way". That sounds like good advice. The e-Science program has over 1,000 activities, experiments and projects to choose from and you can pick and choose what you want to cover with your student. Your student can work independanty through the program too, depending on the needs of your homeschool.




My son in 6th grade watched the online videos, read through the lessons, and chose a few experiements to work on. He wants to build and do everything in the program which will take us well beyond the next few years. He started with experiments in mechanics and motion. I will share more pictures as soon as I can locate them. I had a glitch with the file I placed them in. But will post them here as soon I get that straightend out. He is thrilled to have this program as his science curriculum and is looking forward to building rockets, electrical circuts, chemistry, robotics, physics, and more of over 1,000 projects to learn. I told my husband we need to build our son his own science lab / workshop. He loves science!




Though I had my 12 year old review the website and program with me, all of my children will be starting the curriculum later this month. We have been given a 1 year subscription to the K-8 e-Science online program and it is wonderful. The kids will be able to watch the online videos, implement the experiments, and fill out the printabel worksheets to put into their science binders. The knowledge and hands on science skills they will gain through this process is priceless, and our family is excited to participate in this program.

I would recommend this program to other homeschools, and classrooms, and after school programs that offer educational activities for youth. Supercharged Science also offers CD's and kits for sale. Be sure to stop in and see all they have to offer and how they might be able to meet the needs of your homeschool curriculum.

Be sure to check out what others on the Schoolhouse Crew had to say about e-Science from Supercharged Science.