Our family recently reviewed Samson's Classroom, an online learning program for kids in Kindergarten through 5th grades.





Samson's Classroom is designed to help students in various academic areas. Currently they have developed fun interactive learning games and activities for Sight Words, Spelling, and Reading Comprehension. This is such a fun way to learn, we are enjoying using the program and hope they will continue to develop more subject areas in Samson's Classroom.





Who is Samson? He is a fun dog that befriends your student and assists them in various learning challenges. He reads out loud to your student as you work through the programs in the classroom. When you have successfully mastered learning challenges, Samson also shows your scores and achievements.

We are very excited about using Samson's Classroom and we have been including it as a supplement in our Language and Arts studies. I am using this program with four of my kids: one who reads well (age 12), one struggling reader (age 9), and two beginning readers (ages 7 and 5). The program was too challenging for my 5 year old to do without me sitting next to her and providing additional assistance. However the 7 year old was able to do a lot of the program with little assistance. Children need to be able to read to do the program.





SIGHT WORDS WITH SAMSON

Sight Words With Samson helps children master common words used in the English language. It focusses on 224 of the most commonly used words through a series of 4 levels of word lists. Each level has 7 word lists. Each word list contains 8 words to learn for a total of 224 words (8 words x 7 lists x 4 levels = 224 words).

To learn the 8 words on each list, the student completes a series of 5 steps:




Study – Study how all 8 of the words in the list are pronounced and spelled. Samson reads each word and uses it in a sentence on the screen.

Missing Letters – Spell the word using letters provided. Samson asks you to spell the word with letter tiles provided on the screen.



Letter Scramble – Choose the correct spelling. Samson gives you several words to choose from, reads the correct word to you, and asks you to choose the correct word.




Spell Words – Click the letters to spell the word.


Missing Words – Choose the correct word to complete the sentence. Samson reads the sentence to you, and you must pick the correct word to fill in the blank. Each correct word is connected to a treasure chest with a gemstone inside. Collect all seven gems to complete the challenge.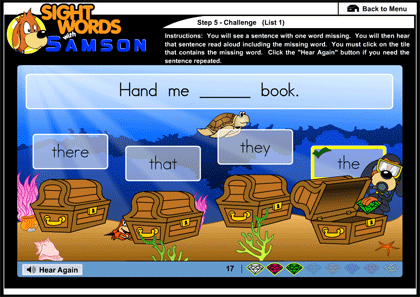 If the student does all 5 steps correctly, then they master the word list and can move on to the next list. If they don't master the list, they can move on, but do not pass until they go back and complete and pass that section again.




For each list they master, they receive a star. They can receive 7 stars for the 7 lists on each level. After finishing 7 lists they move on to level 2, and so on.




But there is another incentive besides stars to get kids to complete the levels. The goal is to achieve a black belt with Samson. From the website: "For every 4 stars a student earns, they will advance to the next level in the belt system. Once a student has mastered all 28 word lists, they will become a "Sight Words with Samson Black Belt Master." My kids are very motivated with this incentive. You can read more about beoming a Black Belt Master on their website.

One thing I love about using the Sight Words With Samson is that there is a "Hear Again" button. If my kids didn't hear the question, or don't know the answer instantly, they can press "Hear Again", and Samson repeats the question for them. This is a very helpful feature. One of my kids is a little hard of hearing. In everyday life, he can miss some of what is being said if there is background noise or if more than one person is talking at a time. With Samson's Classroom, if he misses hearing something, he can press "Hear Again" as much as he needs to help him better understand what is being asked of him. I love programs that actually read out loud to him, go slow, and allow him to hear it again if he needs it. I also like how the program gives verbal encouragement "Way To Go" "You Mastered Step 3" "Good Job!" etc. These verbal praises are very encouraging for kids to hear.

The 5 steps of learning activities in the Sight Words With Samson is a very good program for learning spelling, vocabulary, and reading. It also teaches the kids to follow a system to master skills in language. I think this is a great idea and I really like how this feature works.


SPELLING WITH SAMSON

In Spelling With Samson, you can create your own spelling lists or use lists that are already created for each grade level. There are four steps to complete and master each list.

Study– Study and listen to the word and how it is used in a sentence.

Missing Letters– Help Samson karate chop the missing letters.




Spelling Scramble– watch out for a spider that tries to get Samson as he tries to collect letters to make the spelling words.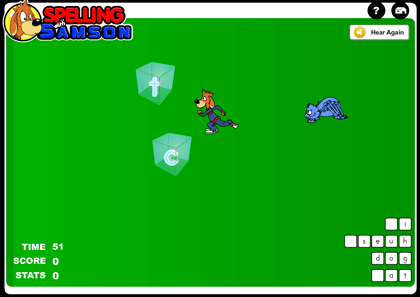 Crunch Time– Help keep Samson warm and dry in the wet freezing cold icebergs and ocean waters by spelling words correctly. Watch out for Wally the Walrus who bites off chunks of the ice your are standing on, and watch out for falling into the cold water as you jump across patches of ice.


Spelling With Samson is a really fun way to play games with spelling words. They are fun activities, and while having fun, the kids must try to beat the clock while they answer challenges correctly.


READING WITH SAMSON

In Reading With Samson, the student reads a passage of a story. Then they answer questions about the story. They can choose from four different reading levels.




If they answer the questions correctly, they earn swings for Samson to hit the hammer in a carnival game. If they help Samson hit with the hammer hard enough, they will ring a bell and knock the spider silly that sits above the bell. This is funny to watch and a motivation for the kids to read.

The Reading With Samson section of the program required a student to read well to complete the activities. This section was more appropriate for my independent reading student, but not my younger students who do not read well.




To be honest, my kids did not enjoy the Reading With Samson section of the program. This section does not read out loud to the student like the other sections of the program did. Also the reading level is higher than the suggested word skill levels we were using in the spelling and sight words portion of the program. The passages are long and sometimes complicated with lots of details. The kids became quickly frustrated with this.

Another reason they did not enjoy this part of the program was that it also does not allow them to go backwards. If they quit before finishing this section, all the questions are marked as incorrect and they do not pass. Needless to say, the 9 year old became frustrated and gave up on this section right away. Only the 12 year old could work through this section on his own, but he did not enjoy it and it was a struggle for me to keep him in this section. He preferred to return to the other two sections, both Sight Words With Samson and Spelling With Samson, both of which he really liked.


What The Family Had To Say!

The Spelling With Samson is their favorite section of Samson's Classroom. The also enjoyed the challenges in Sight Words With Samson, except for the very first challenge called "Study". But I thought the "Study" challenge was a very integral part of the learning, and helped them to master the other challenges.

All that being said, none of the kids liked the Reading With Samson section. First of all, it was above the reading level of 3 out of 4 of my kids who used the program. It is definitely not for beginners or for early readers. You need to be a strong reader and able to go back and locate information to complete this section of the program.

My children would have benefited more from the Reading With Samson section if it had read out loud to them and they could follow along, or read it out loud and then allowed them to practice reading a second time through. It would have also helped to have the questions and the multiple choice answers read out loud to them. Another suggestion would be to have a level with shorter passages to read. It just seems to be way above an early reader's capabilities and was even frustrating to my student who is a strong reader.

But the main reason the 12 year old didn't like the reading section even though he is a strong reader, was because if you get one of the questions wrong, it automatically gives you a hint and then counts that hint against you. He likes a challenge, but he did not want the hint. He wanted to try again on his own. He became discouraged with the reading section of the program and afraid if he got it wrong he could not reach a perfect score. He isn't a perfectionist, but he felt he could not master it. He was also frustrated that he could not leave that section without all of it being counted as incorrect. If he completed some questions correctly, and wanted to leave the passage to move on, it was all counted against him.

I plan to work with my independent reader with the reading section. I think he will enjoy it more if he can see he can succeed at it. We will talk over some of the questions and possible answers before he actually answers them so he can work through the different options. This will help him gain confidence and eventually improve his comprehension skills to remember details about what he is reading.

Another thing I like is that Samson's Classroom is available 24 hours a day, and you can use it from anywhere you have internet access. This makes it very handy to use from home or when you are on the go. It provides up to the minute reports for parents and teachers about student progress. It also has printable achievement awards, lesson plans and activities, worksheets, and more.

I hope the Samson's Classroom designers will take this great learning program and make it even better! I hope they will use this as constructive criticism and improve a great product so the various sections, such as the reading section, will be more usable for more skill levels. I also hope they will add more subject areas in the future, because they have a great system of teaching and the kids like learning with Samson.

I do think it is a great product. This program will help students improve their skills in spelling, reading, using sight words, and language arts skills. But it could be even better and more user friendly and adaptable for a broader range of different learning levels with a few adjustments.


The Nitty Gritty!

Samson's Classroom is a fun interactive learning program. Check out this 3 minute video explaining how Samson's Classroom can benefit your student and improve learning skills.

A 1 user home subscription to Samson's Classroom costs $30 a year, and a 4 user family subscription costs $50 a year. There are additional subscription levels available for classrooms and schools. You can also try out a demo version for free.

Please stop over to the Schoolhouse Review Crew blog and see what others are saying about this product.
Disclaimer: I received this product as a member of the Schoolhouse Review Crew in exchange for writing an honest review. All opinions expressed are my honest opinion.