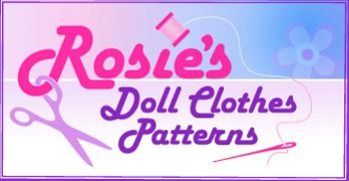 I wish I knew how to sew! Do you ever say that? Oh, I have said it many times. There is something about the sewing machine that I just can't wrap my head around. HOW DOES "IT" WORK? I spare no kind words about "it"! I have tried and tried over the years to do a project here or there, but I screw up at some point and can't figure out the machine! Then my high ambitions become low expectations and everything comes to a stop.

My oldest son has asked to learn to sew many times, and I have tried to get him started, but as soon as I run into a problem like a jammed needle, or a bobbin out of thread, or a tangled web of loops and thread, etc, I can't trouble shoot what to do to fix it. If I only had my Grandma sitting beside me, then I could get through it and figure it out with her guidance as that is how I have done a few projects in the past when I was younger. But on my own? Figure out this "it", this thing, this machine that is never going to let me get a project finished with out some sort of problem? Oh the misery!!!




Love it or hate it, I still have a nagging desire to learn to sew and make crafts or gifts, help my son's make costumes, or my daughter make doll clothes, and it is always in the back of my mind. I have prayed to learn how, but up till now it just wasn't happening. I have that same difficulty trying to learn algebra. Do you know what I mean? It is one of those things I have a mental block on. But after taking the algebra course twice, studying day and night, I finally passed. So it can be done no matter how much your brain tells you it can't figure it out.

I am very thankful for a new homeschool course I was asked to review called Learn How To Make Doll Clothes Video Course with 8 Free Doll Clothes Patterns created by Rosie from Rosie's Doll Clothes Patterns.


Rosie's Doll Clothes Patterns: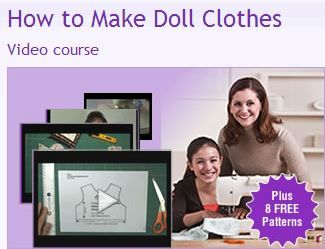 The Course is geared for kids ages 8 and up (and their parents), and retails for $ 48.00 (+/- price varies slightly from day to day due to currency exchange rates).

This video course includes:
*One year online membership (12 months access to videos) to over 130 videos that take you through everything you will need to know about sewing doll clothes.

*8 patterns in PDF form. Patterns in this course fit 18" dolls but are adjustable for other size dolls too. These are American Girl Doll Clothes patterns, but should fit any 18″ dolls you have, (and stuffed animals, and possibly even small pets according to my sons who want to give that a try too, LOL).

The items you will make in this course are:
Sport Shorts
Crop Top
Sarong
Halter Top
Summer Nightie
Hat
Pumpkin
Underpants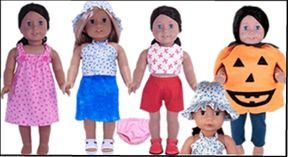 All of these PDF patterns come complete with pieces to cut out, and simple step by step written instructions, as well as step by step videos on how to make the outfits. The course is designed to give you everything you need, including Cool Tips and Troubleshooting videos.

Check out this video on cutting out the fabric to make the Summer Nightie Pattern and you can see how easy it is to follow along as Rosie teaches you step by step how to do it.



Even though this course is about doll clothes, these techniques are used in sewing lots of other things to that go beyond the specific doll clothes you will learn. So it is a really useful course to take no matter what your long term sewing objective might be. This class can teach you lots of basics you will need to know when you sew future projects.


How We Used It:

This video course was just the thing my whole family needed to get us moving in the right direction to learn how to sew (because the good Lord knows I was not getting it done). But be careful what you pray for, you just might get it! And you might be required to step out of your comfort zone! Oh boy, out of the frying pan and right into the fire, yep, OUT OF YOUR COMFORT ZONE AND INTO SOMETHING NEW, FUN, AND CHALLENGING TOO! We were definitely challenged, but challenges have rewards and it is all good.

The first thing I did when I received this product review was to look over the website. It is very interesting and has a lot of free information in addition to products for sale. There are lots of additional patterns available for sale and all come complete with videos
and step by step instructions too.




Rosie also has a link to her blog with additional tips and a "share and tell" section that showcases outfits people have sewn from her patterns. Her blog, website, and videos are full of practical tips and suggestions. I love her diagram of how to measure the different body parts of dolls. She teaches the kids how to make adjustments in the pattern sizes when the dolls are different sizes too.



Lots of her videos explain shortcuts and special tips to help you do things easier. She has a youtube channel with a few free videos too that you can preview to see what I mean. This video below is a free one listed on her channel, and is representative of the kinds of videos in this course. In this video, Rosie explains how to simplify the closures in doll clothes by using velcro instead of buttons or zippers. I really enjoyed many of her special tips and secrets she shares to make doll clothes easy to sew.



The next thing I did was print out all 8 of the PDF patterns. I placed the patterns and step by step instructions in a folder, and chose the first three patterns to make for the purpose of the review period.




Patterns we set out to make into clothing for this review were the Crop Top, Sport Shorts, and Sarong. We have plans to make all 8 patterns later in our school year, and I hope we can complete this goal by Christmas.




Next, I watched several of the videos with my children so we could all understand what we were going to be doing. The videos are very helpful and are a key part of learning Rosie's sewing methods and techniques. It is invaluable to have someone right there showing you how to do it. That is why I miss my Grandma so much, because she was great at sitting right beside me and walking me through each step. With Rosie's videos you can progress as fast or as slow as you need to. There is no hurry, so go back and watch it again, or put the video on pause if you need to. I think this flexibility in using videos however you need it is a great feature.

Next, I gathered material and sewing supplies. I had some leftover fabric from a lofty goal of making custom pillow cases with the kids last year. Our oldest son was able to make his pillowcase, but then we jammed the bobber (I know it should be bobbin, but I am going to call it a bobber as it brings up another horror story of kids, tangled lines, and fishing poles), and we got worn out trying stop constantly to get the machine working again. So after the second pillow case we did not finish making the other ones we had planned for the rest of the kids. We also had two pieces of blue and white fabric my husband picked up for the boys at Walmart. These colors represent the Indiana Colts football team. My 8 year old son was determined to make his sewing project in both of those colors, and informed me that if it didn't look like a boy or "masculine", that he would not be sewing "doll" clothes. The older brothers were fine with sewing doll clothes and plan to give them to their sister for Christmas.




Sometimes you have to make compromises and pick your battles wisely, so my husband agreed to let him choose his own fabric. Going to the local Walmart was not like going to a real sewing supply store where you find beautiful fabric choices on bolts with yards and yards of fabric to measure off. It would have been nice to have gone to a better store to see that. Our local Walmart does not have a sewing center with options like that, though they used too many years ago. Instead they have replaced their sewing center with a few craft supplies and some pre-cut and pre-packaged fabrics for crafts. It was educational for our son to look through all the different items used in sewing projects. It can cost a fortune to buy these gadgets to use for sewing. Thankfully, we did not need to purchase anything other than letting him pick out his fabric. We inherited my mother in laws sewing supply basket when she died, and this contained most of the necessities for making these projects.





Things Don't Always Work Out As You Plan

Next, we cut out the patterns, and laid the printed patterns onto the fabric and pinned it in place. Then cut out the shape of the pattern that was pinned to the fabric. This gave us a fabric piece in exactly the right shape.




Next we folded over and ironed the seems. This gave us a nice edge along side the project, and ironing helps the seam edge to stay folded over while sewing it in place.

So now we had everything ready to begin using the machine. But when I went to set up the sewing machine, I ran into a big problem. Listen, I am telling you sewing machines do not like me and the feeling is mutual! I can't figure out their quirks and feel a bit intimidated by them. This machine apparently remembers our last date and did not want to come out of hiding! Setting up our machine was a bigger challenge than I expected. How can you loose the foot pedal
to your sewing machine? One word: MOVE! That's right folks, we moved a few months ago and my life still feels like it is in bits and pieces everywhere. I thought I was all set to do this review. The sewing machine has been in plain site since we moved, just waiting to be used. BUT I did not realize the foot pedal and power cord to run the machine is missing! Off and on for nearly two weeks I looked through countless boxes that we have still yet to unpack, but it the foot pedal and power cord are no where to be found.

This was a big dilemma. We did not have the money to go buy another sewing machine at this time. My husband has been out of work the past few months and finances have been nonexistent to do anything. We shouldn't have even purchased the extra fabric and just used only what we had on hand, but like I said, I have one young man who has a harder time giving in and we had to come to a compromise since I did not have a fabric on hand he wanted to use. We really wanted to work through this curriculum and learn how to sew and make doll clothes. Since our money is so tight right now, these homemade dolls clothes are going to be the perfect gift to give their sister. We weren't ready to give up yet. So we called a few people to see if they had one we could borrow, but they did not. So another week went by as I tried to find a machine, now I started to panic. I was all but ready to throw in the towel and call my boss on the review to let them know I could not finish this review. I could not find a machine to use or replace mine. Finally, after a couple of weeks of searching, we found one that we could borrow. The owner also needed it and we only had a couple of days that we could borrow it before the review period ended. Now I was feeling PANIC!!!




During the few days we had the borrowed machine, we spent countless hours trying to get it to sew correctly. Seriously, this is not funny! WHY???? Why can't I get through a sewing project without the sewing machine giving me a hard time? ARRRRG!

Within minutes of sewing along the folded seams, we realized the bottom thread coming from the bobber was getting tangled under the fabric. We removed the tangled web from the fabric countless times, ripped the thread from the seams, and started over. We tried uninstalling and reinstalling the bobbin maybe a 100 times and it would not cooperate. We tried other stitch settings. We tried other bobbins. We tried re-threading everything. We tried other fabrics and still got the same result. Since it was not our machine, we were not familiar with what to do beyond these obvious fixes. We researched what to do in the company's owner's manual online. That is easy to do, we just looked up the manufacturer and the model number. They had step by step instructions and diagrams and we implemented everything we learned. Three of us tried to trouble shoot how to fix it and every time we thought we had it figured out, it still had the same result. We became very frustrated. One night my husband got online to look up the owners manual to trouble shoot what was wrong with the machine and after two long hours, he still couldn't figure it out. Another day, my 13 year old son went online to read everything again for this model of machine, step by step. He followed the directions completely, and again, he could not figure out how to trouble shoot the problem either. So we all three agreed we had gone as far as we could for now.




So I hate to say it, but the "machine wins again"! I feel disappointed and defeated by sewing again! I mean, I could have probably predicted something was going to go wrong, but I couldn't have predicted it would turn out this bad! Sure I expected a few bumps along the way, maybe even a few pokes with pins or a sewing needle, but not total failure! I never would have thought that we couldn't finish the project at all. I am really discouraged! I think if we could have used our own machine, if that dreaded foot pedal wasn't missing, and we could have used our sewing machine as I had planned from the beginning, we would have had victory. Even if I would have needed to call someone over to help, I think we could have mastered this course because it is broken down into such easy steps and projects for kids. But after several things going wrong, we ran out of time to change the outcome.

This is in no way a reflection of Rosie's Doll Clothes. Her course is great! We really enjoyed using several of the videos, working with our patterns and fabric and preparing to sew. We are disappointed that we could not make our machine work and that it took so long to find a sewing machine we could borrow, and then we could not make that sewing machine work properly.




Through this review, the kids learned several valuable lessons. They learned some new sewing skills even though we did not get to finish making our projects. They also learned some valuable life lessons too. They learned to be resourceful, to use what we had on hand, to trouble shoot a machine, research answers to problems on the computer, and to reach out to others to ask for help. They learned about choosing fabric materials, patterns, sewing supplies. They learned how to cut and pin fabric. They learned about using a hot iron. They also learned about different parts of the sewing machine, and how sewing machines can be different from each other with several different features and different placements of things. The machine we borrowed for example was very different than our own machine. They learned to load the bobbin with thread and how to place the bobbin into the machine. They learned to install the sewing needle and how to thread the sewing machine needle. They learned how to place their fabric correctly under the needle, lower the sewing foot, and begin stitching. They were so excited to learn to sew! But until we can locate the rest of our machine, or afford to buy a new one (which I don't see happening anytime soon), we can only watch the course videos, print, cut, and pin patterns, and practice cutting out fabric, and iron the seams.




We can either wait to finish these wonderful doll clothes with a machine, or finish them by sewing by hand. Dad and I are both in fa
vor of finishing sewing the doll clothes by hand and help the boys get these done before Christmas so they can give them as gifts to their younger sister, if we can't find the foot pedal soon. Stay tuned, it is going to take longer to finish the projects if we do them all by hand, and I will post pictures of the finished projects as soon as I can.




The biggest lesson we all learned is that not everything goes according to our plans all the time. You can't always control the outcome, no matter how hard you try. Even though we are disappointed, we still learned allot.




Currently, I have another revolt on my hands. It's not the machine revolting this time, it's 2 of the three boys, because they have their heart set on mastering the machine. They don't want to sew by hand. It think it would be good experience to sew by hand, mastering even stitches and straight lines, and learning to avoid poking your fingers with the pins and needles. Instead, they are looking forward to conquering the machine! Ha Ha!





Be sure to check out what other homeschool families on the Schoolhouse Review Crew had to say about Rosie's Doll Clothes. I am sure you will find that other homeschool families had great success and it really is a wonderful learning curriculum. Despite our troubles, we give it two thumbs up!