I am a homeschool mom of six kids. We have teens all the way down to toddlers in our home. It is a fun and rewarding job, but it can also be an exhausting job at the same time.

There is a new book out to help homeschool families that we were asked to review by Preschoolers and Peace called Preschoolers and Peace: Homeschooling Older Ones With Success While Loving Little Ones At Your Feet.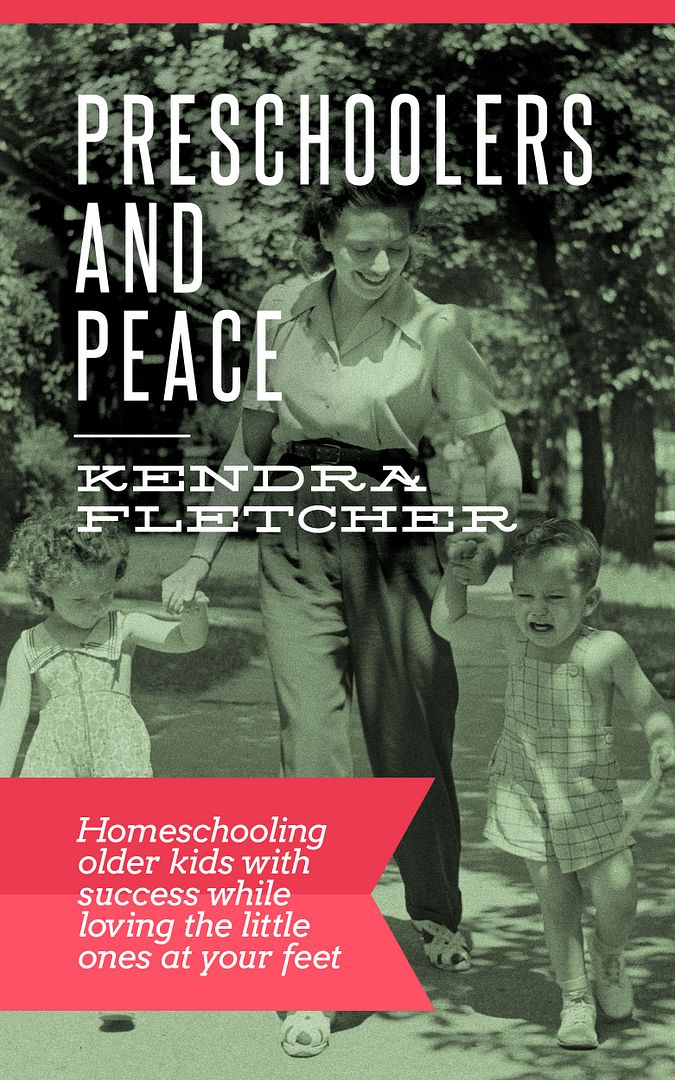 Homeschooling Older Ones With Success While Loving Little Ones At Your Feet
Homeschooling Older Ones With Success While Loving Little Ones At Your Feet is a downloadable e-Book. This e-Book is a wonderful investment at a great deal! It would make a great resource for you, and to give as a gift to other homeschool moms. For just $2.99 you can download this wonderful 47 page e-Book filled with practical advice for homeschool moms.
The author, Kendra Fletcher, is a Christian homeschooling mom of eight children. She has a lot of helpful advice to share about what helps her be successful in homeschooling in a large family of different ages.
What a Homeschooling Mom Needs
Preparing Yourself to Homeschool Older Kids With Little Ones Underfoot
Planning Around Preschoolers
How Do I Keep Them Busy?
What Does a 2-Year-Old's Day Look Like?
How Do I Get Any Preschooling Done?
How Not to Just Kill Time
Circle Time: Or How We Pull the Little Ones In
Preschool Boys
When All of Your Kiddos Are Preschoolers
Preschool Chores
Planning for Preschool
When Mama is Worn Out (or Pregnant)
Meal Planning 101
Encouragement
Resources
How I Used This:
E-books are great! I downloaded my e-book and saved it to my computer. I can read my book from my computer, or other reading device if desired. Later I hope to print it and have it bound and put it on my book shelf. It is a handy reference full of great ideas.
Part of the reason homeschooling can be exhausting, is that it can be challenging at times to manage the needs of so many different learning levels at the same time. Some days it doesn't feel like I accomplished our goals, because the younger children need a lot of attention, somedays they have ouchies that need attention, or on any given day, any two of them are involved in sibling squabbles, and I feel like I just serve as the babysitter or referee. What I wouldn't give somedays to know the secret to get it all done and meet everyone's needs in the process!
Kendra Fletcher is a mom who has been there! She knows many of the same challenges I face on a daily basis. She offers lots of great advice, starting with the most important, putting God first in the little things as well as the bigger things. She encourages me as a mom, and my kids too, to start the day with prayer. That one piece of the puzzle in your day can change everything in creating a peaceful atmosphere in our home.
Another great tip she shares is how to help younger kids start the day off successfully. She suggests they accomplish the same five things every morning: get dressed, make bed, brush teeth, tidy their room, and spend time praying. She suggests using a schedule for multiple ages including mom, as a tool and shows you how to set one up. This schedule shows an overview of what everyone is doing when during the day and is an easy reference at a glance to keep you on track.
She also gives many suggestions for various kinds of busy sensory activities younger children can do that build their skills but at the same time keep them busy so Mom and older siblings can get more done.
Here are just a few of the toddler / preschool age activities we have used simultaneously in our home while homeschooling older kids include:
Circle Time (we include all the kids together)
Age appropriate chores (easy for little ones to do)
Sensory Activities (we use homemade Sensory Bins)
Quiet Busy Activities (we use homemade Activity Bags)
Duplo Legos
Coloring
Sorting objects and shapes
Books
Water Color Paints
Playing with leftover empty boxes
AND many, many, more great ideas are suggested in her e-Book.
Kendra has already helped her oldest two children graduate from homeschooling and go onto college. With raising and homeschooling eight kids, she knows the challenges mom's face dealing with the needs of multiple ages and her book is a great resource. I would encourage you to get a copy while it is available at this great price of $2.99 and give a copy to a friend too.
Be sure to check out the media links for Preschoolers and Peace for all the latest news and updates:
Facebook
Twitter
Pinterest
Google+
You Tube

Check out what other homeschool families on the Schoolhouse Review Crew had to say about using Preschoolers and Peace in their home.