I don't know where the time goes! This school year is just flying by! We have had to spend a whole lot of time indoors this winter with record breaking temperatures and snow fall. We've had twice the amount of snowfall we would normally have this year and we have had over 50+ inches of snow so far! Though there were a few days that were decent enough to play in the snow, for the most part this winter we have been stuck inside. Everyone has cabin fever and is sick and tired of snow and being cooped up indoors, especially my younger children who need to get outside and jump and play.
I am so thankful for the opportunity to review a hands on learning program called
KinderBach
and spice things up for the younger kids! It has helped relieve some of the cabin fever bordom they have been feeling. KinderBach has given them something fun to do, and they look forward to learning something new each day.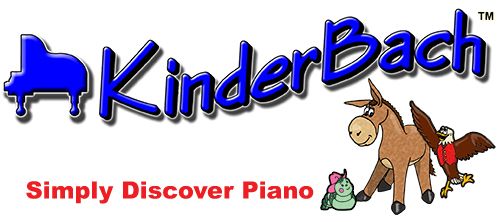 We were given a six month online subscription to
The KinderBach Online Piano Lesson and Membership with Teacher Corner
. They have over 240 lessons that teach basic piano lessons and music concepts. The lessons can be accessed from the computer or your mobil device including: ipad, Android, Tablet, Kindle Fire, and Nook. The membership includes worksheets, tutorial videos, story books, coloring books, song books, and more. It also includes the digital access to Teachers Corner which is full of lesson helps.
Additional items you will need to supply to complete this online course include:
Piano or Electronic Keyboard
Computer for viewing lessons and printer for printing activities
High speed internet
Craft supplies: crayons, markers, glue, scissors, etc.
KinderBach is designed for kids ages 3 to 7, but feel free to use it with older or younger kids if you think it will work for them. It could be used as a refresher course for older kids too, though most older children might find it too simple for their learning style.
KinderBach retails for $130 and is currently on sale for $95.88 per year, or $7.99 per month. SPECIAL SALE 40% off until February 28 and then it returns to regular sale price.
New Year Clearance Sale
Only until February 28, 2014
Use the 40% off coupon code: KBclear2014 at checkout
How we used KinderBach:
I have used this program with my 5 and 6 year olds for the past six weeks. They spend about 20 minutes a day learning with a combination of KinderBach videos, hands on skills practice, coloring, crafts, and more.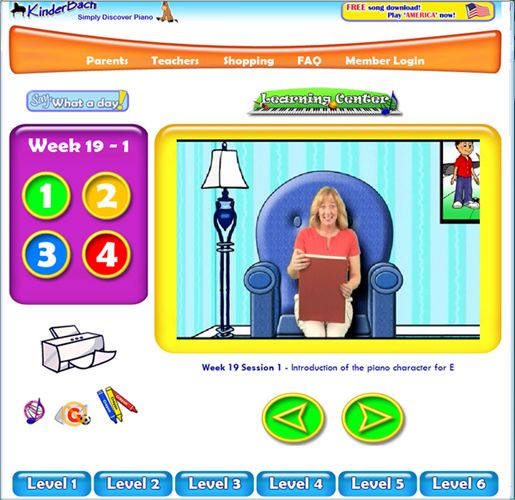 We set up our computer on a desk and placed an electronic piano keyboard next to the computer. Each morning, my kids sit at the computer and watch the tutorial videos for each lesson.
Then they practiced the skills they learned in the videos. Skills the kids worked on include note reading, rhythm, listening skills, vocabulary, familiarity with the piano keys, singing, and music composition. These are basic skills that will help give them an appreciation for music, and they can transfer these skills to any musical instrument in the future too.
Each lesson encourages participation through printed pdf coloring pages and worksheets. There are also music and craft ideas you can print for them to use too. You can make your own rhythm instruments to accompany the lessons too.
You can check out the
KinderBach YouTube Video Channel
and see lots of examples of their video lessons. That is a good way to try before you buy and see if this teaching style works for your kids. Here is one of the lessons:
I was able to get my 9 year old to work on it too, though he felt the videos were not his style and too "baby-ish". He actually did the whole program two years ago when he was 7 and loved it! But he moved through it so fast (so excited about being a big boy and doing school back then, sigh…) that I felt he needed to do it again. But this time through, after he watched several videos, he asked me if he could stop as he wasn't very excited. He is not one to do things twice. It is just his personality, though I really wished he would have repeated this class as I am sure it would have really been good for him to review the information.
Though KinderBach is for younger kids, I also tried to get my 11 year old interested too, as he is very musically inclined, but he wasn't excited after watching about three weeks worth of videos lessons. He watched the videos back to back as they are very short, and applied the tasks he was to learn, but eventually he did not want to watch them anymore because he wanted them to go at a faster pace. So it really depends on the child's preferences, and age.
This program is very well suited for it's intended age group of 3 to 7 years of age.
Try it out before you buy with a
FREE TRIAL
and see if it will work for you. There are free lessons, free songs and music sheets, and free book page samples you can try.
You can find out more about KinderBach and follow them on:
Twitter: @KinderBach
YouTube: KinderBach Preschool Piano