One of my favorite curriculum publishers, Apologia, has come out with a new faith building and faith challenging curriculum for teens and young adults called
I Don't Have Enough Faith To Be An Atheist by Norman L. Geisler and Frank Turek.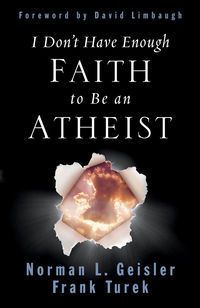 I was sent this book to review. This is an in depth look at the arguments for and against the existence of God and Jesus Christ. It is 450 pages of clarity in a world that makes the existence of God blurred.




If you believe it takes faith to believe in God, then you will soon see it takes even more faith (willingness to believe in the impossible) to believe there is no God. When you look at the evidence for God's existence, you just can't deny he is real.

I wish I had been challenged like this as a teen in highschool. I did go to church and regularly read my bible and had prayer time. But a curriculum like this would have made a huge difference in my firm foundation of knowing what I believe and why I believe it. What a difference this would have made to me and my friends when I was 16 to 18.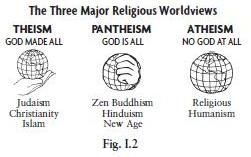 I have loved God since childhood, but when you are in college and they teach you that everybody's opinion is right, and everybody's god is right, and it is wrong to say otherwise, you can get confused about speaking out! In college, several classes claimed it was more "ethical" to say there is no God, or that there is many gods equal to each other, than to believe and follow the book (bible) that says there is only one true God. As a mater of fact, many Christian friends in college got bad grades in classes when they spoke out. Thankfully, God placed me in friendships with Christians in college, and I was able to have a strong connection to my faith even though I was away from home and my usual "faith anchors" that had helped me stay strong as a teenager.




Two of my college professors were outspoken atheists. This was really hard for me, as I had never met a person who denied there was a god. But strangely and wonderfully, after a couple of years of working along side one of these professors, answering questions about my faith and just "being real" in my walk, he began to confess there must be a God who created and designed and he wanted to learn more. God had planted a seed, and I knew without a doubt God would water it and it would grow. Even though my time in college was done, over the years I have had peace that God had done a wonderful work in this professor's life.




Apologia's book has a amazing way of grasping the point of the existence of God. I wish I had a resource like this in college and when speaking to my professors. I believe it would have made a positive difference.

My favorite quotes from the book are found on pages 384 and 385 and 387: "Whom will you serve? God leaves that choice in your hands. Love knows no other way." :"You can reject Christ, but you cannot honestly say there's not enough evidence to believe in him." ……if you choose to reject him….. "you will remain in your condemned state"…."you will remain condemned and separated from God forever". Then on page 387: "Your choices really do mater. Your life really does have ultimate meaning. And thanks to Christ, no one has to experience hell. Every human being can accept his free gift of eternal salvation. It takes no effort at all. Does it take some faith? Yes, but every choice-even the choice to reject Christ-requires faith."

At the end of the book there is a question and answer format that is written as a conversation between a Christian and an atheist. It amazes me that I had such similar conversations with my professors in college. This is a very helpful resource for a believer or a non-believer to understand the reality of God and his son Jesus Christ.

I would encourage you to pick up a copy of this book for you and your loved ones. You can read the book and give it away for evangelism and gifts for holidays, birthdays, and more. But it is the addition of the workbook that makes this a usable curriculum for students, bible studies, homeschools, and college classes.




When my husband and I were youth pastors, we would search high and low for curriculum that really made a difference to the youth of today. What challenged them? What direct route exposed truth? Teens enjoyed fun and games, but they also wanted answers and truth. We had several students want to know why we believed the bible. This curriculum can answer those questions and more. I would highly recommend this workbook for a Christian youth group.




The book retails for $16 and the workbook retails for $33. You can read a 37 page sample of the book for free to see how you like the product. You can also read a 16 page sample of the workbook for free too.

I think these books are a wonderful addition to a high school curriculum or an adult bible study. I would encourage church groups to look into using this to strengthen the faith of young people and for use in teaching evangelism to teens and adults.


Stop in to see what others on the TOS Crew had to say about this product.


Disclosure: I received a copy of the product mentioned above as a member of the TOS Crew in exchange for writing an honest review.