Do you find it challenging to find good moral books for your young boys to read? I sure do. We were sent two books for young boys from Grace & Truth Books to review. A Faithful Boy's Influence and Gerrit and His Dog.




My 12 year old son has really enjoyed reading these books, and I believe they have encouraged him in his faith, his influence as a Christian, his perseverance, and good will towards his fellow man.

Children's Heritage Series – Boys Collection:





Both of these books are part of the 9 volume collection called the Children's Heritage Series-Boys Collection . Books in this series cover a wide variety of topics and are geared for boys ages 6 to 14. Descriptions (below in red letters) from the Grace & Truth Books website:

This set of 9 stories for boys, all reprints from the 19th century, are some of our
richest, most challenging books for boys ages 8 to 14. Also very suitable to read
aloud with younger children or for family reading.

Includes these 9 volumes:
*A Faithful Boy's Influence
*Gerrit and His Dog
*Grace to the Humble
*The Young Christian
*The Two Wealthy Farmers
*The Widow's Son
*The Negro Servant and the Black Prince
*Rescue at the Eleventh Hour
*Kanousky, the Indian Boy and David Brainerd, the Indian's Missionary


A Faithful Boy's Influence:






"This wonderful children's book, about how a young boy initiated respect for God's
servant by a good example, will mold your children's character in an important
area".

This book is 148 pages and retails for $ 7.50 (on sale for $6.25). It contains two stories and is for ages 6-12. The first story is "A Faithful Boy's Influence" and is about a boy named Charlie who had such admirable character that he influenced everyone around him. Many people came to know God through his life. The second story is "Ears For Little Gleaners" and is a collection of Sunday school lessons.


Gerrit And His Dog: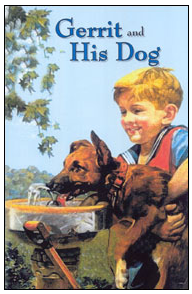 "Here's a story which will teach your boys the blessing of what it is to feel a
heart of compassion and sympathetic care".

This book is 89 pages and retails for $6.00 (on sale for $5.50). It contains two stories and is for ages 6-14. The first story, "Gerrit and His Dog" is about a little boy, his dog Brownie, and his family. His father died when he was a baby, and later his mother died, and his uncle became his foster father. His uncle is very mean to him, and also sends his dog away as a punishment. Gerrit learns to trust God through the difficult life circumstances he goes through. The second story "The Royal Law" is about a poor boy and his family who learn the meaning of "to do good unto others, as you would have them do unto you".





3406 Summit Blvd.
Sand Springs,
Oklahoma 74063
Phone: 918.245.1500


Grace &Truth books began from humble beginnings. It stemmed from a desire of one family, husband and wife and their four children, to own a Christian bookstore. They started out as a small Christian book distributor in 1993/1994. Since then, they have grown into a large distributor of Christian books worldwide. They have published over 80 books themselves. They have brought back the heritage of good Christian moral books from the shelves of history. They are the largest distributor of Christian character books for children from the 1800's.

Grace & Truth Books offers free shipping on orders of $50 or more. They offer a discount off of retail. They have many great titles you won't find in other bookstores. Be sure to stop in and check out all they have to offer to meet your homeschool needs.

I am really excited to find a company that cares so much about what children are reading and the impact this has on their life. My 12 year old son agrees these books are filled with valuable life lessons and he has really enjoyed reading them. I am looking forward to sharing these books with all five of my sons. They are a great addition to our personal library and for use in our homeschool. These books contain timeless values for today's generation.

Stop by the Schoolhouse Review Crew to see what others had to say about Grace and Truth Books.


Disclaimer: I was sent a copy of the products mentioned above as a member of the Schoolhouse Review Crew in exchange for writing an honest review. All opinions expressed are my honest opinion.