I recently learned about Flowering Baby, LLC , a hands on homeschool curriculum for children from birth to age five. Flowering Baby was written by a homeschool mom, Martha Sanders, and co-written by her mom Carolyn Schulte who has 50 years of early childhood and special needs experience. Be sure to read their About Us page on the website to learn more.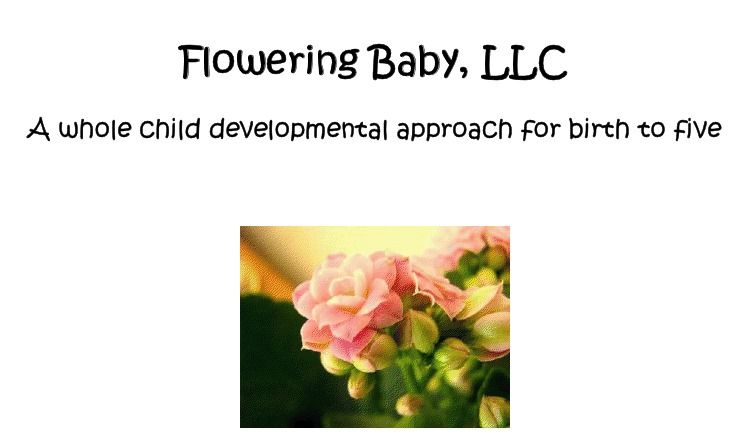 Flowering Baby truly is a "whole child" approach to learning. This approach accomplishes so much in just 20 to 40 minutes of activities a day. Each "year of curriculum" contains a monthly guide with twenty or more activities to do with your child each month. From birth until age 3, each activity is age based. But ages three, four, and five expand on age based skills and cover cross curricular subjects like math, music, art, science, language, and more.

This curriculum is hands on and is a blend of Classical, Charlotte Mason, and Unit Studies approaches. You don't necessarily have to buy any additional supplies. The curriculum is very flexible and supportive of helping the parent, and it uses items the parent likely already has on hand. From the website: "Our activities are designed to use household items, typical children's toys and standard supplies. We recycle and use many household items and focus on educational value and fun, not expensive name brand items." There are suggested books, projects, activities, themes, and field trips too.

Where To Buy:

This product is available for purchase as a CD for your computer. All five levels of Flowering Baby curriculum can be purchased at a huge discount as a bundle for $132.00 They can also be purchased separately:

Birth to One $30.00

One to Two $30.00

Two to Three $30.00

Three To Four $38.00

Four to Five $38.00


Our Experience

We reviewed Flowering Baby Vol. 5 : Four To Five Years Old. This was perfect for us because I have a 4 year old son, and a 5 year old daughter. For this age range, this product includes two parts: a monthly curriculum (daily program) guide for each month (102 pages), and a monthly theme guide for each month (82 pages).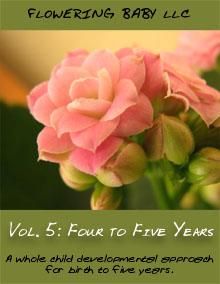 This product comes in a CD format for using on your computer (however, I received it in a download version for the purpose of the review). I viewed and used this product from the computer for a few weeks, and then I decided I really wanted a hard copy. My personal printer is not reliable for printing large documents, so I had the pdf printed and bound at the copy center.




Now I can take the manual with me from room to room, or to the park, or where ever we go, and use it as a guide without having to always be at my computer, and I am so happy with my manual.




The monthly curriculum guide gives a nice overall plan for moms / parents to follow. In the front section of each month, there is an overview with a list of supplies, suggested books, story connections, Spanish connection, suggested music, and monthly holidays. Each month includes 10 to 13 days of planned out out lessons and activities that cover a wide range of subjects: ABC's, Math, Shapes, Seasons, Human Body / Health, Science, Nutrition, Music, Colors, Language (English and Spanish), Read
ing, Holiday Celebrations, Arts and Crafts, and more. At the end of the book is a learning assessment quiz, and summary question forms for some of the suggested books on the list. It also includes recipes, and teaching helps.

I was quite pleased that many of the suggested books in the monthly curriculum guide are ones we have on our bookshelf. If you don't have these books at home, they are likely available at your local library. Some are also available online and in downloadable format too. You can also find several of these books read out loud on Youtube.com to enhance the learning process with your kids.

Here is a small list of suggested books for each month that go along with the story connection forms at the back of the curriculum. But the are way more book suggestions in each month and theme than this small list.
Are You My Mother?
Blueberries For Sal
Bread and Jam for Frances
Brown Bear, Brown Bear
Caps For Sale
Charlotte's Web
Cloudy With A Chance Of Meatballs
Frog and Toad Are Friends
Goodnight Moon
Harold And The Purple Crayon
If You Give A Mouse A Cookie
The Mitten
The Snowman
The Snowy Day
Winnie The Pooh

The monthly theme guide includes 26 themes. It is suggested to pick two themes each month. Each theme includes six days worth of activities (and each day contains 3 to 5 activities per day). So 26 themes x 6 days of activities = 156 planned days of themed activities for you to choose from. There is also a list of suggested books to read, and field trips to take that go along with each theme. Here is a list of the fun themes:
Aquarium & Arctic Life
Bodies of Water
Bugs & Birds
Christmas
Dinosaurs
Fall
Family
Farm Animals
Fish & Frogs
Flowers
Forest Animals
Gardens
Halloween
Music and Musical Instruments
My Birthday
My Body
Pets
Pilgrims & Thanksgiving
Rocks & Minerals
Self Image
Space
Spring & Easter
Summer
Transportation
Winter
Zoo Animals


We completed the monthly curriculum for the month of January, and are currently working on February. We also chose to review Aquariums & Arctic, and Zoo Animals as our monthly themes in January; and Bodies Of Water (lakes, rivers, and streams), and My Body in February.

In January we read books, read web sites on the computer, practiced our abc's and counting, sang songs, colored pictures, worked with the triangle shape and the color blue, learned new vocabulary words, observed the weather, learned about dressing for the cold weather, listened to music, practiced our phone number, practiced a few Spanish words, visited a lake, visited a zoo and an aquarium, made crafts, and more. There is way to much stuff we did to tell you about in this story, but below are just of few of our fun adventures with this curriculum.

We looked up where the Arctic is on the globe.




We learned about arctic animals and their habitat. We colored pages about arctic animals and practiced writing the first letter of the animals name.




We sorted our animal toys into aquatic and arctic animals vs other types of animals and built a habitat for them.




We made a sensory Sea Bottle and a sensory Winter Snow Bottle. We played in our sandbox outside on a nice afternoon, though the sandbox had filled with water from all the rain we have had. We played in our Snow Sensory Bin, Winter Sensory Bin, Winter Story Bin, and Ocean Sensory Bin that we made a while back. Playing with sensory bottles and sensory bins are a lot of hands on learning fun.

We also learned about starfish. We read about several kinds of starfish and looked up pictures of them on the computer.




We made a starfish craft.




We learned about the winter weather, learned how to check the forecast, and dress for different temperatures. We learned how i
t is a lot colder in the Arctic and we would have to dress with a lot more winter clothing if we lived there. Our weather has been mostly in the "cool" temperature range here in this part of North Carolina. We discussed snow (though we have not had much in our local area), cold wind, and rain this month. Below is a picture of the kids checking out our front yard in January after a flash flood rain storm that hit our local area. My kids love to check out the weather and especially the rain. Here is a story about Summer Rain and Dancing In The Rain. These sensory experiences bring learning about the weather together in a fun way.




I also made a video of the kids standing on the sidewalk during strong winds in January, as they observed the effects of wind blowing leaves on bushes and branches on trees, and on their clothes and hair. They thought it was very funny to watch their hair blow straight out from their head. Though they could not see the wind, they could feel it, and see things move because of the power of the wind. They learned that the wind is a powerful force that can cause things to happen.

We took a field trip last week to the zoo at Columbia SC. The Riverbanks Zoo has a nice aquarium building with lots of water life displays. We were able to observe large life size aquariums and smaller aquariums too.




We saw animals, fish, and various sea life that live in salt water in the oceans including sharks, stingrays, sea anemones, angle fish, clown fish, sea turtles, and many, many more.




We saw several tanks with different types of starfish too. The kids were able to locate at least 5 different starfish species. This was exciting to the children because we had been reading about starfish as suggested in the curriculum and made a starfish craft a few days earlier. This was a great way to tie everything together.




As part of our February theme, we also learned about animals and fish that live in fresh water streams, rivers, and lakes. We were able to see dozens of different large and small aquariums with hundreds of different species. We saw salamanders, crawfish, fresh water sting rays, alligator snapping turtles, catfish, sunfish, piranha, crocodiles, alligators, anaconda snakes, and more. Here my 4 year old son is looking at a large pacu from the Amazon river.




Some displays were really exciting like this bubble tunnel in the shark tank. Here my son is watching a small shark swimming all around him as it comes in and out of an ocean cave.




We played in an Arctic Penguin interactive display at the zoo. The kids observed two different kinds of penguins. The penguins had rock cliffs to sit on and a large swimming area. The swimming area had its own tide that went up and down and over the speakers you could hear the sounds of the ocean.




They had so much fun watching the penguins clean their feathers, walk along the rock cliffs with their webbed feet, swim, and interact with each other while listening to the sounds of the ocean as the water rose up and went back down on the rock cliffs.




We are looking forward to completing more fun adventures for February like learning about our body, our five senses, our eyes, more about snow, make homemade snow with crushed ice cubes, Valentine's Day, George Washington, President's Day, Fire Stations, Firefighters, Fire Safety Skills, nursery rhymes, counting in Spanish, counting in English, learning about Country music, playing board games, physical education challenges, and so much more. Our monthly theme in February is Bodies Of Water (lakes, rivers, and streams), and My Body. We are taking a field trip to Lake James, and we also viewed life in fresh water streams, lakes and rivers at the Zoo.

This curriculum has lots of great ideas to use with young children. But older children enjoy many of the suggested activities too. We did many of the learning activities, and all of the field trips as a whole family. The curriculum is helpful to the parent as it helps to tie everything together in a flexible but efficient way.

I am planning to use the Ages One To Two from Flowering Baby with my baby soon. Then progress with him into the Ages Two to Three after that. I think this curriculum will give us lots of opportunities to add some one on one fun with skill development. He is 15 months old. We get lots of cuddle time, and he still nurses, so he definitely has the majority of mommy's time and attention. But it will be fun to include some purposeful learning activities with him too. He often watches the older kids from the sidelines during school time. It will be interesting to do school with him. I truly enjoyed when his brother was about 2 years old (who is now age 4) and we started doing some tot school activities with him. This curriculum will help focus all of that into a well organized plan for our activities.

If you would like to see what a month of this curriculum looks like, or try before you buy, then check out the link and download your own one month free sample from this curriculum. Flowering Baby, LLC is a
lso offering a special 10% off discount for our readers when orders are placed using the discount code "Blog10" at checkout.

To learn more, read what other Crew members at The Old Schoolhouse had to say about Flowering Baby, LLC curriculum for various ages from birth to five

http://schoolhousereviewcrew.com/flowering-baby-review/



Disclaimer: I received a free downloadable copy of this product through the Schoolhouse Review Crew in exchange for my honest review. I was not required to write a positive review nor was I compensated in any other way. I paid to have my copy of the product printed at a local printing store. All opinions I have expressed are my own or those of my family. I am disclosing this in accordance with the FTC Regulations.