Do you need a handbook for homeschooling? Look no further than Educating the WholeHearted Child by Clay Clarkson and Sally Clarkson from Apologia.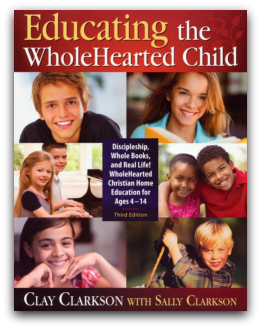 Educating the Whole Hearted Child is a great homeschool resource. It is a handbook for Christian Home Education.

Educating the WholeHearted Child is a large manual of over 375 pages. It retails for $22.00 and is available from Apologia Press.

I love this description from the books preface, of the "model of homeschooling" this book shares:



It is a "model for home education that will help you sort out the books and materials that weary you (and your children) from the ones that will enrich you and your children….model in this book will show you how your home can become a heart-filling, rich, and lively learning environment where your children will love to learn as naturally as they love to play."




WholeHearted means to be devoted to God and to have willing minds that seek and serve Him. This book breaks this goal down into easy to implement steps. The first step is focussing on home as the center of a biblical lifestyle and learning.

The book is divided into 18 chapters, plus a resource section that includes many forms. Through out the book are "helps" that really do help you weed through the many "homeschool" resources and curriculums out there. These helpful guides make it much easier to decide what resources may or may not help you reach the goals you want to achieve. It gives you a method for comparing those resources to scripture to help you make an informed decision about the benefits or non-benefits of using those resources.

The main sections of the book include:
Home
Learning
Methods
Living
Resources.

You can get a better understanding of the focus of this book and the steps to Educating the WholeHearted Child, by reviewing the table of contents and a sample chapter.



My Opinion

Honestly, I think every homeschool needs this manual within reach. I am so impressed with the vast amount of practical and helpful resources and guidance in this book. It really breaks down the process into do-able, easy to implement steps in everyday living and homeschooling.

I will definitely be implementing the steps this handbook shares to reach the goal of educating whole hearted children in my home this school year. It is a process, and I desire to implementing this process in our lifelong homeschool journey. I want my home to be a place that is "heart-filling, rich, and lively learning environment where your children will love to learn as naturally as they love to play".

This book is full of many of the things I knew, but did not have an organized plan for implementing before. Now, I have a handy resource at my fingertips, full of scripture, biblical principals, educational research, and packaged into a "how to" manual that I can refer to again and again as we travel this road.

Like a cookbook, here is a recipe. It is a recipe for raising and educating children who desire to seek and serve God with their whole heart. Give this recipe a try, it might become your family's favorite. Implementing the steps in this manual will definitely help you bring glory to God through your homeschooling journey.



I was given a copy of Educating the WholeHearted Child in exchange for an honest review.
If you would like to read what more homeschool families from the TOS Crew had to say about this book, please see the linky link up posted
here
.