I am excited to write a review about E-Mealz.







I am getting ready to deliver a baby, (we are at 40 weeks now), and the thought of meal planning for our family is just over whelming. To be honest, meal planning through-out the pregnancy has been a bigger chore than I felt up for. I can definitely see where a meal planning service would help any busy mother and especially a pregnant busy mother!

E-Mealz is helping nearly 150,000 subscribers plan their dinners and promote more quality family time together. E-Mealz offers a weekly meal plan for $5 a month. That is just $1.25 per week, and the work is done for you.




E-Mealz prepares the recipe and grocery list for you. All you do is print and you are ready to go. You choose where you want to shop and what meal plan you prefer for your family.

You can choose from 20 different meal plans, including regular family meal plans (4-6), regular meal plans (2), specialty meal plans (gluten free, low carb, low fat, portion control, vegetarian for 4-6), and specialty meal plans (weight loss, low fat, portion control for 2).
You can also choose the store you want to shop: Kroger, Publix, Wal-mart, Aldi, Ralphs, or the Any Store option.




They offer a free weekly menu planner for you to sample and see if you like their service before you buy.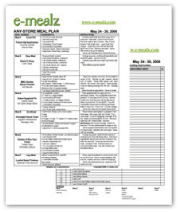 The grocery list organizes items by meal, and lists the price for each item. It also lists out additional items needed for the week that are likely already in your pantry such as salt, garlic powder, and ketchup, etc. If you don't have them in your pantry, then it is an easy reminder to pick up those items when you are at the store. The weekly grocery list budget ranges from $65-$85 a week for a family of 6, or $35 for a family of two.

This certainly makes the job of putting a shopping list together easier. This service only covers supper, so you can add in the breakfasts, lunches, and snacks that you choose. The suppers include a main entree plus one or two sides and or a bread option.

I really like the fact they did their research for each store, know the prices of the products, and list that right on my shopping list. This makes it very handy if I want to substitute something my family likes better with a similar priced item, or if I find something on sale and want to substitute it.

I like many of the recipes. I am used to a more involved "made from scratch" program using the teachings of the Weston A Price Foundation. So instead of buying beef or chicken broth, I make my own, and we use raw milk, and many more nutrient dense foods rather than buying these pre-made. But these are easy substitutes in these recipes.

I would recommend this meal planning service to other families. It is a good place to start for new moms too, as it can help you learn to plan meals and budget a grocery list in an easy
1-2-3 program.





I was provided a free subscription to E-Mealz in exchange for writing an honest review. If you would like to check out what more members of the review crew have to say, click here