I have always loved to sing. I have very early childhood memories of singing in church and at family gatherings. Singing is a significant part of who I am. Singing has been a valuable part of my development. It helped shape my personality as a young person and allowed me to have many valuable experiences that helped shape the adult that I have become.

I am very excited about a curriculum resource that is helping me teach my kids how to sing and do it well. It is called Teaching Kids To Sing by Vocal Coach.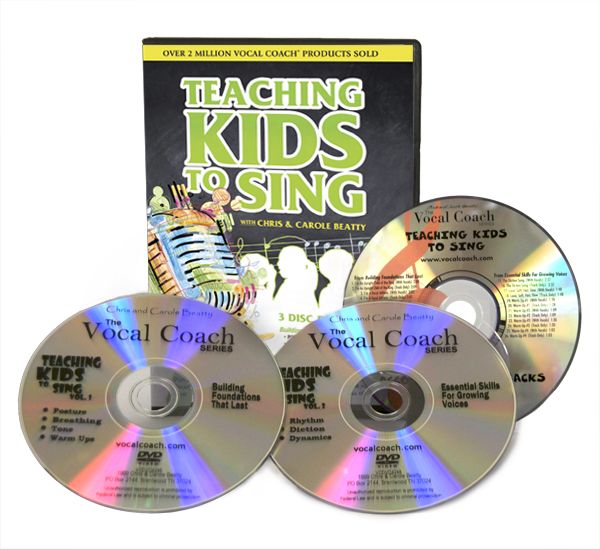 Description of Teaching Kids To Sing (below in red) from their website:



Teaching Kids to Sing 2-DVD/1-CD Set is the perfect way to teach your children and their leaders about the child's voice. All the foundations from Posture, Breathing, Tone, Rhythm, Diction and much, much more is explored and demonstrated. The cast includes Chris & Carole Beatty and a group of children ages 5 to 13. The CD contains all the music used on the two DVD's in two versions: With vocals and track only. This allows your young singers to learn, then perform the songs.
Set Contains:
1.Building Foundations That Last DVD
2.Essential Skills For Growing Voices DVD
3.Accompaniment Tracks CD


With this product, teaching my kids to sing is painless!

EASY Steps
Step 1: Just pop in the DVD into your VCR for your TV or into your computer.
Step 2: Watch the instruction.
Step 3: Repeat the skill shown in the instruction.
Step 4: Learn a song about the skill to help you practice it and remember.





That is all there is to it! The kids can easily replicate it. It requires no musical skill or background knowledge. Just put the DVD in and go. Your kids will develop musical vocal skills as they progress through the program.




Here is a list of topics and skills kids will learn with Teaching Kids To Sing:

DVD Teaching Kids To Sing Vol. 1 Building Foundations
Posture
Breathing
Tone
Warm Ups

DVD Teaching Kids To Sing Vol. 2 Essential Skills For Growing Voices
Rhythm
Diction
Dynamics
Vocal Health

DVD Teaching Kids To Sing TKS Accompaniment Tracks CD
26 Demo and Accompaniment Tracks




We are using this program in our homeschool and it is adding a fun way to learn vocal techniques. It brings back a lot of memories of voice lessons I took as a young person. I am looking forward to visiting nursing homes and singing these songs and using the techniques the kids have learned using this program.

We have almost finished the first DVD and will be learning with the second DVD soon. I can already see and hear the progress they have made. They enjoy singing these songs and doing the fun gestures that go along with them.

Check out the video below of my kids singing (without accompaniment) one of the songs they learned from Vol. 1 DVD about learning to stand up tall when they sing:



Teaching Kids To Sing is a great music curriculum to add to your homeschool. Teaching Kids To Sing by Vocal Coach retails for $44.99 and is for kids ages 5-13.

Vocal Coach offers a variety of products for kids and adults. Find out more about how Vocal Coach products can be a benefit to your homeschool and to your praise and worship.

You can read about Vocal Coach's free resources including free classes through out the year on thier website, and also check out the Vocal Coach blog with lots of FREE and helpful resources and encouragement. Vocal Coach has a few FREE videos by Vocal Coach on Youtube.

Stop in at the Schoolhouse Review Crew blog to see what other homeschool families had to say about this product.



Disclaimer: I received a copy of the above mentioned product in exchange for writing an honest review. All opinions expressed are my own honest opinion.