Do you love Math or hate it? I am somewhere inbetween. My kids are each different, and out of the three older kids, I have one that loves Math, one that hates Math, and one that tolerates it (is inbetween). I am always looking for a way to make learning Math fun instead of boring. I am really thankful for the opportunity to use IXL online learning programs in our homeschool this year.



Have you heard of the IXL online learning program before? IXL is a very well known math skills practice website, and was one of the first online learning programs I learned about when I became a homeschool mom. They currently have over 2500 practice skills to help your child learn. They want kids to have fun while learning and their motto is "Practice that feels like play. Dynamic, adaptive learning."




They have a great reputation for their IXL Online Math Membership programs. They recently added a whole new section of learning for IXL Online Language Arts Membership too.

IXL Membership Subscription can be purchased for either a monthly or yearly subscription for Math, or Language Arts, or for both subjects together. You can purchase the program for one student or for several students too. See the descriptions below for the pricing combinations, and the website has additional information so be sure to check that out and find the right combination for your homeschool needs.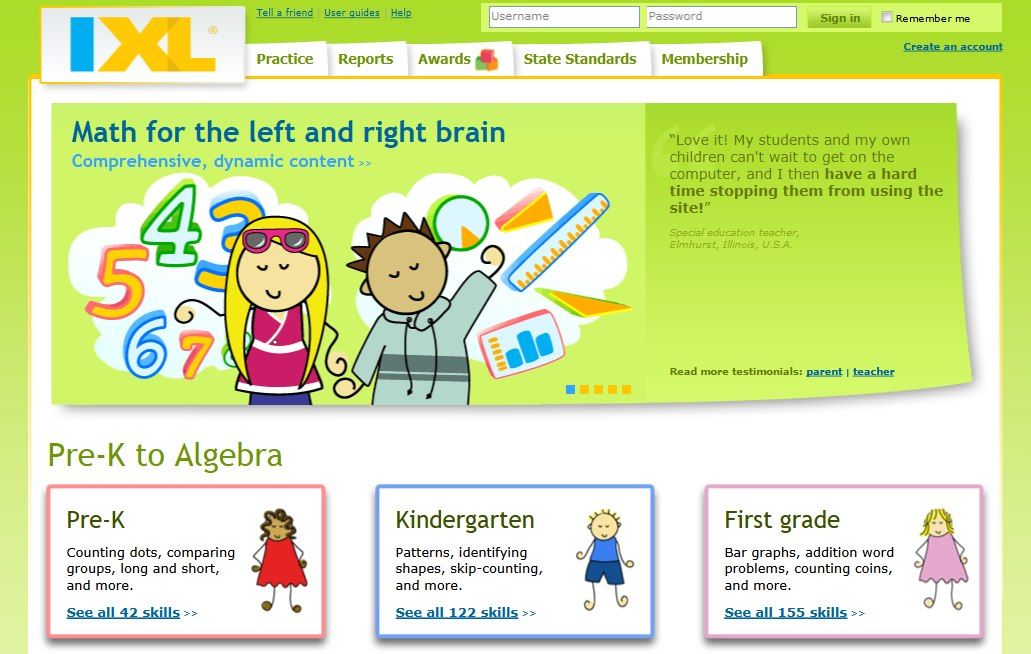 Math
Grades PreK-12
$79 per year or $9.95 per month
IXL Online Math Membership




Language Arts
Grades 2-4
$79 per year or $9.95 per month
IXL Online Language Arts Membership

Both Math and Language Arts
$129 per year or 15.95 per month.

Each additional student is only $20 per year (or $2 per month).


How We Are Using IXL:

We were given a 1 year family membership in exchange for writing an honest review using IXL Math and Language Arts in our homeschool. Since the program is set up in a way that encourages kids natural desire to play and find rewards, it really appeals to my sons. They like a challenge. Our family is using IXL as a supplement to our regular curriculum and practice the online skills for 15 to 20 minutes at a time.




IXL encourages kids to have fun while learning by encouraging them to earn awards on themed game boards that are like treasure hunts. Each grade level has it's own game board theme. When my kids log in to IXL they get a screen with grade options to choose from. Most of the time we work in our grade level, but sometimes we go back and practice in a younger grade level for review too.




They click on the grade they want to work on. Then they can choose a skill from a huge list. This is one way to work your way through the practice skills. When ever you complete a skill, you recieve a gold medal that is displayed at the end of posted skill, kind of like a check mark displaying you are done with that. This is an easy way to keep track of what you have completed and where you still need more work.




But another way to work through the program is rewards based and this is my boys favorite way. Kids have to uncover the hidden treasures on the game board as they complete quizzes and master skills. Awards are fun animals, foods, places, and hobbies kids enjoy. When they can click on the awards button at the top of the screen, it shows them a game board with the prizes they have achieved, and empty spaces to be filled.




They can click on a "? mystery square" to learn what "challenge task" they need to complete to reveal the mystery prize. Then they can return to the list of skills and select the one (or several) that corresponds with the task or skill or group of skills they must learn to achieve the next prize. With each skill mastered, a prize is placed in a corresponding square, but what thrills them the most is to complete the challenge and find the prize that goes into the ?mystery? square.

When your student completes a skill practice set, a reward is placed in the square on the game board, and if they complete a task (for example complete three skills in subtraction, etc) they are given the reward for the mystery challenge square. They are also given a score page to reinforce their accomplishment. It tells them the amount of time they spent, how many problems there were, how many they got correct, and how many overall total points they have earned in the program, etc.




Skills we are working on in IXL:

7th grade: 254 Math Skills



5th grade: 268 Math Skills



3rd grade: 230 Math Skills



3rd grade: 106 Language Arts Skills



I can see my kids improve in their understanding of math and language concepts as they practice each skill set. I am also sent an email on a regular basis, letting me know how the kids are doing and what they have achieved.




It is easy to keep track of my kids progress on the parent dashboard with the progress reports. All I need to do is log in and choose the student I want to review. There are several reports to choose from and I can print the reports and achievment certificates out and save them in our homeschool portfolios too.




All of the skills in each grade level line up with educational Standards of both all 50 States and Common Core Standards too. There is also a new iPad app available for your convenience. They have plans for additional expansion in the future too so be sure to check their website often for what's new.


Our Recommendation:

We definitely recommend this online program for homeschools. It is a valuable supplemental curriculum tool to help your kids practice skills, grasp math and language concepts, and improve in these areas. We have enjoyed using IXL in our homeschool in the past. IXL is constantly improving and expanding grade levels and skill sets, and listening to the consumer's needs. We give it two thumbs up!





Be sure to check out how other homeschool families on the Schoolhouse Review Crew are using this product in their homes too.