If you haven't yet heard of the Institute for Excellence in Writing  (IEW) curriculum company, I would encourage you to check them out.  We were sent their Teaching Writing: Structure and Style, Student Writing Intensive Level A  Package for review.  This would be a great curriculum to add to your schedule this coming school year. 
Teaching Writing / Student Writing Package Level A
Package Combo Retails for $249 (Save $49.00!)
Teaching Writing: Structure and Style DVD seminar
Student Writing Intensive Level A
For Elementary Grades 3-5.
What We Received
Teaching Writing: Structure and Style DVD Package Level A:
12 Seminar DVDs 
Nine DVDs with instruction on the nine structural models and multiple stylistic techniques (14 hours total viewing time).
Three DVDs of sample Student Workshops at four different grade levels.
TWSS Seminar and Practicum Workbook
3 ring binder with dividers  and printouts.  The binder serves as the syllabus and workbook for the seminar and contains charts, word lists, sample lesson plans, and more.
1 year Online Subscription
Streaming video of the entire Teaching Writing: Structure and Style teacher training course, providing instruction on the nine structural models and multiple stylistic techniques (14 hours total viewing time—may be watched all at once, or viewed one disc at a time throughout the school year)
Streaming video of sample Student Workshops at four different grade levels to help you with the first lesson
Free access to our monthly training webinars, August through May
Audio MP3 downloads of Andrew Pudewa's most popular conference talks
Several PDF downloads
Student Writing Intensive Level A
5 DVDs
SWI Level A Student Notebook with student handouts, a student 3 ring binder with dividers, and daily lesson suggestions for the teacher/parent
Here is the author Dr. Pudewa, explaining more about the program.
How We Used IEW Writing Curriculum
We did a trial run for a few weeks at the end of our school year to see if we want to include this curriculum in our studies this fall.  I was really impressed with the quality of the materials we recieved.  The 3 ring binders are heavy duty and we were sent over 100 pages plus nice dividers to put into each of them and help us stay organized and on plan.  The case that holds the Teachers Seminar DVD's is really nice too.
I found the Level A Package to be a wonderful writing program and useful for teaching English to Elementary 3rd, 4th, and 5th grades.  This curriculum fits right into our life right now as we have several in this grade range, and some older ones who can sharpen their skills too.  This program is helping improve my skills as a teacher so really all of my children will benefit from this.
For this review, I used this program with my 12 year old to help him get a better understanding and improve his writing skills. This program will work great for older students who might not like writing.  My 12 year old does not enjoy writing and would much rather do math. This curriculum would also be useful for teaching English as a Second Language, and also for remedial learning for older students who need more practice with writing skills.
IEW has put so much together for the parent teacher.  The Teacher Seminar gives you the tools you need to confidently teach your students to write well, think and express themselves clearly. It helps parent teachers learn how to effectively teach their kids to:
Outline and summarize
Write paragraphs
Create stories
Write critiques and reports
Develop essays
Communicate their thoughts and ideas into writing
Change sentence structure
Use vocabulary in interesting ways
When we first received the materials, I put the binder notebooks together.  Then I viewed the lesson on the corresponding disk in the Teacher's Seminar DVD's before having my son watch it with me. Then we watched the lesson together, and followed the teacher notes and presented the lesson to my son.
The lessons are designed to do one a week, but some students will take two weeks to do a lesson. The teacher's portion of teaching the lesson and use of the DVD takes about 1 hour at the start of the week.  Then he can work on the daily practice assignments the rest of the week. We did not need to watch the Student version of Structure and Style overview as it is basically the same as the teachers DVD.
After watching the Lesson on the DVD, we used the checklists to complete the lesson assignment.  The workbook has sample assignments and ideas to help,  and there are also student workshop videos to watch that can help give more ideas on implementing the lesson.   I found these to be very helpful.  In a nut shell so to speak, my son is learning how to create an outline from a paragraph using key words.  Then learning how to use his outline to write and add adverbs and verbs to make it more interesting.  He is learning to be more creative in writing stories.
Our first few weeks of lessons:
Teacher's Notes: Lesson 1
"Sea Snakes"
Key Word Outline,
Composition Checklist
Key Word Sentence: 1 word
Key Word Sentence:  2-5 words
Key Word Sentence:  6 words
"Desert Tarantula"  Optional Resource
Repeat steps learned
"Pillbug" and Composition Checklist
Repeat steps learned
Teacher's Notes: Lesson 2
"The Boy and the Nuts"
"The Cocks and the Eagle"
Once we complete the first lesson in the teacher's seminar (or student set), we can move ahead and master the material in the next one.   Not all of the lessons use the disk system, some can be completed without it.  For example, Lesson 1 used the disk, but Lesson 2 did not.  You can easily keep track of what's what as everything is layed out very nice and easy to follow.  I am saving the rest of the work to begin in the Fall at the start of our school year.
IEW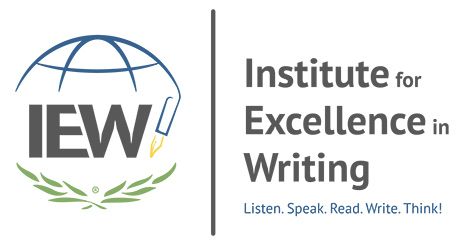 Before we start our next school year, I hope to get a couple of my boys set up with this curriculum too so they can work through it together.  You are allowed to make copies of the student workbook for use within the same family, so this will be really nice to have the boys working on this together and strengthen their writing skills.
There are some additional items available through IEW to help with this curriculum.  I hope to purchase the Portable Word Walls and A Word Write Now before our Fall school year begins too.   IEW also has a clearance section and you can find a lot of discontinued items there. Many of these are previous versions that have now been updated. For example, I found some Word Walls and Bible Based Writing Lessons workbook on clearance for 4th-12th grades. Kids learn to outline bible passages, diagram them, and write paragraphs retelling the story. There are also US History Writing Lessons too. How cool is that?
I can really see how this curriculum is going to help my kids learn how to write with excellence and help me learn how to better help them too.  I am thrilled to schedule this material for their daily writing curriculum for the coming school year.
I hope you will check it out IEW, and all of their various writing curriculum products and see if their curriculum would be a good fit for your family too.
Social Media
Be sure to follow IEW on social media for all the latest news and product updates.
Facebook https://www.facebook.com/excellenceinwriting
Pinterest https://www.pinterest.com/iewriting
Vimeo http://vimeo.com/iewtv
Twitter https://twitter.com/iew
Youtube https://www.youtube.com/user/iewtv
Google+ https://plus.google.com/+Iewriting/
Blog http://iew.com/help-support/blog

Be sure to check out what other homeschool families on the Schoolhouse Review Crew had to say about using IEW writing products with their families.