Homeschool Friends, I am thrilled to tell you about a music education product my kids are currently reviewing called MusIQ Homeschool by Adventus.




If your kids like learning with the computer, playing computer games, enjoy music and want to learn to play the piano, then MusIQ Homeschool might be a perfect match because it is a blend of all of these. MusIQ Homeschool is a perfect solution to affordable music lessons at home.





MusIQ Homeschool is available in 7 different learning levels, covers a span of 9 years of learning music theory, history, performance, piano, composition, all of the great piano composers, and more.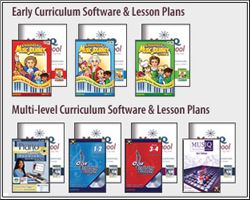 They offer three different formats to meet your homeschool needs:
Monthly Online Subscription (software access),
CD-Rom (software with lesson plans),
Lesson Plans.

Check out this short video below, and the learning objectives for the Early and Multi Level programs for a summary of what your child will learn as they progress through this program.




Early Curriculum Software and Lesson Plans (ages 4 to 10)
Year 1 Children's Music Journey Vol 1 & Beginner Lesson Plans 1 $89.95
Year 2 Children's Music Journey Vol 2 & Beginner Lesson Plans 2 $89.95
Year 3 Children's Music Journey Vol 3 & Beginner Lesson Plans 3 $89.95

Monthly Subscription (software only, includes all levels) retails $10.95

Lesson Plans (lesson plans only) each level retails $29.95

Multi-level Curriculum Software & Lesson Plans (ages 10+)
Year 1 Piano Suite and Lesson Plans 1 $109.95
Year 2 Ear Training 1 & 2 and Lesson Plans 2 $59.95
Year 3 Ear Training 3 & 4 and Lesson Plans 3 $59.95
Year 4 MusIQ Challenger Game & Lesson Plans 4 $69.95

Monthly Subscription (software only, includes all levels) retails for $10.95

Lesson Plans (lesson plans only) each level retails for $29.95

Save alot when you buy a bundle. There are several BUNDLE options available on their web site, but you have access to the all the software and save the most money when you buy the complete bundle:
Complete MusIQ Homeschool Bundle $489.95 (save $65)
Everything you need to start a music learning program at home. Includes:
Children's Music Journey Volume 1
Children's Music Journey Volume 2
Children's Music Journey Volume 3
Beginner Level 1 Lesson Plans
Piano Suite Premier
Ear Training Coach 1 & 2
Ear Training Coach 3 & 4
Level 1 Lesson Plans
M-Audio KeyRig 49 MIDI piano keyboard

Adventus also has a generous offer on their online subscription to their MusIQ Homeschool curriculum, you can try before you buy with their 7 day Free Trial offer and see if it is a good fit for your family.


MIDI Keyboard .




I was given a 1 year online subscription to the software and lesson plans in exchange for writing a review about our experience using this curriculum. The curriculum
requires a MIDI Keyboard to connect to the computer and use the software. We purchased a basic 49 MIDI keyboard from Adventus to use with the curriculum software and lesson plans. The keyboard plugged right into our laptop computer. I love this keyboard. It runs on the power of your laptop. No batteries required!





WHY MUSIC?

That question is best answered right from page 5 of the Year 1 the curriculum:
"Study after study has demonstrated that the process of learning to read and play music stimulates the brain, resulting in unique development of the cerebral cortex, the part of the brain that processes speech. This leads to significantly higher rates of learning and comprehension in math, science and reading. The benefit increases over time as a student continues in a D challenging instrumental program. Students participating in rigorous music programs also demonstrate improved attitudes
towards learning and better behavior at school. "
source p.5 MusIQ Homeschool Year 1




Read more about the benefits to the brain, improvement in function, improved performance in many academic areas, and links to educational success as a result of learning music on the Adventus web site.


Our Routine:

We are using this program with all of our kids. I am absolutely thrilled with it! It is recommended to use the program approximately 2 x 30 minutes sessions a week, or 1 x 60 minute session a week to complete a lesson and move forward. We have adapted the schedule to fit our family and each of my kids are practicing 30 (younger kids) to 60 minutes (older kids) each time with the program and they can finish a lesson in one to two sessions.




I wish there was more time and they could each use it for 30 minutes every day because I think it is a wonderful program! But we only have one kid designated laptop and one keyboard for the kids to share. And like every family, especially big families, time and resources are limited. I wish we had two keyboards and two kid computers for all six kids to share and we could get more done in a shorter amount of time. The MusIQ Homeschool program has the ability to be used by several kids at the same time on different computers using a "splitter". Maybe someday we will be able to do that. It can also be used in classroom settings and co-ops too.





Children's Music Journey Volume 1 and Beginner's Lesson Plans 1

I started all of the kids with year 1, Children's Music Journey Volume 1 and Beginner's Lesson Plans 1. Even though they are various ages, I wanted them all to have the same start. However the older kids have moved way ahead of the younger kids which is to be expected, and are now in Volume 2. My husband and I have also started Piano Suite Premier and it is amazing.




CMJ Volume 1 is the most basic beginning level, and perhaps a little young for the older kids, but it is a step that I did not want to skip in our learning journey. During a lesson the kids visit several virtual rooms in the software program. Be sure to view the video posted above to learn more about these rooms:
Theory Thinker
Piano Players
Improve Room
Game Room
Library




Beginner Lesson Plans 1 is divided into 3 Levels and 30 lessons.

Level 1 has 10 lessons (each lesson takes approximately 1 hour each to complete), 10 activity sheets, practice test, written test, assessment, enrichment ideas and songs.

Level 2 has 10 lessons, 14 activity sheets, 2 practice tests, assessment, history enrichment, history test, etc.

Level 3 has 10 lessons, 9 activity sheets, practice test, written test, assessments, 2 recitals, and several additional enrichment resources.

Here is a basic breakdown of a lesson in Level 1, but each lesson is a little different and more or le
ss time might be spent in these different areas. Here is an example of what a suggested lesson for a beginning student looks like:

3 minutes review
5 minutes practice ear training & note naming
5 minutes technique
10-15 minutes repertoire
15 minutes note reading game
10 minutes read
Theory Thinker (Listening to lessons and following the hands on directions on the keyboard.)
15 minutes History / Music Appreciation (look up two interesting things about a composer of your choice, then play music by that composer).





This program can be used by kids 4 to ages 18. It can also be used by adults too who want to learn piano, so it is a great product for parents to learn right along with their kids (my husband and I are having fun with it too). There are a few technical things involved in setting up a keyboard hooked to the computer and I am very glad my husband helped me with this process. Setting up the keyboard sparked his interest in the curriculum. Now he is hooked!




Have you calculated the costs?

Have you checked into the cost of music education lately? If I have done my math right, the $489.95 bundle option through MusIQ Homeschool is like paying $4.54 a month (489.95 divided by 9 = 4.54) and you would own the curriculum for all 9 years of music training for your children. And you can use it for multiple children as many times a month, week, day, etc. as you wish right in the comfort of your home.

If you used the bundled homeschool program for one hour, once a week, it would only cost you $1.14 per hour to give one child a solid music education. If you used it more than one hour a week, it would cost you even less. Now in my case, divide that $1.14 for 6 kids. This is a wonderful thing about this product, that you can use and re-use the curriculum with all your children because you would own the software and can use it as often and with as many of your kids as you want (that is a big savings for my family).

And if you can't afford the bundle option all at once, and want to pay for a monthly subscription for $10.95 a month, that is still way cheaper than any music lessons I have checked into. Lessons run about $60 an hour in my local area. If you took music lessons at $60 an hour each week that would cost you $3,120 for 1 year of instruction, and $28,080 for 9 years of instruction. $$$WHEW!!! There is a huge price difference in learning with MusIQ Homeschool at home.




I wish I had learned with a program like this when I was growing up. I personally want my children to have a music education. But I would like to financially invest a minimal amount while my children are young and see if they truly enjoy music and learning to play the piano. Then after they have finished the MusIQ Homeschool
program and they decide they are serious and want professional lessons (for any instrument and voice), then we can acquire them at that time. How many parents pay out thousands of dollars for a music education / piano lessons for their kids and later learn their kids are not interested? In my opinion, MusIQ Homeschool is a perfect solution to affordable music lessons at home.

Please stop in and read what others on the Schoolhouse Crew have to say about these products.