We have been given a wonderful opportunity to review Let's Make a Web Page by Motherboard Books. Motherboard Books was created by Phyllis Wheeler. Phyllis is a homeschool mom with an engineering degree and knows allot about computer science. She wanted her own kids to have computer skills and along the way decided to share the curriculum she created with the rest of us. She has several kids computer science products available. Be sure to read more about Phyllis and her products on her web site.

I love trying out products created by other homeschool families. My 12 year old son was jumping for joy for another great computer focussed curriculum review. He loves learning about "how to" do things on the computer.




With this curriculum, he was able to be creative and design a web page of his own, and all by himself. He is so proud of his ability to implement the instructions, and with his resulting end project. I'll show you a close up of the web page he is creating below.

What Is It?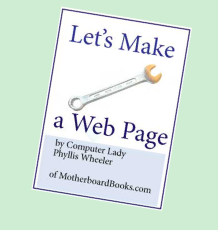 Let's Make A Web Page
Retails for $19.95
60 page ebook
Ages 8-12

Table of Contents:
Introduction for Parents
Lesson 1: An Interview
Lesson 2: Download and Set Up the Program
Lesson 3: Add Text
Lesson 4: Make a Table
Lesson 5: Add Photo
Lesson 6: From the Internet, Add Animations
Lesson 7: Browser Check, Backgrounds, Photos
Lesson 8: Sound
Lesson 9: Links
Lesson 10: Post Your Work
Appendix: How to Upload to the Internet

Features :
60-page e-book intended as a homeschool project for kids 8 and up.
No expertise required. However kids younger than 10 may need an adult helper.
Parents download a free 30 day trial version of Coffee Cup software.
Software is compatible with Windows XP, Vista, and later (not Mac).
Instructions for the parent include Internet safety and uploading to the Internet.
Let's Make A Web Page encourages experimenting and creativity using the computer.


How We Used This

When I received the "go" on this curriculum review, we downloaded the e-book Let's Make A Web Page, and the free 30 day trial of Coffee Cup (recommended software for setting up the web page). My son got started, and was thrilled once he got familiar with the language of the e-book. He is turning 13 in a few days, and was mature and confident enough to do this curriculum independently.

He worked on his web page a few hours each week. During this review, we were in the middle of a move across the county from North Carolina to Indiana. But he had fun working on this project when he took breaks from packing for the move. He helped me pack, and pack, and pack. He was just about through the second chapter when it was time to pack up the computer too.

Once we got to our new destination, we did not have internet service, all of our stuff was on a moving truck so we slept on floors for a week, did not have table and chairs or furniture inside, except a patio table and chairs outside. We took the computers in our van, so we did have them even though we did not have internet service at the house. So my son brought in a patio chair and sat at a small area of kitchen counter with the laptop computer. Thankfully, we had downloaded everything ahead of time, and he already had some photos saved on his laptop he could use in making the project and my son was able to create this web page project without using the internet for several lessons.

We just got our furniture and belongings unloaded Monday 6/3 though it is still all in boxes. And internet is finally working as of 6/5 after several service calls to the internet service provider and running new "in house" lines, and a service work order for a new line to be buried outside next week yet. The lines inside did not work, and the line outside barely works and is frayed and exposed and needs replaced. So the internet provider has to locate all underground lines for gas, electric, phone, etc. and then send a crew out to trench about a 1,000 feet of line from the road to the house. But at least it is now temporarily working, YEAH!!!! We also found out that the line out at the road is very old, made of several layers of paper, and there is an air compressor that comes on every few minutes to blow air on the line and keep it dry. We could hear the machine, and wondered what it was. When the service man was here, he explained it was a old system used by the previous phone company and the periodic blowing of air on the lines allows it to stay dry and continue to function. Even "old" technology is amazing!

With and without the internet, my son has had fun learning and playing with this curriculum project. First he brainstormed topics and people that he wanted to create the page about. He decided to interview himself, and made the web page a tutorial about how to play his favorite online games. He is using the free trial of Coffee Cup to create the actual web page. His web page that he making is called Game Whiz. It is about online games he enjoys playing, including the game called Minecraft. Minecraft is a fun online game that he has a subscription to and enjoys spending hours creating with. His web pages have fun pictures, and illustrated instructions of things he has learned and created.




Even now, within minutes of getting the internet working, he is sitting next to me as I am writing this story, and he is using his laptop. He is very creative and likes to think outside the box. He informed me that he is "enhancing" his web page tonight with more photos, videos, and mu
sic that he is editing and uploading. The Let's Build A Web Page curriculum encourages the student to add pictures and sound on their web pages. He decided he also wants to add videos with pictures and sound.

He is enjoying learning how to personalize his own web page. He is not quite finished yet. We are so greatful to have the internet service back so he can complete this course. He has made two pages so far: a "home page" and a "page one" on his web site. He is currently finishing lesson 7 and has 3 lessons to go before he is ready to publish it (make it live on the internet). But he is so excited about getting the opportunity to do this.

I had talked with him in the past about publishing a web site with updates about what he is learning and it never really appealed to him before. He doesn't like to "write". But he loves to game. So writing a tutorial about how to game online has been a win win for both of us!!! He is writing!!!

I am so proud of him!!!

Be sure to check out what others on the Schoolhouse Review Crew had to say about products from Motherboard Books.