Our family loves doing unit studies throughout the year. Unit studies make learning an adventure. It takes what could be a boring subject, and makes the material relatable and alive. Your kids will love doing history, geography, math, writing, science, research, and more when you combine it into learning about a central subject with a unit study.





The Schoolhouse Review Crew was recently asked to review Once-a-Week Unit Studies from Homeschool Legacy. This was exciting to me, because I am a member of the same local homeschool association as the author, Sharon Gibson. We have spoken on a few occasions, I have purchased two of her unit studies in the past, and I am very pleased to see her materials come through the TOS product reviews.

Sharon is a veteran homeschool mom and has graduated two son's. She continues to remain a resource for local homeschool families and for the past several years has been reaching out to a larger homeschool audience with her homeschool products. She has been a guest speaker at homeschool workshops and homeschool conferences, and you can find her booth at curriculum fairs and homeschool conventions in the south east USA and other areas.

The Once-a-Week Unit Studies are designed with a biblical focus and to be done with families with kids in 2nd grade – 12th grade. However, my opinion is that anything can be adapted. My children are 12, 9, 7, 5, 3, and10 months of age. We did this unit study as a whole family. Even my 3 and 5 year olds enjoy doing parts of these unit studies and I would encourage families with younger and older children to give them a try.

The current titles available in the Once-a-Week Unit Studies include:

Birds Of A Feather
Christmas Comes To America
Early Settlers In America
Forest For The Trees
Horsing Around
Knights And Nobles
Lewis And Clark: From Sea To Shining Sea
Native America
Revolutionary Ideas: The Story Of The American Revolution
We The People: Getting To Know Your Constitution
Weather On The Move

If you have a child who needs to acquire merit badges for a club such as Boy Scouts Of America, or American Heritage Girls ,etc, these unit studies can help. Several of the learning activities listed meet the requirements for achieving these badges. Be sure to check the website for more information. Sharon also encourages using these unit studies to accomplish 4-H clubs project record books.


Our Experience

Through the Schoolhouse Review Crew, we were given the option to choose a downloadable copy of a Once-a-Week unit study, and I chose to review the Lewis and Clark: From Sea To Shining Sea unit study for the purpose of writing this review. However, the downloadable products are currently not for sale. If you purchase a Once-a-Week unit study, it comes already bound for you. The Lewis and Clark: From Sea To Shining Sea Unit Study retails for $19.95. It has 80 pages and contains lesson plans for 7 weeks of study.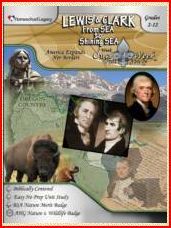 Included in the unit study are suggested daily schedules, weekly schedules, lesson plans, library book lists, field trip suggestions, worksheets, and more. Some of the subject areas covered include: Bible, Literature, Language, History, Geography, Science, Writing, History, Arts & Crafts, etc.

Table of contents in the Lewis and Clark: From Sea To Shining Sea unit study includes:
Welcome
Available Once-a-Week Unit Studies
Boy Scout "Nature" Merit Badge Information
American Heritage Girl "Nature & Wildlife" Badge Information
Suggestions for How to Schedule Your Unit Study Time
Week 1: New France
Week 2: Thomas Jefferson, Napoleon Bonaparte, and the Louisiana Purchase
Week 3: Fixing for a Start
Week 4: Sacagawea Joins the Corps!
Week 5: Trials and Tribulations
Week 6: Ocean in View! Oh the Joy
Week 7: Homeward Bound
Getting the Most Out of Your Once-a-Week Unit Study

We have been using this unit study for 3 weeks. We do the bulk of the activities one day a week with independant reading and read alouds through out the week. We have completed the lesson plans for weeks one and two, and are working on our third week.


Gathering Supplies:

There are materials need
ed to complete the learning activities in the unit study. Included are seperate materials lists, book lists, and movie lists that are suggested to complete each lesson.

Some items are optional, and some items or the equivalent of the listed item, is required to meet the learning objective. Most of these items can be found at your local library, some on the internet, and some you will need to pick up at a local craft supply store.

It is a good idea to read through the unit study before hand, and gather your supplies, and plan your trips to the library and store. I would suggest a box or basket to put items like books, printables, and another basket for craft supplies you will need. This organizational step makes my life with 6 kids much easier and helps me keep on track.





We went to a couple of different stores to find items we needed for Lesson 1, Lesson 2, and Lesson 3. I will re-group and gather the rest of the supplies to finish the remainder of the unit study; Lesson 4, Lesson 5, Lesson 6, and Lesson 7 in the next few weeks.

Here is a list of some of the supplies I gathered:
Bible
three ring binders to makeistory Timeline notebooks,
sketch pads to make exploration journals,
Chamois towels to make journal covers,
brown embroidery thread,
large eye needle.
clay to create a map of the USA
paint to paint the map
tooth picks
note cards to make flags
binoculars
plaster of paris to make molds of animal tracks
shoebox
cardboard to make molds of animal tracks
measuring cup
plastic fork
plastic tub with lid
camera
colored markers, crayons, and pencils

We also picked up a few additional items, not required, to enhance our learning about this time period and these will be great to use through out the study:
full color laminated map
toy knife /sword,
a toy tomahawks.
arrow head
Bow and arrow
Compass
Fishing line and fishing hook
Wooden Rifle
Wooden Pistol
Knife made from a deer antler and flattened steel
Shells for making jewelry and use as currency
gemstones for decorating clothing and used as currency
Beads for making jewelry and decorations on items
Rabbits Foot – to represent fur trapping
Raw Hide – to represent hunting, leather tanning, and leather products
Magnifying glass
Raw hide wallet with old fashioned blanket stitching, to show how hide can be made
into a useful product
Book about Native American medicine and some examples of the herbs and plants.
Beef jerky
Dried berries and fruits, other dried foods
Salt for preserving and seasoning food
Wool

There are thousands of great resources on the internet, including videos, books, coloring pages, printables, etc. so I encourage you to do a search and find some to use in your unit study!

I will try to post stories about some of the specific activities we are doing during the course of this study. But below are a few of the highlights from the first couple of weeks, hope it wets your appetite!


Language Arts/Bible Devotions/History/Science/Research:

Each week a list of suggested book titles is given. Many of these books are available at your local library. Many homeschool associations also have a resource room full of books that may have what you need. You can use some or all of the suggested books, or make substitutions as needed. In addition to library books, you will also need a bible on hand to complete the devotions.




When looking for books for this unit study, I found some books for sale on Amazon, Ebay, and I had several books on hand that discussed the Lewis and Clark expedition, some discussed the lives of different Native American tribes, some wildlife, etc. I was thrilled to find these books on my book shelves: History for Little Pilgrims, From Sea to Shining Sea, Indian Doctor, Homes Of The West, Tall Tales Cross Country with Lewis and Clark, Wagon Wheels, Beaver, The Three Little Pigs, Bearnstien Bears, Starting with Nature, Tree, I Wonder Why Trees Have Leaves, Wildflowers Blooms and Blossoms, and several more.

On Youtube, I found so many great videos to learn from. We watched some serious historical videos and some funny historical videos too. I will share a new story with links to several videos, but today I wanted to share two with you.




This one is really cool made by a kid and he used clay to tell the story about Lewis and Clark:



This one is really funny and animated, but gets the message across.




History/Geography/Research:
Make A History Timeline:

Making a History Timeline is a great way to visually see events in chronological order. My son used a ruler and a pencil to draw a line acros
s the middle of several blank pages to fit into a three ring binder. Each page represented a span of time of 100 years. He labeled the pages from the 1400's through the 1800's and will continue to add more pages for other centuries as needed. As we learn about an event or a significant person in history, we add them to the Timeline.





Science/Art/Geography/Research:
Explorers Journal craft:

The kids made an Explorers Journal, similar to the Lewis and Clark journal, to record natural science, animals, plants, and geography they learn about through out the unit study. Be sure to read our story about the Explorers Journal, how we made them and used them.




My kids had lots of fun making and using these. We had a few mishaps, so be sure to check out our story about these journals and see what we learned.





Science/Field Trips/Research:

Suggested activities:
Go on a field trips to locate animals, beavers, crayfish, trees, plants. Record
your observations in your exlporers journal.




Find animal tracks & make a plaster cast of them.
We have some animal track molds to use with clay or playdough also.
Find a beaver damn.





Geography Mapping:

Label a map with the 13 states and the territory purchased in the Louisiana purchase.
Make a topographical (3D) map.


Lapbook and Notebooking:

Once-a-Week Unit Studies also encourages families to make lapbooks if they desire to do so, but it is not a requirement for the unit study. Included in the unit study are a few learning worksheets for different weeks. There are also suggestions for writing assignments and research. All of these learning activities can be placed in a notebook or lapbook.

I searched on the internet and found lots of ideas and pages for creating a Lewis and Clark lapbook, and I will share this in a future story. I also found lots of coloring pages, worksheets, and printables to enhance our study, and we are adding them into our lapbook too.




I think making lapbooks or notebooks about our learning adventures enhances our learning and they are great fun to look back on for review and to enjoy for years to come. Our Lewis and Clark lapbooks are a work in progress, and I will show the finished lapbooks and where to find the printables in a future story.

Well, I hope that "taste test" of our Lewis and Clark: From Sea To Shining Sea unit study we did wets your appetite, and you are hungry for more! These unit studies are a great tool to make your learning adventures fun and memorable for the whole family.

You can order the Once a Week Unit Study products directly from the Homeschool Legacy website. You can also find these products at booths at several homeschool conventions in NC, SC, TN, and more.

Stop over at the Schoolhouse Review Crew blog to see what others on the Crew had to say about this product.



Disclaimer: I was sent an e-version of the unit study listed above in exchange for writing and honest review. All opinions expressed are my own honest opinion.