Hi Homeschool Friends,

I hope you have had a chance to register and attend the webinar Schoolhouse Expo. It is like enjoying speakers at a homeschool convention, but from the comfort of your home. But just in case you forgot it was this week, I wanted to send you a little reminder.

It is not too late! You can still join in and there are 2 days left to hear wonderful speakers. Check out this speaker schedule from their website of the final 2 days and see if these topics and speakers interest you!

Thursday August 22, 2013



| | | | | | |
| --- | --- | --- | --- | --- | --- |
| Eastern Time | Central Time | Mountain Time | Pacific Time | Speaker | Title of Presentation |
| 1:00 pm | 12:00 pm | 11:00 am | 10:00 am | Terri Johnson | Facing the Giant… Homeschooling Through High School |
| 2:00 pm | 1:00 pm | 12:00 pm | 11:00 am | Eli Dahan | e-Teacher |
| 3:00 pm | 2:00 pm | 1:00 pm | 12:00 pm | Bonnie Rose Hudson | How to Write for TOS and the TOS Family |
| 4:00 pm | 3:00 pm | 2:00 pm | 1:00 pm | Carol Topp | Microbusiness for Teens |
| 5:00 pm | 4:00 pm | 3:00 pm | 2:00 pm | Deborah Wuehler | Power, Prayer, and Perseverance! |
| 5:30 pm | 4:30 pm | 3:30 pm | 2:30 pm | Molly Green | Frugal Living |
| 6:00 pm | 5:00 pm | 4:00 pm | 3:00 pm | David Gibbs, III and Christine Field | Understanding Your Rights as a Homeschooler and Person of Faith |
| 7:00 pm | 6:00 pm | 5:00 pm | 4:00 pm | Hal and Melanie Young | Shining Armor |
Friday, August 23, 2013
| | | | | | |
| --- | --- | --- | --- | --- | --- |
| Eastern Time | Central Time | Mountain Time | Pacific Time | Speaker | Title of Presentation |
| 1:00 pm | 12:00 pm | 11:00 am | 10:00 am | Heather Laurie | Homeschooling Multiple Children with Special Needs |
| 2:00 pm | 1:00 pm | 12:00 pm | 11:00 am | Rachel Ann Rogish | Spanning the Tide – the Overlooked bridge to a Creative Ministry |
| 2:50 pm | 1:50 pm | 12:50 pm | 11:50 am | Becky Schnepf | Meet the TOS Staff |
| 3:00 pm | 2:00 pm | 1:00 pm | 12:00 pm | Davis Carman | Give me one Good Reason to Homeschool |
| 4:00 pm | 3:00 pm | 2:00 pm | 1:00 pm | Hal and Melanie Young | Getting Started in Publishing / Homeschool Writing |
| 5:00 pm | 4:00 pm | 3:00 pm | 2:00 pm | Deborah Wuehler | Power, Prayer, and Perseverance! |
| 5:30 pm | 4:30 pm | 3:30 pm | 2:30 pm | Molly Green | Frugal Living |
| 6:00 pm | 5:00 pm | 4:00 pm | 3:00 pm | Malia Russell | Homeschooling Through Times of Transition |
| 7:00 pm | 6:00 pm | 5:00 pm | 4:00 pm | Dr. Jay Wile and Diana Waring | Textbook Myths and |

Don't forget to register for the Schoolhouse Expo webinar!
The
Schoolhouse Expo
is here and there are only 2 days left!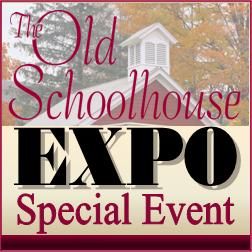 Be sure to
register
for your tickets! The tickets have been reduced to $17 and you can still join in now.
It is hosted as a webinar so you can attend right from your own home. You don't have to sit at the computer either. You can listen in from 1 pm (12:30 pm) to 8 pm EDT as you go about your daily tasks if you want. You can also "chat" online with the presenters too during question and answer sessions.
Even if you cannot attend the webinar, the speakers at the Expo will be recorded and you will be sent a link to the recordings following the Expo. These recordings are included in your ticket price.
I can't wait to get my Expo recordings!!!
Disclaimer: This is a promotional post, with admission to the Expo as my reimbursement. All opinions expressed are my own personal opinion.