Can people follow your logic? Do you have a convincing argument? Are you persuasive? Do you know how to communicate your ideas and convictions in a clear and understandable way? Would you like your kids to have the communication skills and be able to understand how to clearly and persuasively, communicate their reasons, beliefs, convictions, in a way that others will understand and perhaps agree with them? Would you like your children to be able to decifer the arguments of others, and know if they are true, false, debatable, or ambiguious? If you answered yes to any of these questions, then you might want to look into the Logic curriculum series by Classic Academic Press.





The Discovery Of Deduction is a formal logic course by Classic Academic Press that will explain the form or structure of an argument, and how an argument it is put together. Logic is a method of reasoning or arguing. There are two types of logic. One is informal logic and deals with language and ideas. The other is formal logic and deals with deduction, form, abstracts, and symbols. Deduction in logic is the process of reasoning and reaching a conclusion that resulted from a specific set of information.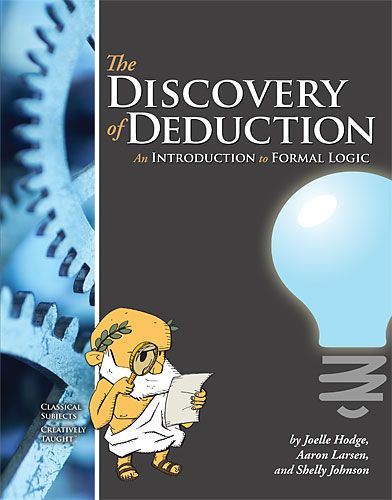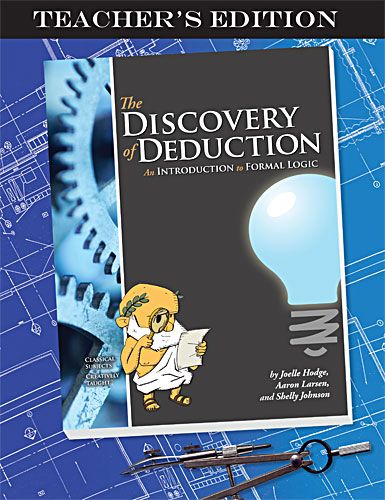 The Discovery Of Deduction course has a Student Workbook which retails for $26.95 and a Teacher's Edition that retails for $29.95. It is also written in e-book format for use on the Kindle and iPad. This course is written for students in 8th grade and above.

The student workbook is a very large book of 324 pages, plus additional pages for note taking. You can view a free sample of Chapter 1 and also download the suggested 1 semester and 1 year schedule that completes the course in either 18 weeks (90 days), or 36 weeks (180 days). You can adjust the schedule to meet your own needs and complete the course faster or slower as you see fit.




The student workbook is divided into 4 Units and includes 9 Chapters.
Unit I: Introduction
Chapter 1 Introduction to Formal Logic
Chapter 2 A Brief History Of Logic
Chapter 3 Formal Logic and the Three Acts of the Mind

Unit II: Propositions and Their Relationships
Chapter 4 Translating Propositions into Categorical Form
Chapter 5 Relationships of Opposition
Chapter 6 Relationships of Equivalence

Unit III: Categorical Symbolisms
Chapter 7 The Syllogism Introduced
Chapter 8 Determining The Validity of Syllogisms

Unit IV: Terms and Definitions
Chapter 9 Definitions and Disagreements




The Teacher's Edition is also a huge book of 351 pages. It includes the entire student text, answers to all of the questions, teaching helps, sample essays, dialogues, and arguments. You can view a free sample and try it out before you buy.




My son is 12 years old and in the 6th grade. He is a little younger than the recommended age for this course, but he is able to read and understand it. We are progressing a little slower than the recommended schedule because he is younger. Instead of completing the course in the suggested 36 weeks, we are stretching the schedule out and will finish in a year and a half, hopefully by the end of May of 2014, though we may get it done sooner. I am letting my son lead the way and proceed at his pace. I am learning right along with him. I took one year of philosophy in college. This is a good refresher course for me. I find the material challenging and I am learning new insights too. I hope to share more about this process in a future story as we continue to work through the curriculum. I am very thankful for the Teache
r's Edition as it helps me guide both of us through this curriculum and answer our questions. I definitely would encourage families to get the Teachers Edition when they order this course. Having the answers to the questions and samples of essays are invaluable.

Logic is normally a course young adults take in college, but Classic Academic Press has written this course to be used by students in junior high and above. Last year we had the opportunity to review Art Of Argument curriculum also in this series, and it is a wonderful product too. It is recommended to start your student with Art of Argument and learn about informal logic before progressing on to learning about formal logic.




Be sure to check out what other Schoolhouse Crew members had to say about products they have used from Classic Academic Press.