We live in a beautiful country. We also experience many freedoms living in the USA. I want my children to appreciate this fact. I hope to encourage experiences in their lives that help them grow and appreciate the history, freedom, and beauty of our country. I am so excited about the America The Beautiful curriculum from the Notgrass Company that is helping us reach this goal.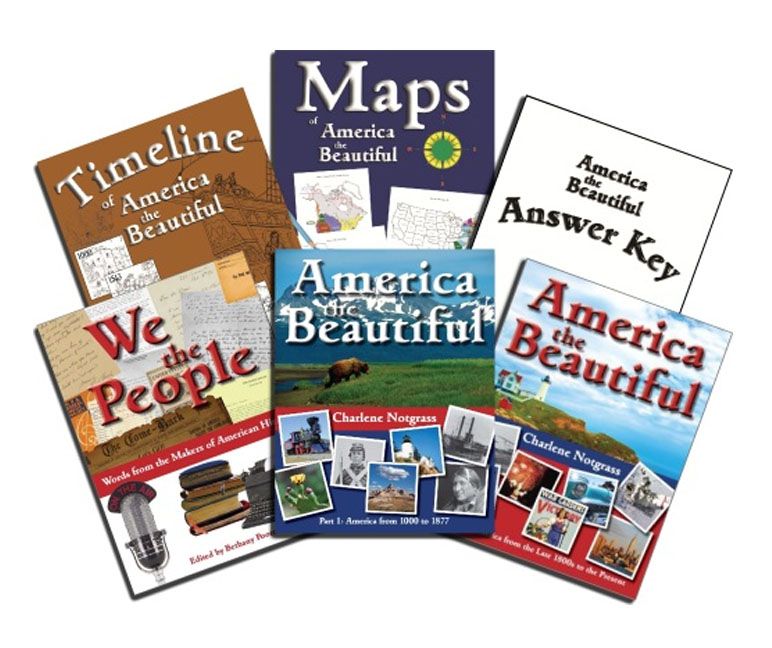 America the Beautiful curriculum package bundle retails for $99 and is made up of 6 books:
America the Beautiful Part 1 (75 lessons cover America from 1000-1800's)
America the Beautiful Part 2 (75 lessons cover America from 1800's-present)
We the People (150 documents, songs, poems, news, etc. written by Americans)
Maps of America the Beautiful (30 maps plus fun activities)
Timeline of America the Beautiful (America from 1000 to the present)
America the Beautiful Answer Key

Optional: curriculum supplements and also additional consumable workbooks are available and include:



Maps of America the Beautiful $8.95 Timeline of America the Beautiful $6.95



Student Workbook $11.95 Lesson Review $9.95



Literature Pack $59.95


Include the whole family:

I am using this curriculum with my upcoming 5th and 7th graders and will be including the younger children in some parts of the learning adventure too. Really this curriculum is adaptable to the whole family. That is a wonderful thing about this style of curriculum. It is easy to include the children of all ages and adjust where needed. Either myself or my older son can read the lesson aloud so everyone can benefit. The books are filled with pictures too. Younger children will have fun learning recipes, crafts, and poetry too. This is not a boring textbook style curriculum!

Can I tell you a non-secret? I love the style of this curriculum! It is set up like a unit study, a huge unit study. More than any other style of learning, my family thrives on learning with unit studies. It has 150 lessons to guide your student chronologically through American history, highlighting key events, people, and places. You can read the Table Of Contents and about How It Works and see for yourself what a comprehensive learning adventure this is.

America the Beautiful is an American History course designed for middle school age students in grades 5-8. I am using this course with my 13 year old son, and my 10 year old son. Both have completely different learning styles, yet both love this program.




This curriculum can fit into any homeschool program. Yep! You heard right, this curriculum is flexible and can meet you right where you are at. You can go as fast or as slow as you want. There are so many optional activities, workbooks, and supplements with this curriculum.

To complete it in one year, your student can complete one lesson a day, or five lessons a week. To complete the curriculum in two years, your student can complete two to three lessons a week.




To stretch it out even further, which may be helpful if you have a younger student or your student has some challenges with reading, you might want to take it real slow and make this curriculum work for three or all four years of middle school grades 5, grade 6, grade 7, and grade 8. It would be easy to do 1 lesson a week and then do additional activities that are suggested through out the week and really take your time with it.




This curriculum is very flexible, so set your own pace and fit it in where it works for your family's needs. Each lesson takes about an hour to complete, plus a little more t
ime to make recipes, crafts, or family enrichment activities.





Notgrass Company is a family owned business that develops Bible-based, easy-to-use homeschool curriculum. Ray and Charlene Notgrass began homeschooling their children in 1990, and have been producing homeschool curriculum since 1999. Charlene Notgrass has over 20 years of homeschool experience and has poured her love and experience into this America the Beautiful curriculum.

Notgrass Company offers a variety of curriculum subjects (such as history, art, literature, civics, economics, bible, government, geography, and more), unit studies, and other resources for high school and K-8 students. Notgrass Company also has a sequel to the America the Beautiful curriculum for highschoolers in grades 9-12 called Exploring America curriculum too.

Be sure to sign up for the Notgrass Company e-mail newsletter and check out their free Family Activities page for great ideas for your homeschool learning adventures and follow Charlene Notgrass' blog Daily Encouragement for more great ideas and support.






Be sure to check out what other families on the Schoolhouse Review Crew had to say about products from the Notgrass Company.