Do you like online learning programs for kids? I do. My kids have gained so much from using online learning programs to enhance what we are learning. They are not a substitute for hands on learning. But they have a valuable place and in today's modern high tech world. Online programs can significantly help improve learning comprehension and improve skills.

I love opportunities to learn about new and exciting online learning programs for kids.
With online learning programs, kids can gain computer skills at the same time while using an online program for core subjects. It can be a win win situation, because kids get to further their skills in both areas.





I recently learned about A+ Tutorsoft, INC . They are the creator of A+ Interactive Math program for grades 1 through 6, pre Algebra, and Algebra. They provide materials for homeschools and schools in online, CD, and printed format. They offer a variety of helpful products including:

*Multi-Sensory Interactive MATH Full Curriculum Software CDs for Homeschooling
Families
*Online Homeschool Edition – Multi-Sensory Interactive MATH Curriculum
*Online School Edition – Multi-Sensory Interactive MATH Curriculum
*Full Curriculum Books
*Workbooks (Worksheets & Exams PACK)
*Supplemental Multi-Sensory Interactive MATH Software CDs

We reviewed the A+ Tutorsoft Interactive Math Online Homeschool 4th Grade Edition. It retails for $129.99 for 1 year, $49.99 for 3 months, and $19.95 per month. They are currently running a Special Sale of 50% OFF through the end of MARCH, when you use coupon code " SPOFFER50 " . They also offer a 1 Month Free trial.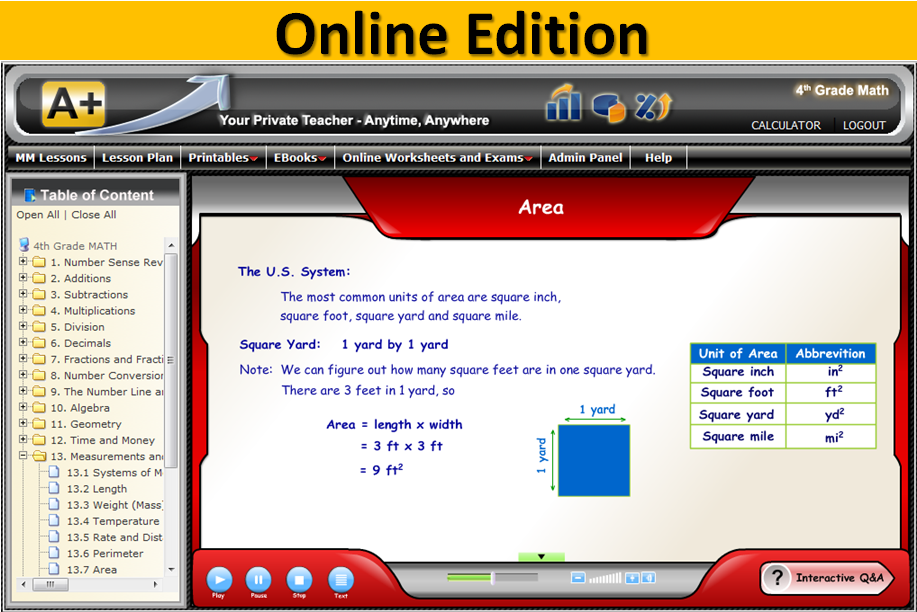 The 4th grade edition is available both online and in CD versions. It has recommended lesson plans and a curriculum guide for the parent, printable worksheets, printable workbook, multimedia power point lessons, interactive questions and answers, a solutions guide / answer key, exams, and reference sheets. There are more features on the online program including instant online grading and feedback too.




For each lesson, my 10 year old son listened to the audio / video presentation of the lesson. We plugged in a set of speakers to our laptop so he could hear everything clearly. He followed along by watching the screen and listening. Using scrap paper and pencil he had to calculate review questions and type in the answers. If he was correct then he progressed, if incorrect the virtual teacher re-explains how to do the calculation. Next he completed corresponding worksheets online. You can print these out if you want to, but he used scrap paper to do his calculations and filled in his answers online. The computer scores the online worksheet and end of the unit exams and keeps track of his progress. There are printable certificates of his progress too.

On the parent dashboard, I can log in to my students file and see their progress and where they need additional help and review. I can review reports (see a sample report)and also listen and watch each lesson taught and pause the program to help my child learn the concept as needed. There are 16 chapters and 5 to 12 video lessons per chapter in the fourth grade level. There are 142 corresponding worksheets, and 16 chapter exams. Each exam has between 25 and 40 questions.

His opinion: He liked the worksheets, but he was not thrilled about the voice on the video lesson presentations. The voice is somewhat monotone.

My opinion: I liked everything about the curriculum. It is a very through, easy to implement, and very helpful to the parent. There is a lot of tabs on the dashboard to familiarize yourself with. But once you learn how to navigate around and find what you need, this program has a lot to offer. Kids can easily work on this program independently with as little or as much parent involvement as desired.

Even though my 10 year old son was not thrilled about the vocal portion of the presentations and I understand why, they were still very good and I was able to help him through it. He is an audio visual learner, and does not like reading and writing. I thought he would enjoy the teaching presentations, but he has a very sensitive ear and learns best through sing song type vocalizations, music, and does not like monotone sounds. He is keen on tone, pitch, harmony, rhythm, and loves music. He found the vocal portion of the program unappealing for this reason.

My other son's opinion: However, I had my 12 year old son use the program his 10 year old brother was using, and I got a completely different response. He had no problems or issues with the tone of vocal presentation and worked flawlessly through the course work. He is in 6th grade, but he enjoyed using the 4th grade materials for review. He loves challenges. He mastered using the web site in a short amount of time, he enjoyed the presentations and the challenging worksheets, and he gives this program two thumbs up.

So my point is that this is a great program and that each child is different and some will like it and some may not like it. But I think parents can help any child with issues that come up along the way. This program is able to be done independantly or the parent can be involved as much as needed. I think A+ Tutorsoft is a great program to consider when planning your homeschool math curriculum.

Be sure to try out the Free Placement Test A> to see where your child's math skill level is at and the 1 Month FREE trial subscription and see if A+ Tutorsoft will work in your homeschool.

Check out what other parents on the Schoolhouse Review Crew had to say about their experience with various programs from A+ Tutorsoft.




Disclaimer: I received a free copy of this product through the Schoolhouse Review Crew in exchange for my honest review. I was not required to write a positive review nor was I compensated in any other way. All opinions I have expressed are my own or those of my family. I am disclosing this in accordance with the FTC Regulations.