A few years ago, I heard about a lapbook company called A Journey Through Learning. It was created by two homeschool moms, and it just so happened that we were both on a few of the same email forums and after they mentioned their company during an online discussion, I followed a link and joined their mailing list. I love supporting companies created by other homeschool moms. Later I joined their facebook page and purchased a few of their lapbook products, even got one for free. I was quite pleased with their lapbooks, and wrote myself a wish list of the lapbooks I would like to buy for my kids in the near future for our homeschool learning adventures.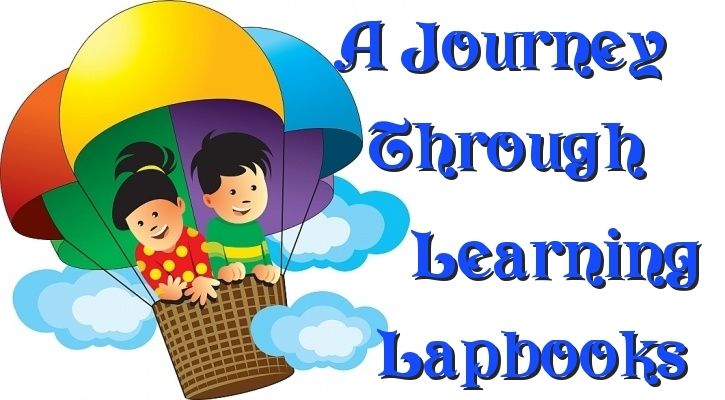 So you can imagine how excited I was when we were asked to review lapbook products by A Journey Through Learning last month. We were given three lapbooks pdf downloads, and one unit study pdf download, and had the freedom to choose which one we would like to use for a product review. AWESOME!






A Journey Through Learning was created by two homeschool moms who understand the needs of homeschool families. Be sure to read about these moms and their mission.

A Journey Through Learning has lots of great quality lapbooks to meet your homeschool needs. Don't know how to make a lapbook? NO PROBLEM! They have free "How To" videos to get you going. Products come in a wide range of ages, and prices (check the web site for prices for each format), and are available in different formats to meet your homeschool needs:

PDF Download (quick easy download right to your computer)
CD (sent in the mail to use on and print from your computer)
Printed (all ready printed and ready for you to assemble)
Assembled (all ready printed and assembled in lapbook folders)

You can find a whole lot more than just lapbooks at A Journey Through Learning. They have Notebooking page packs, Copywork packs, Unit Studies, Supplemental packs for several curriculums such as Apologia (I would like to buy several of these soon, the first one being on Human Anatomy that we are currently studying), Classical Conversations, Veggie Tales (another upcoming purchase my kids will love doing), Truth Quest, Maestro Classics, and many more. Just look at the bottom of the front page on the web site to see several more curriculums these lapbooks have been designed to supplement. You can get creative and match them up to some other projects or other curriculum you are doing too.

Each month they feature a new $5 Lapbook of the Month. You can find several FREE products on their web site too. They also have Free Samples of products, and you can find these by clicking on the product you are interested in, such as Earth in the Science section, then look for a free sample button on the page. They also have a huge assortment of $1 Express lapbooks too.


Our Experience:

I discussed the four options we were given with my kids and we chose to review Letters, Numbers, and Shapes (with my 4 and 5 year olds) and Knights and Castles (with my 12 year old) for this review. We are looking forward to completing the other two (Earth lapbook, and Astronomy and Space unit study) in the near future.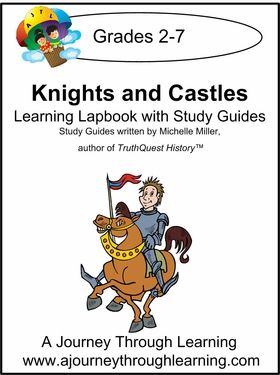 Knights and Castles is designed for grades 2 -7. It is 51 pages and includes activity pages and a study guide. The Downloadable PDF retails for $13.00 , CD retails for $14.00 , and Printed retails for $21.00 See the first 14 pages and the table of contents in a free sample of this lapbook.

I did this lapbook with my son who is in the 6th grade. I
printed off the activity pages with mini books from the pdf download I received. My son chose which colors of folders he wanted and I folded the file folders. He helped me organize the printed activity pages that went with each folder while I glued the file folders together. We placed glue along the outside flaps, then line up the flaps opposite each other and press together. We are creating a "super book" or lapbook that is made of three file folders.




Next, I had my son read the study guide from the laptop computer. He reads independantly. He loves to read. About half way through the study, I decided it would be good to have a printed copy of the guide for me. I wanted the ability to highlight important points, and make extra notes. He didn't care either way, but I am definitely a person who prefers to have printed materials in my hands versus reading pages and pages from my computer.




After reading each section, he completed a worksheet / mini book page. The areas I highlighted in the printed study guide helped him remember the main points of what he read. Sometimes he looked things up on the internet, like when he researched weapons from the middle ages and then drew them on the corresponding activity sheet. There was also some bible scriptures to look up. It is very exciting to me when lapbook (and unit study) companies include bible study in their units. I love to opportunities to encourage my children to know the Lord and scriptures better.




He preferred to do two or three sections each time he sat down to work on it. He still has a couple of answers to add. And he wants to personalize it more with coloring and details. I chose to print the colors in the worksheets in the lightest mode to save ink. He wants to brighten the colors and add his own colors to the white pages. He might also draw some extra details in the free spaces he has in between the mini books. He would like to draw a lot more weaponry and more about the various housing styles from the middle ages. He is very artistic and creative so he wants to personalize the lapbook even more. He has all the mini books installed and most are complete. He is very pleased with how it has turned out so far.




If you read one section a day, and complete the corresponding worksheet / mini-book activity, it would take about a month to finish this lapbook study.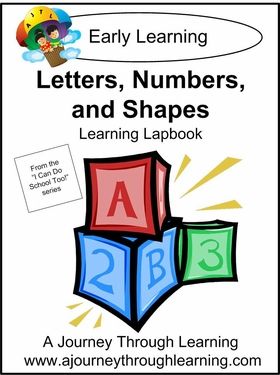 Letters, Numbers, and Shapes is a learning lapbook designed for preschoolers (ages 3 – 5) and practices early learning skills. This lapbook could also be used for children with special needs, or possibly in speech / physical therapy applications too. This lapbook is 51 pages including printable mini books and study guide. The PDF Download retails for $13. Additional formats and prices are available on their web site. Free sample pages and table of contents are also on the web site.




I printed off the worksheets / mini books (again on the lighter mode to save ink), pre-folded the folders, and glued them together. Then I had my 4 and 5 year olds each work on the mini books for their lapbooks.




We got out some magazines and found lots of pictures to cut and paste to go along with our alphabet mini books. When we did not find a corresponding picture, we drew a picture that starts with that letter. Making these mini books was lots of fun.




The lapbook is divided into three sections: Letters, Shapes, and Numbers. Each section has several interactive lapbooks that provide lots of learning fun. There are also pockets that hold number and shape cards for counting practice. They can practice their skills with each section on an ongoing basis long after the mini books and lapbook are made, at least as long as staples and glue hold it all together, LOL!




My five year old finished her lapbook, but my four year old is still working on his. I hope to write a future story about them working on their lapbooks together as they have both really enjoyed this project. On my daughter's lapbook, I had to move two of the mini books to different sections because we didn't leave enough room in an area. But no big deal, she doesn't care where the mini books are actually placed. It looks good and is lots of fun no mater where you place them.

I also plan to do the Earth, Astronomy, and the Knights and Castles lapbook again with the younger kids soon. I am really looking forward to doing the Knights and Castles study again at a slower pace and include all the kids together. I plan to spend more time as I am making some fun plans to go along with it. We will add in a fun unit study with crafts, recipes, geography, more history, more math, some engineering, possibly a metalsmithing / blacksmithing activity, a field trip, movies, lots of books, and perhaps even make a knight costume, etc. to go along with the learning. We will have a great time making it into a fun unit study all the kids can participate in. The great thing about these lapbooks are that you can add as much or as little additional learning materials as you want to meet your family's needs.

Be sure to sign up on the A Journey For Learning email newsletters and facebook page to keep up with special offers and fun projects as they happen. Be sure to also stop in and read what others on the Schoolhouse Crew have to say about these products.