Do you need some encouragement?

Gary and Jan Bower write the most encouraging Christian family and children's books. These books will encourage your faith, marriage, and family life. They will encourage your children in their faith and seeking what matters to God.

The Person I Marry, written and illustrated by Gary and Jan Bower, is a delightful book, full of vivid illustrations and encouraging words. The Bowers wrote the book to their 12 children and are sharing it with the world.




The Person I Marry from Bower Books on Vimeo.


This is a hardcover book and is 32 pages, and retails for $11.99 They offer free shipping on orders over $30 and free autographing of your book, if you ask at checkout.

They Bower's have an amazing testimony. Gary and Jan married in 1978. They have 12 children that span ages 7 to 32. They have 9 daughters and 3 sons. They have homeschooled all of them. They began the homeschool journey in 1984. They also have 10 grandchildren. If you would like to read more about their family life, please see the information titled About The Bower Family on their website.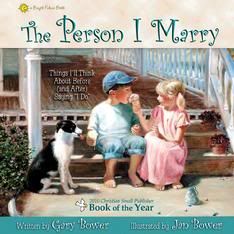 From their website


The Person I Marry
Things I'll Think About Long Before Saying "I Do"
$11.99
Respect, kindness, honesty, faithfulness, thoughtfulness, patience – qualities like these make strong marriages. Created by award-winning author & illustrator team
Gary & Jan Bower (married 32 years), this adorable book warms the hearts of all ages in its celebration of commitment, purity & true love!


This book has received numerous awards and great reviews from well known Christians like Gary Smalley, Eric & Leslie Ludy, and the Duggar Family.

This book is part of the "Bright Future Series" which shares Biblical principles for families in beautiful and down-to-earth ways. The Person I Marry was awarded "2010 Book of the Year" by the Christian Small Publisher Association.

I enjoyed reading this book with my children. We all enjoyed the beautiful illustrations on each page. Jan Bower is a wonderful artist and painted each portrait using her own family members and daily life as her subjects. This really makes it a great gift for weddings, baby showers, anniversaries, birthdays, holidays, graduations, teens, church groups, and more.

This book is full of encouragement about a Godly marriage and how to choose a spouse, and was a joy to share with my family. My kids easily understood the concepts and I am sure this message will benefit their futures choices.





I received a free downloadable copy of this book for the purpose of writing an honest review. Read this post and the link up if you would like to see what other TOS Review Crew members had to say about The Person I Marry.