You would think living in a house with eight family members, we would have the "art" of arguing perfected. As a matter of fact, I am sure my children are expert arguers when it comes to wanting their own way, at least it feels that way sometimes.

But have you ever thought about teaching your kids to argue on purpose? No, I am not crazy. (I knew you were thinking that!) I don't mean by osmosis as they watch you argue about the wrong meal the waitress served you at the restaurant, or the kids seeing you argue with your spouse, or the sales person on the phone. No, no, no I am talking about arguing on purpose for a purpose.

Let me explain. Imagine finding yourself in a situation where it appeared two sides were right. How would you figure out which one is truly right and which one is wrong? Or what if you needed to convey a message to a group of people who made decisions about funding a certain program. How could you argue your point of view in a way that encouraged the support of those making the important decisions? You would need to use some form of reasoning or logic to persuade or argue your perspective. You would need to convince them funding your program was a better use of the funds than funding a different program. You see, there really is an "art" to arguing.

Lets look at these two basic words: argument and logic:

What is argument? (paraphrased from dictionary reference.com) an argument is an oral disagreement or verbal opposition; it could be a discussion involving different points of view; a process of reason; or a persuasive speech intended to convince others of your point of view.

What is Logic? (again, this is paraphrased from dictionary reference.com) logic is a particular method of reasoning; sound judgement in what you say or do; the science that investigates the principles of correct information; etc.





There is a wonderful curriculum resource available from Classical Academic Press, that is designed to help parents teach logic and the "art" of arguing to their children. The curriculum is called The Art Of Argument.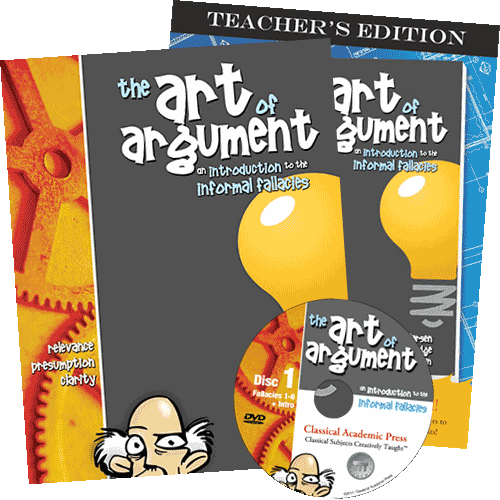 This can be used as a full semester, or a year long curriculum, depending on how quickly you want to move through the material. It is useful in teaching children in middle school and highschool and specifically grades 7-9. However, I found it adaptable for my family of various ages, and could easily be utilized for grades below or above the stated grade range.

It would also make a great curriculum to use in a group setting for a homeschool co0p, 4H club, or debate club. You would want to have a student book for each person in the group. Check out this video clip that shows how the Art of Argument is used in a group setting.



Each lesson in the Art of Argument curriculum looks at logic vs. fallacy. Overall, it will teach your children to argue correctly and to recognize 28 different fallacies in bad arguments. Each lesson includes discussion, real world scenarios, phoney advertisements, review questions, worksheets, vocabulary and more. Review a sample lesson and try it out.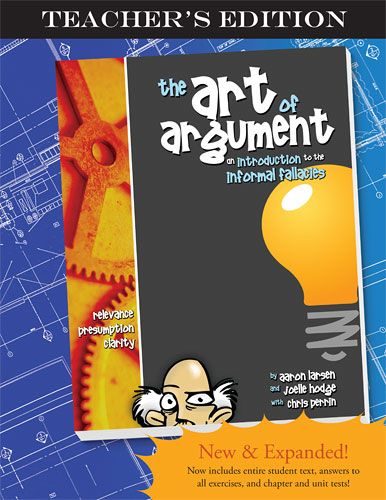 The Student edition retails for $ 21.95 . It is a large book of 230 pages. It includes 6 chapters that break down logical reasoning into 28 different lessons. The Teacher's Edition includes answers to all the discussions and questions in the student edition. It also includes unit tests, and the entire student text too. It is a large book and contains 286 pages. The Teacher's Edition retails for $24.95 The DVD set contains 5 dvd's that supplements the curriculum and contains discussions of all 28 fallicies presented in the student edition. It retails for $54.95

The Art Of Argument can also be purchased as a bundle set, saving you quite a bit of money. The bundle set includes both the Student and Teacher editions, and the 5 DVD's all together for $88.95

And don't just stop at the end of Art of Argument. Be sure to do the follow-up curriculum, Argument Builder, to learn how to create good arguments. It teaches students how to build persuasive and skilled arguments. You can see a sample of the Teacher's edition here.

I think this is a very useful curriculum to teach our families. Each of us needs to be able to communicate our ideas and argue our point effectively. Even mom's and dad's benefit as they learn from this curriculum and the whole family can become better communicators from doing this curriculum together. There really is an "art" to arguing effectively.

Check out the TOS Homeschool Crew review blog if you would like to read what other TOS Crew members had to say about this curriculum.



I was given a sample copy of the Art of Argument curriculum in exchange for writing an honest review. All opinions expressed are my honest opinion of this product.