Do you want to know what makes some people happy and successful? Do you want your kids to live life to their fullest potential? If you answered yes, then you might want to check out 25 Truths by Ed Douglas Publications.



I have been reviewing this book for The Old Schoolhouse with my kids this summer, and it is full of great values and character development ideals that I want to instill in my family.

It is easy to sit down for 5 minutes to 20 minutes and discuss each of the truths mentioned in the book. In hardly no time at all, you will have covered a huge amount of character qualities. You could make this into a month long discussion talking about 1 new truth each day. Or stretch the discussions out for 25 weeks and talk about 1 new truth each week. If you talk about 1 a week, it might be fun to add in some additional study like journaling, bible study, create a character lapbook or notebook, crafts that relate to the truth, and maybe even take a field trip too.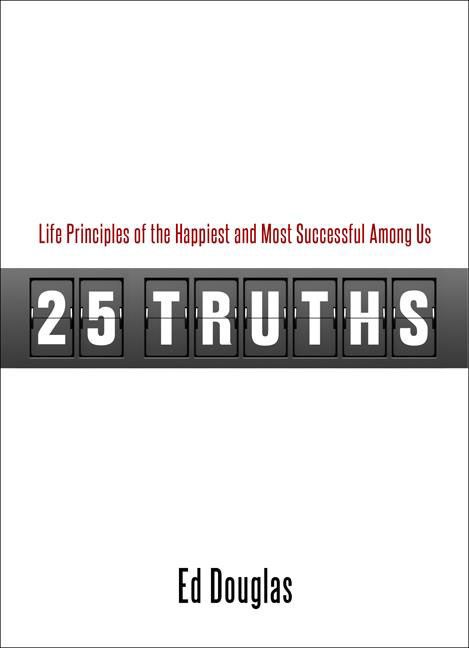 25 Truths
by Ed Douglas
5 x 7 book with 150+ pages
Retails $12.50

A Few Truths For You To Ponder:

Ed Douglas, the author, and a Christian financial planner, has taken 25 biblical principles and made them easy to learn for kids and adults.
Truth #4:
Be Slow to Judge
Truth #7:
Don't Hate – Instead, Forgive
Truth #9:
Little Things Can Make a Big Difference
Truth #11:
Take Life One Step at a Time
Truth #14:
See the Glass as Half Full




Do you see this glass of water as half empty or half full? An optimistic person will have more opportunities in life because they choose to view the glass as half full.




Personally, I am very optimistic and I always see the glass as totally full. It is always full of something, some possibility, something great that can be made into something even greater. My view is that this glass is 1/2 full of air, and 1/2 full of water, so it is therefore 100% full of opportunity!!!




This attitude has greatly benefitted me in my life and helped me overcome difficult circumstances. God can always take what you have, what you give to him, right where you are at in your current situation, and bless it and strengthen it, and make it into something wonderful!!!

These are wonderful character qualities to instill in your children. How they handle circumstances can make the difference in their future success and happiness. If you would like to know the rest of the 25 (actually 26) truths mentioned in the book, be sure to pick up a copy.




This book makes a great family and personal devotional. It would also work great in bible studies and Sunday school classes too. It is a conversation starter. It will help point you into areas you can dig deeper. This is a great character building book for every family and definitely Christian homeschool families. I plan to give it as gifts in the future for events like graduations and weddings too. It is based on biblical truths that won't steer you wrong in attaining your goals in life.

Be sure to check out Ed Douglas' other books too including "Making A Million on $2,000" and "Money Marathon". He has a lot of good financial planning resources for your family and encouragement in your Christian faith.
You can follow him on:
twitter
attend his seminars
follow his monthly advice collum
Ed Douglas website http://www.eddouglas.com/

Check out what others on the TOS Review Crew had to say about this product.